TikTok Comic, Ashfall from Michael Le, John Garvin & Michael Mumbauer
Ashfall, a new Comic for TikTok from Michael Le, John Garvin & Michael Mumbauer but actually from Garvin, Paul Pelletier, Brett Booth, and Tony Harris.
---
Michael Le is a TikTok influence with over 50 million followers. John Garvin is the co-creator of Days Gone. And Michael Mumbauer is known for The Last Of Us. Together they fight crime. Possibly. But they also are creating a narrative TikTok series, launching a transmedia IP around a video game. And they are starting with a comic book. Welcome to Ashfall.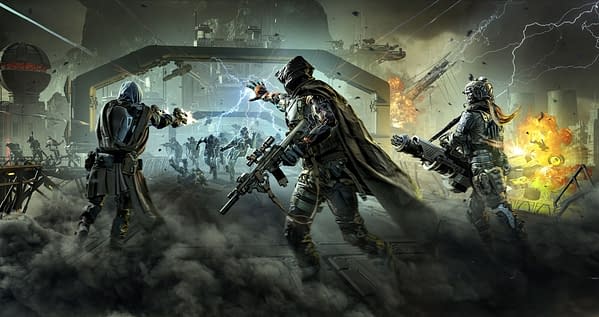 Ashfall the comic will be created by Garvin, along with Paul Pelletier, Brett Booth, and Tony Harris and be published in March. Ashfall takes place in the climate-change ravaged Pacific Northwest where "Seattle has been submerged beneath the ocean for hundreds of years. The Trace – deadly pockets of dark energy – has brought mutation, ruin, and chaos wherever they appeared. With civilization devolved into factions and enclaves and humanity fighting over resources and differing ideologies, Ash Naranjo, born without arms, is taken by the Order of Life Science, who give him TechGyn prosthetic arms and other nano implants – changing him forever. Now one of the Order's Ghosts, Ash fights for the United Enclaves, vowing to destroy the oppressive Freelanders who have taken his family and destroyed his homeland."
The TikTok version starring Michael Le and Slider Jesus, will run every Sunday for five weeks from this Sunday, the 29th of January. They are trying to draw a link between that and Sunday comics strips.
Ashfall is the first project from the Liithos studio, led by PlayStation veterans Michael Mumbauer (The Last of Us) and John Garvin (Days Gone), while Web3 marketplace CoinZoom and Hedera, have partnered with mega-influencer Michael Le, "Today's superstars are elevated by millions of real fans and followers on TikTok where we find our new heroes and villains," said Mumbauer, Founder and Chief Executive Officer of Liithos. "We are looking to collaborate, integrate, and elevate multimedia experiences with these superstars like Michael Le for the next generation. The Liithos TikTok Creators series is the first of many experiences Liithos is looking to launch to create easily traversable pathways between medias and the evolving web space."
Liithos will launch each episode with a unique digital collectible only available by signing up for a CoinZoom account, hitting the claim button, and paying a "processing fee" or around $1.50, illustrated by the likes of Coran Stone, Fico Ossio, John Cassaday, Dave Wilkins, Karl Kerschl and Tom Raney. Those who collect all five can then get a sixth. The digital collectibles will also reveal a sneak preview of the upcoming Ashfall comic series.
And if anyone wants to question why CoinZoom, which allows amongst other things, for people to turn cash into Bitcoins and buy NFTs quick and easily, may be investing in a comic book set in a climate-change ravaged apocalypse, I guess that's down to you.