I've been talking to a number of comic creators in recent weeks over issues that some have with payment from comic book publishers. Not so much the big guys but the smaller folk.
However, often comic creators don't want to be seen to speak out. Some fear that the publisher would stop paying them at all, or stop publishing their comics – or even that they would gain a reputation for being 'difficult'.
Bleeding Cool has had a longstanding record of securing payments for creators, often off the front page. Often it's a case of miscommunication, sometimes people get in over their heads and sometimes there is no viable explanation. But we always value companies who communicate more widely when they have issues.
Take Vault Comics. A smaller comic book publisher, with offices in Maryland and Montana, they were founded in 2016 by Adrian Wassel (CCO & Editor-in-Chief), Damian Wassel (CEO & Publisher), Nathan Gooden (Art Director), and Damian Wassel, Sr. (President), a private, family-owned comic book publisher.
They currently publish critically acclaimed comic books such as Natasha Alterici's viking lesbian comic Heathen, the White Noise titles Friendo, Fearscape and These Savage Shores, Mags Visaggio and Jason Smith's Vagrant Queen, Vita Ayala and Lisa Sterle's Submerged, Donny Cates, Dylan Burnett and Taylor Esposito's Reactor and more.
And I had heard a number of stories in recent months from a number of creators of either very delayed payments or complete lack of payments. Not universal, certainly, but enough to be concerned about. I reached out to the publisher for comment and Damian Wassel, CEO of Vault Comics told me,
In our second year of publishing, Vault fell behind on creator payments. For that we are forever sorry. We learned from our mistakes. We've improved our payment systems and payment communications, with the goal of issuing payments in full and on time. Meanwhile, we've worked to rectify all outstanding billing issues. While we've lost the support of some, we've also gained even stronger support from those who stood by us as we fought our way back. Back to paying creators on time. Back to seeing our series release regularly. Back to what brought us here in the first place: To do better by everyone in the industry, from creator, to retailer, to reader.

We've emerged stronger than before, and all we can say is thank you to everyone who has worked with us, to everyone who has stood by us, and to everyone who has helped to keep us moving forward.
I appreciate Vault's response and will report on people's experiences moving forward in the coming months. I am currently speaking to a number of comics creators working for a number of comic book publishers and look to follow up with them as well. I appreciate Vault's upfront response and encourage other publishers to consider a similar stance.
I also extend the offer to all comic book creators to let me know any issues you still have with Vault, or any other publisher. I give you the promise you will be kept anonymous if you wish, I won't share your information with publishers without your express permission. But we have managed to get many creators paid by their publishers over the years, sometimes simply by establishing the right kind of communication.
You can, as always, contact me on richjohnston@bleedingcool.com or richjohnston@gmail.com.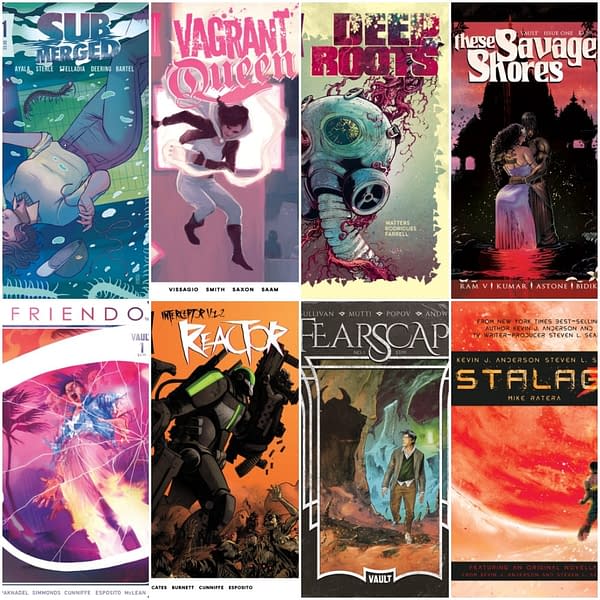 Enjoyed this article? Share it!