Earlier this month, we told you about an upcoming Venom event for this Summer, kicking off on Free Comic Book Day, when Marvel revealed the information about their Spider-Man/Venom FCBD special. Here's what we knew then:
And prepare for absolute terror within the pages of FCBD, as the Venom story by Donny Cates and Ryan Stegman sets the stage for what will become one of the most fearsome events in the Marvel Universe…

Nearly a year after the epic red-hot arc of the Red Goblin, Venom's dynamic creative team is bringing you a story that's been brewing since classic Spider-Man tales like Amazing Spider-Man #252, The Spectacular Spider-Man #90, Marvel Team-Up #141 – a saga so big and so absolutely action-packed, it will deliver the most dramatic story in all of FCBD history! Fans will be well aware by the summer of 2019 that "everyone is a target"…and this May, Marvel invites you to experience the threat for yourself!
One of the "most fearsome events in the Marvel Universe." "The most dramatic story in all of FCBD history." "Everyone is a target." Typical Marvel marketing hyperbole? Or is the publisher really planning to launch a huge Summer Event before War of the Realms, billed as their biggest event ever, is even finished?
Of course they're going to do that. It's Marvel. Events are one of three strategies they know how to execute, alongside variant covers and number one issue relaunches.
In any case, Marvel has released another teaser for that even, expounding on the "everyone is a target" theme.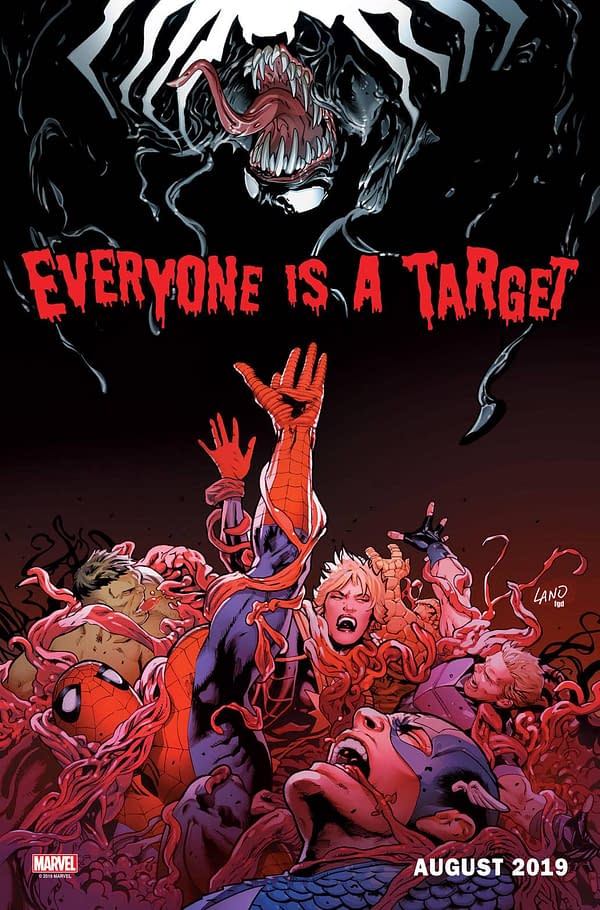 So Venom is going after the Avengers, Spider-Man, Fantastic Four, and the Hulk? We're able to identify Captain America, Spider-Man, Hawkeye, Hulk, and The Thing here. The blond woman cannot be identified because Greg Land traces every female character's face from the same porn DVD.
Or is this a message to DC Comics about plans to compete with their Target exclusive Primal Age comics? Could it be both? And will Land be the artist on the event?
We'll find out more in a series of press releases and Marvel media partner EX-X-XCLUSIVES before the event starts in August.
Enjoyed this article? Share it!