When Bill Jemas Proposed Merging Ultimate & Regular Marvel Universes
Back in 2003, Bill Jemas was to do a 5G on Marvel by merging their Ultimate and Marvel universes. Maybe. One year later, he was gone...
---
Tom Brevoort, Marvel Executive Editor/Senior Vice President of Publishing and Marvel's longest-standing employee reprints a memo in his latest Substack from then-publisher Bill Jemas from 2003. Shortly after, Jemas would be deposed at Marvel by Avi Arad making a land grab for power and forcing out his biggest critic at the company, and turning then-boss Isaac Perlmutter against him.
In the memo, Bill Jemas was raising the idea of merging the traditional Marvel Universe, a continuity that had begun in 1961, with the Ultimate Universe continuity that he had begun in 2000. Brevoort noted that there was no official followup to the memo, "the balloon was simply floated and then never followed up on. I'm guessing that's because Bill was having more immediate things to worry about in that moment. But this was all an outgrowth of Bill's growing disenchantment with the established Marvel Universe and his feelings of invincibility in the success of the Ultimate Universe—for all that Bill presents this situation in reasonable terms in this document, whenever it came up in casual conversation, his clear affection was for the Ultimate Universe. But it doesn't really matter, as nothing of this sort ever really happened, at least not at that moment."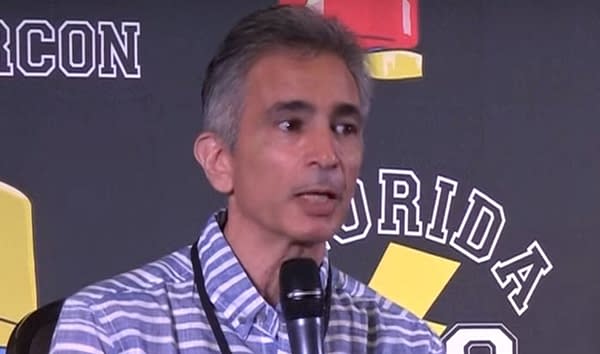 It does however provide a fascinating document from the time, and was sent out to Axel Alonso, Joe Quesada, Ralph Macchio, Tom Brevoort and Mike Marts, Brian Bendis, Bruce Jones, Chuck Austen, Grant Morrison and Mark Millar on the 26th of April, 2003.
Re: Combining The Ultimate and Traditional Marvel Universes
I've always resisted (dismissed) suggestions to combine the Ultimate and MarvelUniverse.

When some people say, "combine Ultimate and Traditional," they mean, "scrap Ultimate". But, as a creator my ideal Marvel world is the Ultimate one. Peter Parker is in high school, the X-Men are teenagers at the Academy, and every day — for the next 4,700 days — we enjoy the wonders of introducing our great old characters in great new 'ways.

When other people talk about the combination, they mean, "scrap Traditional" (restart the entire Marvel Universe — if we are tied up in our own underwear, strip down and start again.) But, as a publisher, I've felt it would be a bad decision to abandon those fans who are mentally invested in, and who love, continuity.

Frankly, two Universes have been doing fine together, and there has not seemed, to me, to be any reason to change.

But that's just me; let's talk about you.

Collectively, you should play the lead role in deciding the basic characterization of your characters.

I'm not talking about changing the target audience and basic creative briefing for anybody's books. Ultimate Spider-Man would still focus on Peter Parker's high school and home life. Amazing would still be the action-adventure title. Ultimates would continue to mix superheros with real world political and social leaders and retain its reality orientation. The Avengers will assemble a great and diverse selection of Marvel heroes to deal with more fantasy-oriented situations. New X-Men lean toward global issues, Uncanny toward character interaction and UXM toward X-Men movie fans. All of you would continue to do the great work you have been doing.

What I'd like you to consider is whether you would like to give your traditional Marvel books an ultimate restart wherein each of you would be free to roll back any or all of your characters as far into their origin stories as you would like to take them and have them all end up living in the year 2003 with the age, marital status and circumstances that works best for your storytelling.

Honestly, I don't know if this is a good idea or not, and I want to get input from all of you. (This decision should be (more or less) unanimous — nobody's going to get their arms twisted or their writing hands forced.)

In fact, I would envision a creatively diverse crossover in which you use whatever story-telling technique works for you to get your toothpaste back in the tube.

Remember Dallas, when they wanted to bring Bobbie back? Pam woke up one morning, and there he was walking out of the shower. His death and an entire (low rated) season were just a dream — an "in continuity dream"
Or, you can take your continuity more seriously and develop a multi-issue story where you simplify the Universe about which you are writing.
Or, we can ask Jim Starlin to create a Universe-fixer his next installment to the Infinity series.
Or, two or more of you can work together on crossover stories that get the genies back in the bottle.
Or anything else you want to do.

If we do this, we come would with a simple marketing-communication mechanism. I was thinking that this could be as simple as countdown numbering. You can take from 1 to 12 issues to tell your re-start story, and those issues would be numbered in countdown fashion, so that the new Universe would start with issue number one.

Listen, I don't want to sell this or un-sell it, just to listen to what you all have to say.
Feel free to tell Bill Jemas what you think two decades later…