Wonder Woman Gets Donald Trump to Support Anthony Fauci
Is this Anthony Fauci's first mention in a DC comic book? As seen in DC Comics titles publisher this week, we get the latest superheroic message for these troubled times is drawn by Rick Leonardi and offers a plethora of messages beyond the simple stay six feet away on the big posters that some retailers got this week.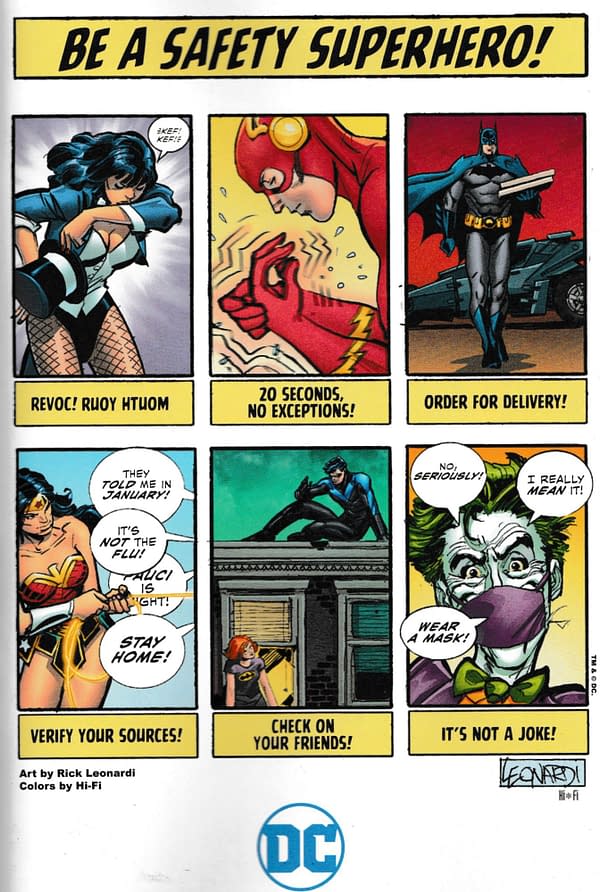 Superheroic stage sorcerer Zatanna makes her message something to actually tricky to work out which is a novelty for a public information message, The Flash really probably doesn't need the full twenty seconds, the Batman must have more important things to do than moonlight for Dominos (could he demonstrate cooking at home with a Batarang?), and Nightwing appears to be more of a creepy stalker. But Wonder Woman seems to be using her lasso to drag the truth out of President Donald Trump with the 'they told me in January, it's not the flu, Fauci is right, stay at home' while even The Joker decides a mask is worth wearing… purple of course. Though it is much more likely the Joker is threat to all than the coronavirus… probably as big a body count by now.
Either way, you can be a safety superhero or a safety supervillain. Your choice.
DC Comics titles are out today in certain comic book stores that go along with this sort of thing … I bought mine from Piranha Comics in Kingston-Upon-Thames. Piranha Comics is a small south London comic store chain with a small south-east store in Kingston-Upon Thames's market centre, which runs Magic The Gathering nights on Fridays, and a larger south-west store in Bromley, which also runs Magic nights and has an extensive back issue collection and online store. If you are in the neighbourhood, check them out.