DC Comics Sends Social Distancing Posters to Comic Stores
Bleeding Cool has been having a regular look at DC Comics' social distancing messages, as featured in their comic books ever week – and noting which ones stand up to actual social distancing measures, and which are really weird. Well, this week, DC has supplied stores with large poster versions of those messages, the one where Bruce Wayne seems to want to stay strangely distanced from his thirteen-year-old son and resident of Wayne Mansion, Damian Wayne. And another where Superman is holding Wonder Woman's lasso without a sign of hand sanitiser. Though, of course, he could always use his heat vision.
These are meant to be put up by comic book stores to aid in their current practices regarding customers – but I hear that already the are being bought b customers – it is certainly a marker of this time, and a future collectible in the making. Here is a look at the two posters that will be appearing in comic book stores – or on the walls of collectors – this week.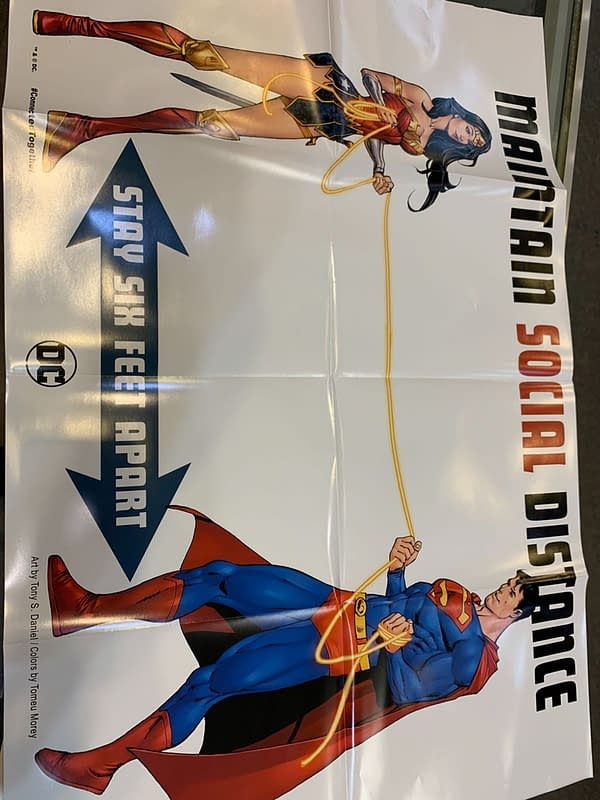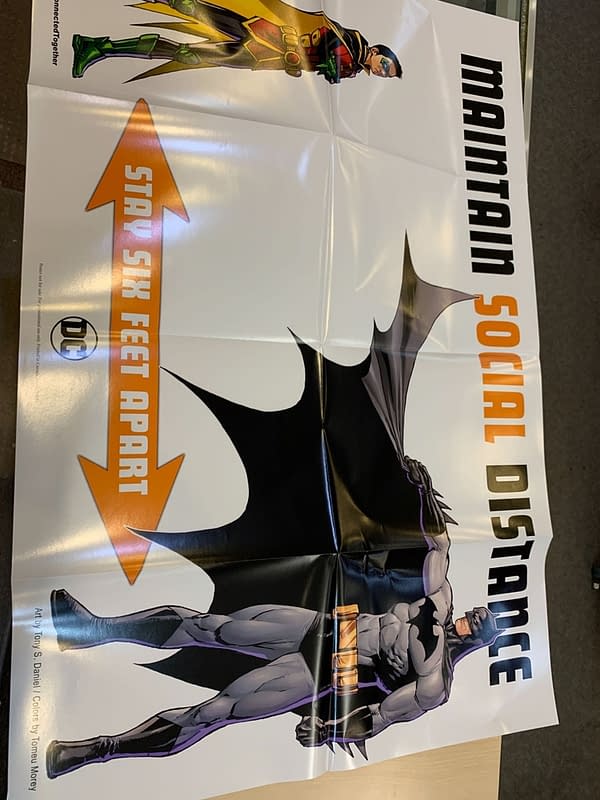 Previous messages have encouraged DC Comics readers to stay in their Fortress Of Solitude or in their Batcave, without considering that many of their readers may not have such huge ice crystalline structures in the Bermuda Triangle, or large subterranean cave dwellings beneath some of the most expensive real estate in Gotham, funded by a hundred billion dollar Wayne foundation.
Other messages included Plastic Man breaking social distancing rules with the Flash, while trying to enforce them. We pointed out that the Flash should be able to run faster than any virus, but the shockwaves generated by his speed may make him a super spreader, so six feet wouldn't do it. But also, by performing this action, Plastic Man was himself breaking social distancing because his arm is a part of him and anyway, the coronavirus loves a plastic surface.
Another saw Cyborg and Green Lantern – Hal Jordan – demonstrate correct social distancing, courtesy of Hal Jordan's Power Ring and Cyborg's raised thumbs. But given current global concerns, it seems a little unfortunate to have chosen this pair. Also, Hal Jordan's face mask should be lower, and Cyborg could also extend his cyborg face elements to cover his face and nose, surely? A least he doesn't say 'Booyah'…