[CinemaCon 2019] Universal Shows Off New Fast & Furious Presents: Hobbs & Shaw Footage
The Universal Pictures presentation was a bit underwhelming in terms of having a ton of new footage for us to report on. There were a couple of first looks at some smaller movies like Queen + Slim, which showed off some stunning footage and looks like it could be something extremely special, and a new trailer for the Downton Abbey that looks like it could be something really special for those fans. We got to see some footage from Ma but it didn't appear to be new.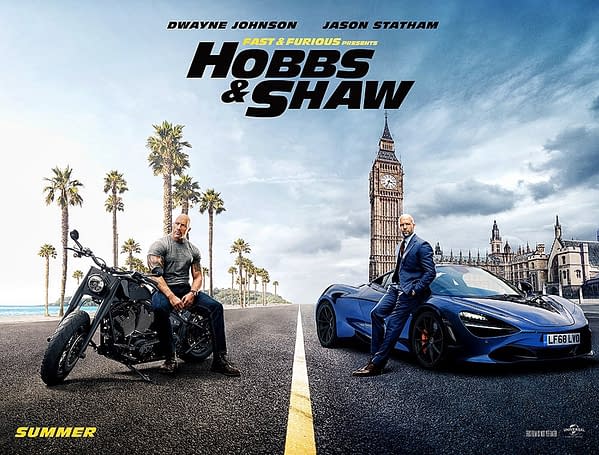 David Leitch came on stage to introduce some new footage from the upcoming Fast & Furious Presents: Hobbs & Shaw. He said that they were very much focused on keeping the themes of the original series, home, and family, but also changing it up. Stars Dwayne Johnson and Jason Statham joined Leitch on stage to have some banter about the movie. Johnson spoke about how they embrace the theme of home in the movie by going "home" to London for Statham and Shaw and "home" to the islands for Johnson and Hobbs. He explained there were is a scene in the upcoming trailer that they were about to screen that was very special because it was a version of Siva Tau or the Samoa version of a haka the tradition war chant that people have become very familiar with over the years. They also spoke about bringing on Idris Elba and he was called "the back superman". The two stars went on the banter about which name came first in the title and Universal unveiled some new footage for all us to see.
We got to see a lot of new footage some of these scenes are likely out of order since the footage did go by fast but here's what we know. It sounds like Hattie Shaw (Vanessa Kirby) stole a virus from Brixton (Idris Elba) and it's up to Shaw and Hobbs to save her and keep the virus from getting out. We see Hobbs and Shaw each take a door to get into a secure location. Shaw is met by several bad guys which he slowly takes out while Hobbs take out a guy significantly bigger than him with one punch. We cut to Helen Mirren as the mother of the Shaw siblings telling Decker that he needs to keep his sister safe.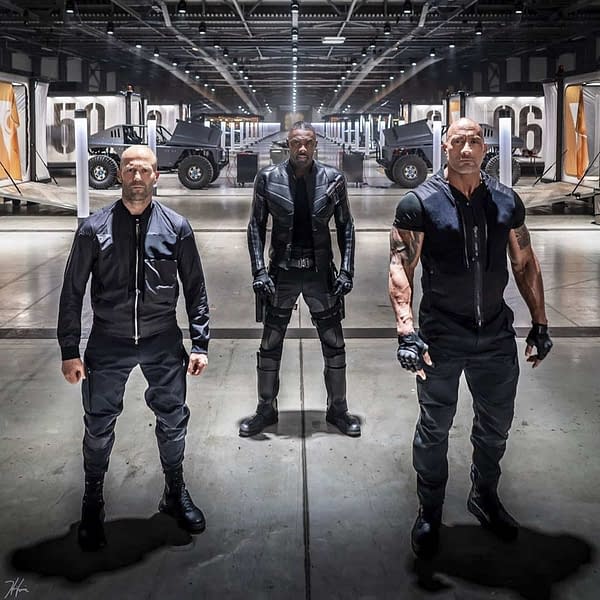 We see some more footage of the fantastic Eiza Gonzales who tells them that they are being hunted by a band of mercenaries. That is when Hobbs suggests that it's time to go home. They head back to his island and his family where they should be safe. We see Hobb's family and they open up a hidden compartment filled with nothing but traditional weapons and no guns. Hobbs says that they are going "old school" and we see a showdown between Brixton and Hobb's family in what looked like traditional garb. They are doing a war chant and we see brief snippets of a fight.
The big action set piece that they showed us had Shaw and Hobbs on a car with a helicopter in the sky. Hobbs, in the bed of the truck, loops a chain around the helicopter. Another chain links the truck to a car in front of them and eventually, there is a linked chain of several chairs to the helicopter. Someone takes a card turn on a cliff and several cars are airborne, hanging off of the clip, as Hobbs tries to hold on like he's Captain America.
There isn't any indication about when we will see this footage released to the public but it really looks like Hobbs and Shaw is going to be a lot of fun.