Dungeons & Dragons: Honor Among Thieves Directors Tease Sequel Ideas
The directors of Dungeons & Dragons: Honor Among Thieves are opening up about their interest in sequels and if there's any sequel setup.
---
Dungeon & Dragons: Honor Among Thieves is looking like it has everything necessary to become a sure hit for Paramount Pictures, with a current approval rating of 89% on Rotten Tomatoes even though the film is still weeks away from its theatrical debut (a display of confidence from a studio). Having screened the big-budget project and already greenlit a spin-off series for Paramount+, they've clearly established strong faith in its potential, which means there's always room for more if the audience is there, especially when you look at its tabletop longevity and worldwide popularity.
Now, with the film quickly approaching, the Dungeon & Dragons: Honor Among Thieves directors are expressing their interest in keeping the cinematic franchise intact beyond just one installment.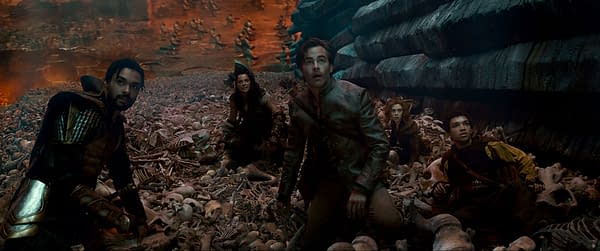 Open to Returning for More Dungeons & Dragons Stories
During a Red Carpet interview with ComicBook during the film's recent premiere, the publication asked directors Jonathan Goldstein and John Francis Daley if fans should anticipate any on-screen sequel setup, to which Goldstein responded, "We didn't plant any seeds. But if we're lucky enough to make another one, then I think there's so many places to go. We've created these great characters who we would love to see where they are in a year or two." Daley then cautiously adds, "We're also very superstitious. So we don't like to talk about it. "
Despite their superstitious viewpoint, the current review standing and confirmed upcoming series are all a result of their completed work — however, to their point, current opening weekend projections currently suggest it might need to impress with a strong worldwide box office to solidify a future.
Dungeons & Dragons: Honor Among Thieves is directed by Goldstein and Francis and stars Chris Pine, Michelle Rodriguez, Regé-Jean Page, Justice Smith, Sophia Lillis, Chloe Coleman, Daisy Head, and Hugh Grant, with a release date of March 31, 2023.