'A.P. Bio' Season 2, Episode 3 "Wednesday Morning, 8 AM": Zero Hour at Whitlock High [PREVIEW]
On this week's episode of NBC's A.P. Bio "Wednesday Morning, 8 AM," we take a break from Jack's mission to create a marketable "life philosophy" out of Toledo, Ohio, so that he can leave Toledo, Ohio. Instead, we focus on what life is like for a teacher at Whitlock High – and yes, Jack does kinda' teach so he sorta' counts.
Except this episode focuses on a particularly tough time for teachers: the morning… 8-8:30 a.m. to be specific. In that time, Jack's mission to retrieve his massage chair takes some unexpected turns; Helen and Durbin brace for the responsibilities that come with morning announcements; and Mary and Stef have to MacGyver an art project.
Oh, and it looks like "White Rihanna" has gotten herself involved with something… dead?!?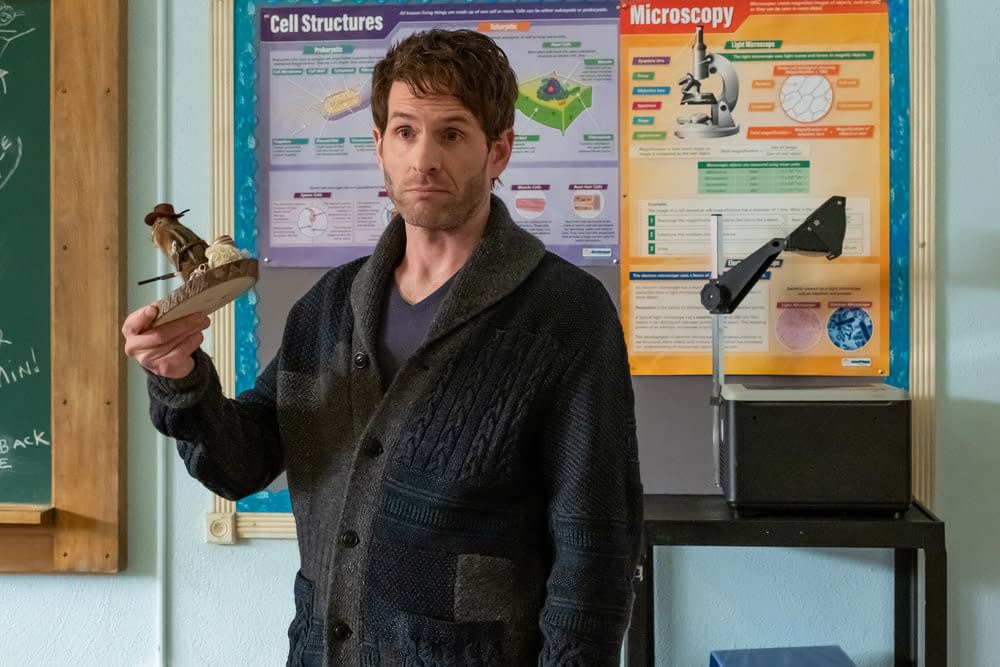 A.P. Bio s02e03 "Wednesday Morning, 8 AM": In the hectic thirty minutes that start every day at Whitlock, Jack tries to retrieve his massage chair from Whitlock's intriguing payroll accountant, Lynette. Durbin and Helen prepare for the morning announcements, Michelle gives a eulogy, and Mary and Stef fix an art emergency.
Here's a look at some additional images from this week's episode:
Here's a look at a key highlight from last week's episode "Nun"… as Whitlock High faces a righteous invasion…
Glenn Howerton and show creator Mike O'Brien give you an inside look at the making of the series:
https://youtu.be/LkRoaD4h2H0
When disgraced Harvard philosophy scholar Jack Griffin (Glenn Howerton) loses out on his dream job, he is forced to return to Toledo, Ohio, and work as a high school Advanced Placement biology teacher. As he comes crashing in to Whitlock High School, Jack makes it absolutely clear he will not be teaching any biology. Realizing he has a room full of honor roll students at his disposal, Jack decides instead to use the kids for his own benefit. Eager to prove that he is still king of the castle, Principal Durbin (Patton Oswalt) struggles to control the force of nature that is Jack Griffin.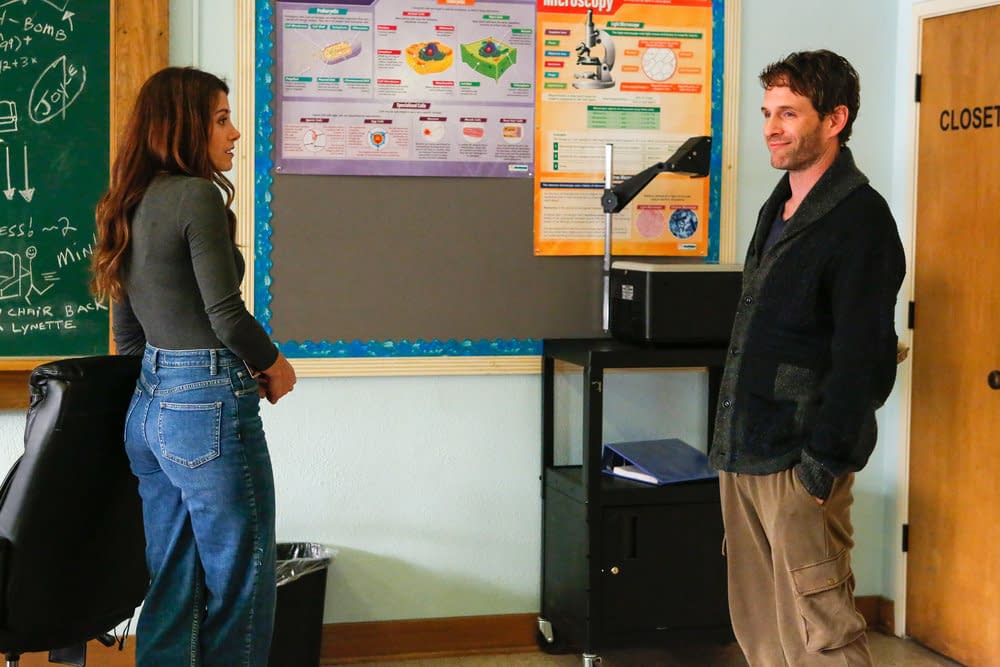 NBC's A.P. Bio also stars Lyric Lewis, Mary Sohn, Jean Villepique, Tom Bennett, Paula Pell, Charlie McCrackin, Jacob McCarthy, Aparna Brielle, Nick Peine, Allisyn Ashley Arm, Eddie Leavy, Jacob Houston, Sari Arambulo, Tucker Albrizzi, and Spence Moore II also star.
A.P. Bio is written and executive produced by Mike O'Brien. Seth Meyers, Mike Shoemaker, Andrew Singer, and Lorne Michaels also serve as executive producers. A.P. Bio is produced by Universal Television, Broadway Video and Sethmaker Shoemeyers Productions.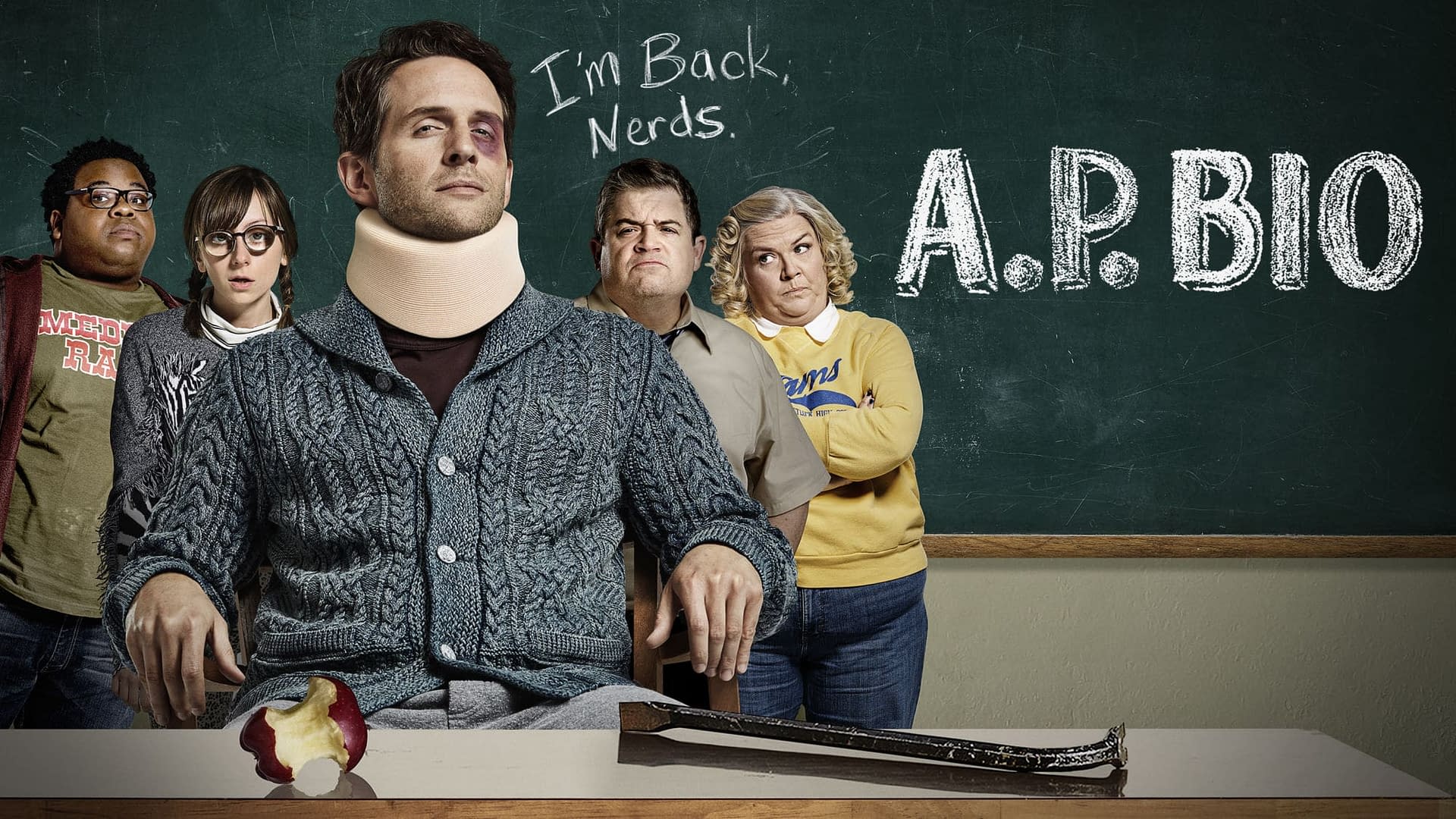 A.P. Bio airs on Thursdays at 8:30 p.m. ET/7:30 p.m. CT on NBC.