This article contains spoilers for Altered Carbon episode four – In a Lonely Place.
.
.
.
.
.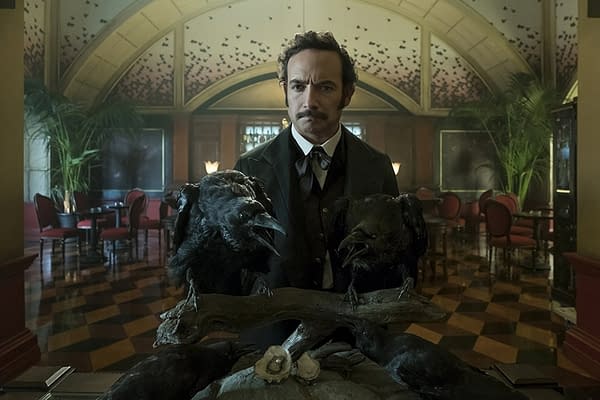 The third episode of Altered Carbon starts with a story about a patchwork man, a monster created to scare children. Its a story book that young Takeshi reads with his sister. We also see the abusive relationship of his parents. We get flashes back to Takeshi (Will Yun Lee) in his days with Quell (Renée Elise Goldsberry) and then modern Takeshi (Joel Kinnaman) awakens to find that Miriam (Kristin Lehman) is gone, they had been monitored by a drone the night before and he had an invitation to a dinner part hosted by Bancroft (James Purefoy) who has pulled together are of who he thinks might want him dead. Thinking he might need someone to watch his back, he has the Poe AI (Chris Conner) learn psyco-surgery and then enlists the aide of Vernon Elliot (Ato Essandoh) in exchange for having Poe help Lizzie (Hayley Law). Bancroft plans to have a fight to sleeve death at the party and requests Ortega (Martha Higareda) be the officer to check certificates.
Kovacs brings Vernon back to the Raven and Lizzie becomes a guest of Poe, who takes on the task of helping the girl. Meanwhile Vernon takes Kovacs to buy some weapons from a candy seller. Later that night, Vernon poses as a waiter while Kovacs goes in as a guest, carrying his pink, rainbow unicorn backpack with a gun in it. Of the guests, only Kovacs and Prescott (Tamara Taylor) are the non-Meths. Everyone else has lived for centuries. We met a few, but the most important things have to do with Bancroft's children. Isaac (Antonio Marziale) is getting drunk and causing problems and Naomi is running around in her mother's clones body and following around with Curtis (Zahf Paroo) the security guard. The relationship between Kovacs and Bancroft becomes more adversarial which is strange since he works for Bancroft. There is a moment where everyone is introducing a unique object they own and Bancroft present Kovacs, the last Envoy.
We move to the fight where a married couple will fight to sleeve death, the winner will get an upgraded body while the loser will get a downgraded one. As the fight goes on, Kovacs stops the man from killing his wife, only to have Bancroft offer upgraded sleeves for both if they defeat the Envoy. While this is happening, Vernon has hacked into Bancroft's security feed and downloaded data from the night Lizzie was killed. But this keeps him from being able to back up Kovacs. The fight is pretty violent and is happening in zero gravity. Bancroft tosses in a bladed throwing star, but Ortega shoots the control panel before anyone dies. The man's sleeve is damaged beyond repair. So Kovacs kills his sleeve then tells Bancroft to upgrade both of the couple as his winnings. Kovacs meets with Bancroft who tells him not to have sex with Miriam. The whole dinner party seemed to be a way for Bancroft to show his dominance over Kovacs, but it didn't seem to work.
After the party, Kovacs heads back to Jack's to talk to Alice (Stephanie Cleough) the stripper. But she drugs him and the two thugs from the last time he was there come in, kill the girl and take Kovacs to a medical facility and that's where the episode ends. This episode was a good way to show off how an Envoy works, not only his fighting, but how he works a crowd and how he immerses himself into an environment. Part of his training includes building up expendable allies like Vernon. For Bancroft, he's not used to having someone not do exactly what he wants, so he throws the party to exert his dominance over Kovacs, except Kovacs doesn't care. The stuff with Isaac and Naomi is there to show that immortality stunts humanities growth as people. With Bancroft never dying his kids have no reason to grow up and take responsibility.
As compared to the source material, the only parts in this whole episode that line up to the Richard K. Morgan novel is the patchwork man story and the trip back to see Alice. Hiring Vernon, Poe working on Lizzie, the party and even the mysterious guy who was watching Kovacs the night before and showed up at the party… all of these things are added. Even giving more depth to the character of Prescott is added. It all fits within the stories narrative though and having just read the novel, the additions feel natural. Almost like an expanded edition of a movie with all the deleted scenes put back in. One of the limitation of a first person narrative novel like Altered Carbon is that everything has to happen with Kovacs in the room. The series changed that narrative and now we can follow Ortega or Poe or anyone else for a while.
Back to the binge.
Enjoyed this article? Share it!