Better Call Saul: Bob Odenkirk, Peter Gould on Season 6 Possibilities
Vince Gilligan and Peter Gould's Better Call Saul definitely knows how to end a season, especially one that's heading into its final season. We're going to be hitting some major spoilers moving forward, so just a fair warning. After Nacho (Michael Mando) proved himself to Lalo (Tony Dalton), it looked like he was going to be in with the cartel. Unfortunately, Nacho needs to be more concerned about staying in Gus' (Giancarlo Esposito) good graces so he helps Mike's (Jonathan Banks) assassins get access to Lalo. Except Lalo is a bit more of a badass than they expected, leaving him very much alive while having everyone thinking he's dead. That's not good news for Nacho, Gus, Mike, Jimmy (Bob Odenkirk), or Kim (Rhea Seehorn). Speaking of our newly-wedded duo, Kim continues her bad-breaking as she pushed the idea of taking down Howard (Patrick Fabian) by forcing a resolution in the Sandpiper case in a very Saul Goodman-like way. While Jimmy seems hesitant and concerned at first, it's not long before Saul makes his opinion known as Jimmy's reaction changes to one of the endless possibilities presented, or at least $1 million in possibilities.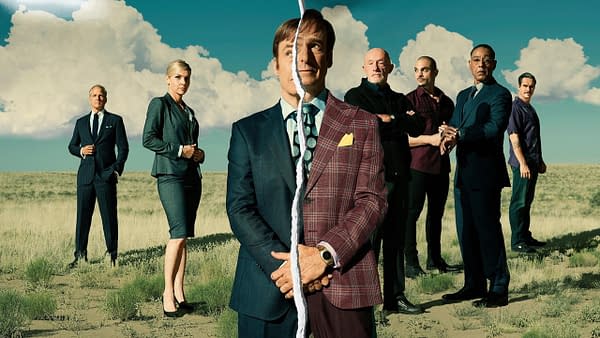 So where does this leave things heading into the final season, when the world of Better Call Saul hands the baton off to Breaking Bad? For Odenkirk, one thing he can't see happening is Jimmy and Kim still being together once the dust settles on the series: "I don't see how they possibly stay together. It could happen, and if anybody can figure it out, these writers can. But, I don't know, man, I don't see it. Saul had a care-free energy in him in Breaking Bad; a loner who didn't have to worry about anyone else. I don't see how he has that energy and still has Kim in his life, he's taking chances like working with Walter White."
Better Call Saul Co-Creator Peter Gould Discusses Jimmy's Future and Breaking Bad Appearances
One of the most debated topics in the Breaking Bad universe is whether our characters deserve any sort of "happy ending" and how much "karmic justice" should come into play. For Gould, that's something they have to keep from and center when mapping out where Jimmy's story will take him: "He's [Jimmy] done terrible things. He is an accessory to just awful, awful things, not just in the Walter White of it, but all the other things that he's done. I feel that he has a karmic burden. Does this guy earn a happy ending? One of the reasons we love television, movies and books is we're trying to understand the role of justice in the universe. This is the one thing that will hook an audience, and it will hook me into a story, is injustice is done, and there are many different kinds of injustices. So, I think that's a big question. In addition to what could happen, what does this guy deserve? Does he get what he deserves? Does he get more than he deserves? Does he get less than he deserves? And those are big questions. Also, at a certain point, Kim and Jimmy — are they good for each other? There's a lot of fates that you could have. There's a lot of bad things that could happen to people while they're still alive. What's going to happen? There's a universe of possibility. Sometimes, the most satisfying thing to me in the audience isn't necessarily the thing that's going to make the character happy."
With the final season being extended to 13 episodes, Gould is hoping they can "stick to the landing" in much the same way Gilligan did when ending Breaking Bad. While not ruling out the possibility of side projects focused on characters like Mike, Kim, and Gus, the series co-creator is ready to bring Better Call Saul to an ending it deserves. But will that ending include an appearance from Walter White aka Heisenberg and Jesse Pinkman? As of now, Gould doesn't have an answer to that but emphasized that it would only happen if it was natural to the story they were telling: "The thing that we kind of focus on is, what's the story we're telling? The story we're telling is of Jimmy McGill and Kim Wexler and Mike Ehrmantraut and Gustavo Fring, and if having Walt and Jesse turn out to be two that could be pivotal to the story then, absolutely, we would love to have them. Bryan Cranston and Aaron Paul are two of the busiest guys in show business — that's the other imponderable, whether they would be able to do it or want to do it."