Breaking Bad K-Drama Coming; Cranston/Paul Extended SB Ad Released
PopCorners released an extended look at Bryan Cranston & Aaron Paul's return as Walt & Jesse. Plus, a Breaking Bad K-Drama is on the way.
---
Aside from Rihanna's Super Bowl LVII Halftime Show performance, there wasn't a whole lot about Sunday that you would consider a highlight. Even the game, which came close to saving the day, ended up a shrug-worthy ordeal blunted by a questionable penalty call. But we did have Frito-Lay's PopCorners revisiting Vince Gilligan's and Peter Gould's Breaking Bad/Better Call Saul/"El Camino" universe and bringing Bryan Cranston (Walter White, aka Heisenberg) & Aaron Paul (Jesse Pinkman) with them. It turned out to be better than it had any right to be, considering we're talking snack chips, but everyone (more on that in a minute) gave it 110%, and that made the difference. And now, we have an extended look at the ad that includes some additional content that didn't make the final cut.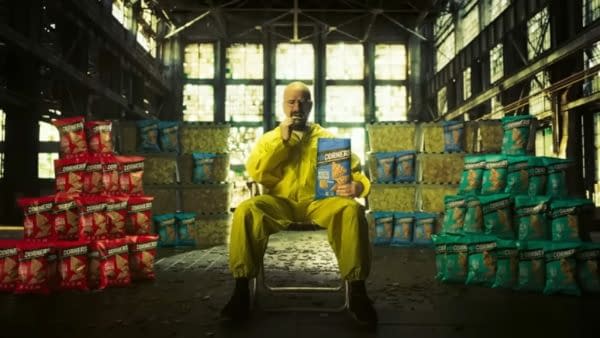 Now, here's a look an extended look inside the PopCorners multiverse as Walt & Jesse look to get their recipe out on the street- and that means having to make a deal with Tuco Salamanca (Raymond Cruz). And let's just say that Tuco's just as "passionate" about snack chips as he is about crystal meth. And following that, check out the news this week that Breaking Bad will be going the K-Drama route:
And here's a look back at how Cranston got back into his iconic role one more time for the Super Bowl ad:
In an exclusive report from Hankyeoreh (and reported by Yahoo! News), South Korean production company JP E&M Producer Park Bum-Hoon revealed that a remake of the award-winning AMC series is on the way. Currently set for four seasons, director Lee Chang-Yeol (A Song for My Dear, Happy Together & Trick) is set to helm the first season (which has already been written). Reports are that casting is currently underway, with the series expected to hit screens sometime in 2024.