Charlotte Flair Punished for Attack on Referee on WWE Raw
When Charlotte Flair flipped out and assaulted a WWE referee last night at the end of WWE Raw, many assumed her punishment would be a Raw Women's Championship against Rhea Ripley at the next Peacock-exclusive PPV, WrestleMania Backlash. And to be fair, that may still be Charlotte's ultimate destination, but first, she'll need to contend with a suspension and $100,000 fine, according to a report from WWE.com.
Charlotte Flair suspended and fined $100,000

During the April 19 edition of Raw Talk, WWE Official Adam Pearce broke the news that Charlotte Flair has been indefinitely suspended and fined $100,000 for her un-professional conduct on Monday Night Raw, as well as physically abusing an official. She is currently being escorted from the building.

Check back with WWE.com for more details as they become available.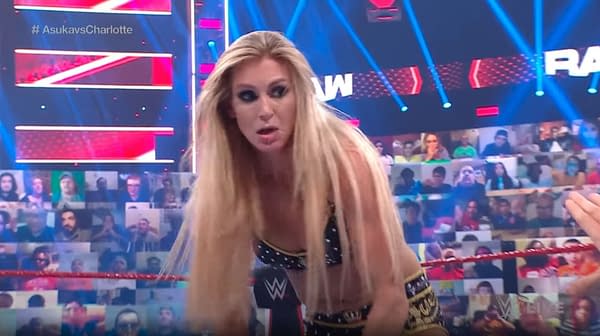 Time off television is surely not what Charlotte Flair hoped to gain from last night's events. In fact, sources tell Bleeding Cool that Charlotte had different plans for her character at a creative meeting before the show, telling WWE officials, "One, Charlotte needs to be louder, angrier, and have access to a time machine. Two, whenever Charlotte's not on screen, all the other characters should be asking, 'Where's Charlotte?; Three–" But unfortunately, WWE creative wasn't interested in Charlotte's feedback and went with the suspension storyline instead.
With some time off to think about her actions and a large fine, will Charlotte learn a lesson from her experience? Has anyone in pro wrestling ever learned a lesson about anything? Check out videos of last night's events below.
UPDATE: This article has been corrected. It originally claimed the fake fine levied against Charlotte Flair was for $10,000, but the fake fine is actually or $100,000. We apologize for any confusion.