Arrow returns tonight at 9 p.m. on the CW with a new episode called 'The Thanatos Guild', which features the return of Nyssa al Ghul as she comes to Star City to warn Thea Queen about the legacy of her father.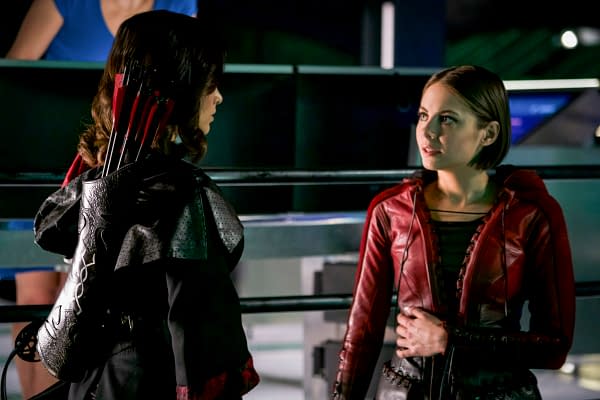 The first clip shows Nyssa (Katrina Law) visiting the Bunker and bring up the fact that Felicity (Emily Bett Rickards) has taken her husband for herself. Felicity says they can talk about that later, and Nyssa explains that in the league, that conversation would take the form of mortal combat. You thought divorce courts were tough. Nyssa then tells them all about the Thanatos Guild, a group of loyalists that Merlyn started putting together after she had disbanded the league. When he didn't return from Lian Yu, his second in charge, Athena (Kyra Zagorsky), took over. The guild is after a map that Merlyn had found — it leads to a powerful object. The guild won't stop until they get the map. Nyssa needs Thea (Willa Holland) to talk to an associate of Merlyn's in hopes of finding the map before the guild. Thea agrees to help and then she is done.
And we get a bonus clip as Dinah (Juliana Harkavy) is about to work a drug-related homicide when Captain Hill chases her off, telling her it's part of a larger sting operation. Dinah is suspicious and texts Curtis (Echo Kellum) to look into Hill.
Arrow airs tonight at 9 p.m. ET on the CW.
https://youtu.be/swfTDHpKaTs
Enjoyed this article? Share it!