Doctor Who: David Tennant in Doctor Costume Was Red Nose Day Surprise
Doctor Who EP Phil Collinson on David Tennant appearing in his Doctor costume for Red Nose Day being a pleasant surprise even for them.
---
If you had a chance to check out this year's Red Nose Day earlier this month, then you know that viewers were treated to a great opener featuring Sir Lenny Henry regenerating into our Fourteenth Doctor, David Tennant (more on that in a minute). But even before that sketch, Tennant had been giving us some excellent looks at his Doctor in a number of promos leading up to the event. Speaking with Doctor Who Magazine #589 (which you can order here), executive producer Phil Collinson shares how much the long-running series appreciates being associated with such a worthy & charitable cause – but even they were surprised by just how much of the Doctor that Tennant ended up showing off.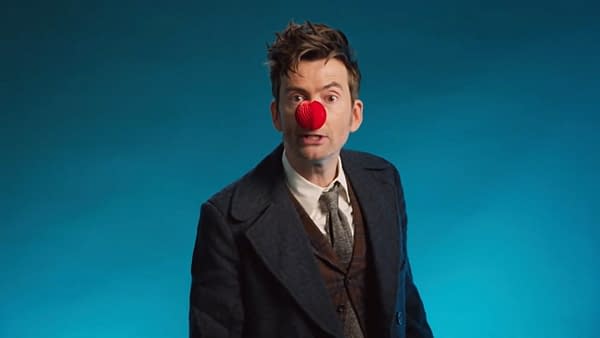 "A lot of people have thanked us for contributing to Comic Relief when, in fact, we had nothing to do with it! Though we're delighted to be associated with such a good cause. David's always had a long association with them, so the first we knew of it was when a request came through from Comic Relief, asking if we'd be happy with a scene of Sir Lenny Henry regenerating into David. We said, 'Oh yes, fire away, help yourself.' To be honest, I was pleased that they'd even asked; it was very considerate of them!" Collinson shared. Initially, the plans were pretty elaborate until "schedules and deadlines" required plans to be dialed back a bit. "I think the initial plans were very elaborate – to create a full re-staging of Jodie's regeneration into David. But a message came through a few weeks later – because of schedules and deadlines, they asked if they could simplify it. Again, of course, no worries – we were honoured simply to be mentioned in the same breath!" the executive producer added.
And it was timing that also resulted in us being treated to the Fourteenth Doctor much more than what was originally thought. "Things got slightly complicated on [February 23], when David and Sir Lenny shot what's called an 'appointment to view trail.' The plan was for David to be in his normal clothes. But they ran out of time, and he stayed in his Doctor costume. So the bonus is you got to see more of that costume than anyone had ever planned. And for the best possible cause. If you were glad of that, then Comic Relief is still accepting donations," Collinson added.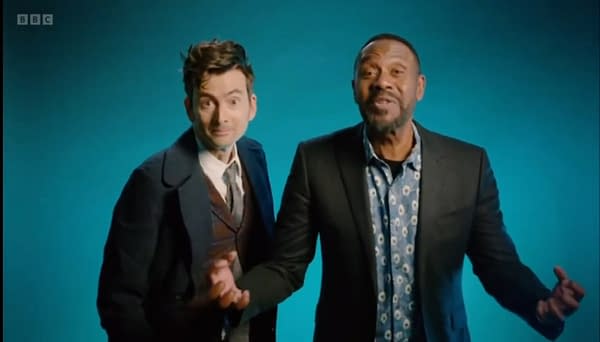 Doctor Who/Red Nose Day: A Look at David Tennant & Sir Lenny Henry
When we learned that Tennant would be co-hosting Red Nose Day 2023 with Paddy McGuinness, Zoe Ball, Joel Dommett, and AJ Odudu, we had our hopes up that we would get a Doctor Who sketch. And then, when we saw him in the teasers & promo images with Henry in full-on Fourteenth Doctor fashion mode (which we now know the backstory on), we assumed that it would be a given. And thankfully, for once? We were right, with Henry joining Tennant for an opening sketch to kick off the charity drive.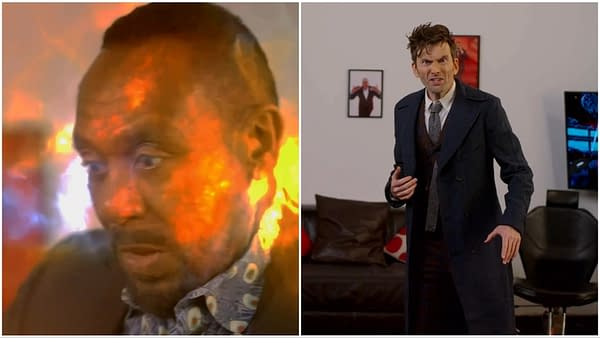 In the following clip, Henry is getting ready to wow the audience for the event when sudden sharp pains (which Henry writes off as the result of his love of all-you-can-eat hotel breakfasts) stop him in his tracks. And then, Henry utters the words that set things in motion: "What I need a doctor." And that's exactly what he gets. Well, it's more like The Doctor… in the form of Tennant. And after checking the familiarity of his teeth and a few "What's," Tennant's Doctor realizes he has to host Comic Relief. So you know what he needs to do… right? Yup… run! Here's a look at the complete sketch, followed by some additional looks at Tennant & Henry in action:
And here's a look back at the two previously released teasers featuring Tennant & Henry offering a rundown of the event:
"If you thought the appearance of David Tennant w
---
---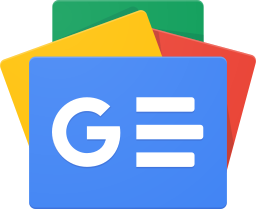 Stay up-to-date and support the site by following Bleeding Cool on Google News today!