It's been a bit of a shaky week for Doctor Who fans when it comes to the show's Series 13 future. While the late 2020/early 2021 holiday special "Revolution of the Daleks" is ready and waiting for airing, things aren't sounding so promising when it comes to Series 13 resuming production any time soon (more on that in a minute). Thankfully, late-night host and Doctor Who alum James Corden felt their pain and offered some comfort in the form of former Doctors Jodie Whittaker and David Tennant. Appearing on CBS' The Late Late Show with James Corden, Whittaker and Tennant opened up about that the "quarantine lifestyle" has been like for them, as well as what playing the Doctor and being a part of the show's half-century legacy means to them.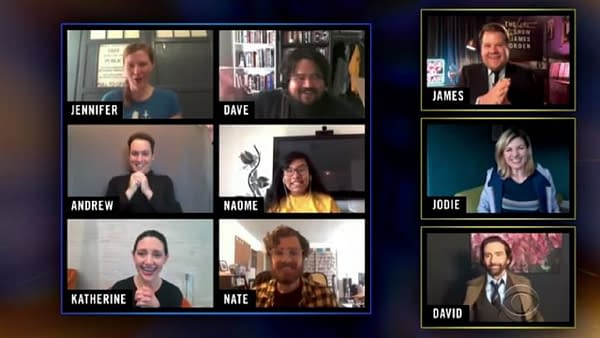 Also in the clips below, you'll find out what question bandleader Reggie Watts hit Whittaker and Tenant with that brought out "M&Ms" and "bottle of Prosecco" (Spoilers!). From there, Corden has the pair serve as online judges for an internet-based, made-at-home cosplay competition. The best parts? Those participating have no idea Whittaker and Tennant are taking part, and that the Doctors brought their own "cosplay." The one that held a special place in our hearts (and all our future nightmares)? The "Dalek" that looked like a murderous, melting snowman:
During an online Q&A earlier this week, Rhodri Talfan Davies, Director of BBC Wales, explained that social distancing rules currently in place will make it near-impossible for a production of the show's size and scope to accommodate: "It'll be down to social distancing. A production like that, which at any point employs hundreds of people, freelance and stuff, I don't believe can be made to the current standard in a socially distanced environment. So it depends when you think social distancing is going to end."
"A production like that which employs hundreds of people… I don't believe can be made to the current standard in a socially distanced environment.
It may be that the rules in Wales are different to England…"

—BBC Wales' @rhodritd on a possible return for #DoctorWho#RTSevents pic.twitter.com/w8Mb8SZQ36

— RTS Cymru Wales (@RTSCymruWales) June 16, 2020
Geography and differing governmental policies are also factors that need to be considered, with Davies also noting the differences in production guidelines enacted by the Welsh Assembly Government and what is being rolled out in England. "It may well be that the rules on social distancing in Wales are different to those in England," Davies explained. "And obviously each production center from those two countries is going to need to respond to the specific rules and regulations that each of the governments are introducing." Reportedly, shooting on Series 13 was supposed to begin this September 2020, which means there is still time for production restrictions to be rolled back (if September 2020 was the official start month).
Enjoyed this article? Share it!