E4 Announces the Return of Dead Pixels For a Second Series, Along With a Host of New and Returning Shows
I'm a big fan of the gaming sitcom Dead Pixels that runs on E4 in the UK. It took an age to make it from filming to screen, so I'm very happy to hear that a second series has been commissioned lickety split, and announced by E4 Controller, Karl Warner at a star-studded evening in London which I was unable to attend because San Diego Comic-Con is kicking my arse. Seemed appropriate.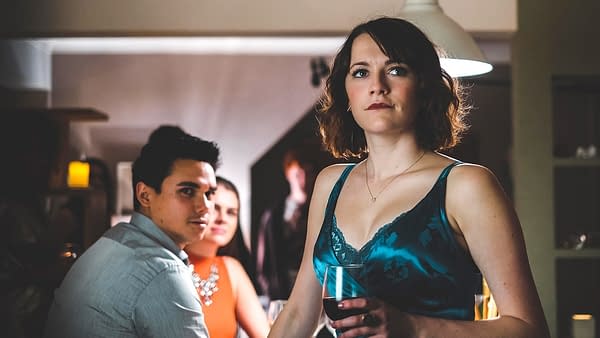 Apparently, the first series was E4's best-performing scripted comedy since The Inbetweeners. And we know what happened with that. So… what's happening in series 2?
Gamers Meg (Alexa Davies – Mamma Mia 2, Raised by Wolves, Detectorists), Nicky (Will Merrick – Poldark, Skins), Russell (David Mumeni – Damned, Lost in London) and Usman (Sargon Yelda – Spectre, Innocent) make attempts to build lives away from the game and in the real world, which ironically draws them further back into the online world of the Kingdom Scrolls, and with an expansion pack available anything could happen.

Things become even more emotionally complicated for the gang with non-gamer Alison (Charlotte Ritchie – Call the Midwife, Raised by Wolves, Fresh Meat) still stuck on the side lines. Only one thing's for certain: we're not ready for Game Over yet. (Prod Co – Various Artists Ltd)
Okay, so what else? Apparently a host of brand new linear and digital commissions, developments and returning favourites from the channel, as well as E4's very first nationwide hunt for the next generation of stars, all of which will bring a wealth of fresh and recognisable faces. They hope.
Karl Warner said: "I can't wait to watch the new shows we're announcing today as well as all the returning shows we love at E4. We've been focused on working with a richer range of Talent associated with the Channel; from established names like Rob Beckett and Emma Willis, to up-and-coming stars like Samson Kayo, The Wall of Comedy and our newest (but oldest) face, Grime Gran. We want E4 to be the home of funny, diverse, outrageous, loveable Talent."
So what else do we have? Go on, let's run the PR… it's that kind of evening.
New Faces of E4
E4's nationwide talent search is to be led by production company Fully Focused, which has been charged to find the next generation of stars, be it presenters, actors or comedians. The search will uncover talent from a range of different backgrounds and from across the country.
The new faces will come without any substantial mainstream or terrestrial broadcast experience and will be given training to help with their development, and a selected group will then be given exposure on E4, which could see them involved across digital content, social media, in-vision continuity or starring in new shows. (Prod co – Fully Focused)
New commissions and returning hit series
Rob Beckett's Savage Socials W/T a new 10-part series (8×45' and 2×60') will see funny man Rob Beckett diving head-first into a pool of social media's most topical, hilarious and outrageous content, all while offering the most savage commentary on TV.
Each episode will see viewers taken on a fast-paced joyride through Rob's 'savage feed', a catalogue of the latest memes, digital blunders and celebrity socials from the previous week. Any celebs who think their embarrassing Snapchats and Instagram stories are a thing of the past better think again, as Rob takes on the most hilariously banal and attention seeking content you missed from the last week.
An initial eight weekly episodes will be followed by two one-hour end of year specials, featuring the same cheeky, irrepressible audacity. (Prod co – Thames)
The announcement of Rob Beckett's Savage Socials W/T comes hot on the of the heels of recently announced new entertainment series, Pants on Fire hosted by Emma Willis. It will see teams of bluffers put to the ultimate test as new and emerging faces from the world of comedy go head-to-head in an extreme bluffing show to try to impress a celebrity jury. (Prod co – Fulwell 73)
E4 has also agreed a major first-look development deal with the inimitable producers behind hit YouTube channel, Wall of Comedy and co-producers and stars of viral sensation, Shiro's Story, a three-part drama told mainly via rap in addition to spoken dialogue that has amassed 17 million combined views and a huge dedicated following.
The deal will see multiple developments across entertainment and drama, working closely with Wall of Comedy founders, Percelle Ascott and Joivan Wade – who write, produce and star in their work – and managing director and executive producer, Tafara Makopa.
E4's relationship with Ascott and Wade goes back in 2013 when they starred in E4 series, Youngers, after the huge success of their YouTube series, Mandem on the Wall.
Wade and Ascott launched the online platform Wall of Comedy in 2015. Spanning YouTube, Facebook and Instagram, it has produced numerous original and viral comedy formats including; Group Chat, Questions with Yung Filly, Who's the Daddy, Who's Got Game, as well as short-form features with some of the UK's biggest social media content creators. Since then, the platform has achieved over 3.5 billion views, reaching over 120,000,000 people per week.
Outside of linear, E4 has commissioned an exclusive series of digital episodes for E4's YouTube and Facebook pages from Margie "Grime Gran" Keefe. Through her grandson Rooney "Risky Roadz" Keefe, Margie has a surprisingly deep relationship with the UK Grime scene. Years ago, she bought Rooney his first video camera, the camera that went on to film the earliest performances of the UK's best MCs.
Over the years Margie has got to know all the major players in the UK scene as they visited her east London house, catching up with all her favourite MCs for a cup of tea and a chat, to find out how things have changed since those early days on grime. She's now bringing her straight talking interviews to E4. (Prod co – Lemonade Money)
Meanwhile, BAFTA-nominated rising star Samson Kayo (Famalam, Timewasters, Sliced) is bringing his fictional African Dictator to the E4 family, initially piloting,The Colonel Banjoko Show.
Colonel Banjoko is the erstwhile military dictator of the small African nation of Tanzangola. After a devastating civil war, entirely of his own making, the Colonel was persuaded to take an 'extended Sabbatical' by his devoted subjects. He fled to London in the dead of night, taking only what he could carry… and the remainder of the country's health budget, and is now living out his dream of presenting his own late-night entertainment show complete with celebrity guests, music, games and summary executions.
With his only previous TV experience being lengthy diatribes on Tanzangola's state-owned news Channel, Colonel Banjoko is the perfect person to host an E4entertainment show. He is bombastic, charming, utterly self-obsessed and highly dangerous and his celebrity guests are kept on their toes by his unique and unpredictable style of interrogation. In many ways he is a modern-day Mrs Merton, only armed to the teeth and with a pending trial for war crimes at The Hague. (Prod co – BBC Studios)
Warner also announced the return of a range of commissioned audience favourites and popular acquisitions.
Charlotte Ritchie also co-stars in Canadian comedian Mae Martin's Feel Good (previously announced under its working title of Mae and George) a new, semi-autobiographical, six-part comedy series. The show follows recovering addict and comedian Mae, who is trying to control the addictive behaviours and intense romanticism that permeate every facet of her life. Life is further complicated by her new and all-consuming relationship with new girlfriend George (Ritchie) and strained relationship with her mum (Lisa Kudrow).
Feel Good is a deeply personal, darkly hilarious and poignant story about the unique pressures of navigating the modern-day fluid landscape of gender and sexuality. Starring Mae Martin, Feel Good is co-written by Mae and Joe Hampson. (Prod co – Objective Fiction)
Golden Globe-winning fan favourite, Brooklyn Nine-Nine, will be returning to E4 for its seventh series, plus the third series of Young Sheldon will be coming later this year – the beloved prequel to massive hit The Big Bang Theory was the biggest new comedy launch ever for E4 when it first premiered last year.
In the non-scripted space, The family Matthews are back with Spencer, Vogue and Wedding Two (W/T) (4×60'), almost six months since the Matthews family made a huge impression on E4's audience. The success of series one across social media and the wider press hasn't been lost on Spencer…"It's put us right at the top of the Z list", he comments with a hint of his trademark humour. Spencer, Vogue and Wedding Two (W/T) promises to be every bit as hilarious as the first series.
Baby Theodore is now 10 months old – he's crawling, laughing and eating solids, but will we capture his first steps over the course of the summer? Then there's the small matter of throwing the Wedding party they always wanted. Their first ceremony was an intimate affair for close family – and Vogue was heavily pregnant. This time, the couple want to invite all their friends and Vogue can wear the type of dress she couldn't fit into first time around!
The new series will feature regular appearances from Vogue's family including her mum Sandra – fast becoming an Instagram sensation in her own right. Ex- 'Made in Chelsea' alumni Hugo Taylor and Millie Mackintosh will also be on hand to give the couple some much needed assistance with the wedding preparations. And last but certainly not least, dog Winston. (Prod co – Rumpus)
Celebs Go Dating is back for series seven and is opening its doors to help six new unlucky-in-love celebrity clients find 'the one' for a Summer of love. After a recent breakup in the spotlight, Love Island's Jack Fincham is joining the agency alongside Geordie Shore's party boy Nathan Henry and Blue popstar Lee Ryan.
The dating agents will have their hands full with three girls also joining the boys in the pursuit of love. Love Island's Megan Barton Hanson and reality TV star Lauren Goodger's dating skills will be put to the test as the agents throw them in at the deep end. Television and radio personality, socialite and bestselling author Lady Colin Campbell is the final celeb counting on the agents to find her a match made in heaven.
Smooth-talking and award-winning matchmaker Paul Carrick Brunson is back, joined by life coach Anna Williamson – who will deep dive and pick apart our celeb's dating histories – and much-loved Junior Client Coordinator Tom Read Wilson. (Prod co – Lime Pictures)
E4's one-stop-shop for every sex and sexual health dilemma is back! The Sex Clinic (8 x 60) is opening its doors for a second series. This time promising to probe deeper than ever into the U.K.'s bedroom habits… and the potential consequences. No topic is off limits! Patients from across the country will share the secrets of their sex lives with each other, and you, recounting frank, funny, forthright and sometimes moving tales of their most intimate encounters.
Back on call and ready to help anyone who walks through the clinic doors is the series' trio of unshockable sexual health experts – Dr Naomi Sutton (Consultant Physician in Integrated Sexual Health), Sarah Mulindwa (Senior Sexual Health Nurse Specialist) and Kevin Turner (Sexual Health Adviser). They'll be joined by a bigger team of visiting specialists for series two, who'll be on hand to offer tips on how to improve patients' sex lives and even overcome more deep-seated sexual hang-ups. (Prod co – Firecracker)
You'll need to pack your budgie smugglers because Celebrity Coach Trip (10 x 60) is hitting the road again! Legendary international tour guide Brendan Sheerin will be welcoming a new set of celebrity sun-seekers for an action-packed tour around the Mediterranean.
The six pairs joining the coach on day one of the latest tour are Queen of the Jungle, Vicky Pattison and her pal, one third of TV's Thomas brothers, Scott Thomas; radio presenter, Kate Lawler and viral video sensation, Arron Crascall; Love Island friends, Georgia Steel and Alexandra Cane; Made in Chelsea's Francis Boulle and his friend, comedian, Sarah Keyworth; sisters Cleopatra and Yonah Higgins from iconic 90s pop group Cleopatra; and Brendan pairs up solo travellers, former EastEnders bad boy Harry Reid and ex-The Apprentice candidate James Hill.
This 10-day tour will see the pairs enjoy exhilarating excursions and cultural outings, and for the first time, the new series will see double the action as each episode will be a full hour of sun, sea and scandal on E4 five nights a week. (Prod co – 12 Yard Productions)
The E4 favourites from SW3 are back as BAFTA-award winning show Made in Chelsea returns for series 18.
With the dramatic introduction of a few new additions last series, how will the growing Chelsea clique deal with the aftermath of hook ups, break ups and make ups, unearthed secrets and fiery confrontations? Will friendships, that were severely tested, ever be the same? And can new relationships prove they have staying power? The new series promises to kick-off right where it left off and continue to explore more of SW3's VIP locations.
Returning for more mischief in series 18 will be MIC favourites Jamie Laing, Olivia Bentley, Alex Mytton, Mark Francis Vandelli, Miles Nazaire, James Taylor, Sophie 'Habbs' Habboo, Sophie Hermann, Harry Barron and Melissa Tattam, Oliver Proudlock, Fredrick Ferrier, Eliza Batten and Victoria Baker-Harber. As well as series 17's newer faces Maeva D'Ascanio, Verity Scarlett Bowditch, Freddie Brown, Amelia Mist, Rosi Mai and Angus Findlay. The series is produced by NBCUniversal International Studios' Monkey Kingdom.