The Amazon/BBC TV adaptation of Sir Terry Pratchett and Neil Gaiman's novel Good Omens, adapted by Neil Gaiman and starring David Tennant and Michael Sheen, is set to air on Amazon Prime pretty damn soon.
And the PR is out in full effect. Including the creation of a five-floor immersive Good Omens experience, escape room and exhibition at 19 Greek Street in Soho, all under cover of a dilapidated bookshop, A.Z. Fell and Co – modelled after Aziraphale's bookstore in the book – and presumably the show, with his 1934 Bentley Derby Coupe parked outside.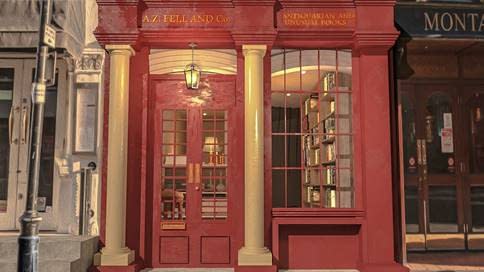 You know what? While it won't be ready yet, that is literally two blocks from where I am sitting writing this. I am going to pop by and see how it looks, then put the selfie right here.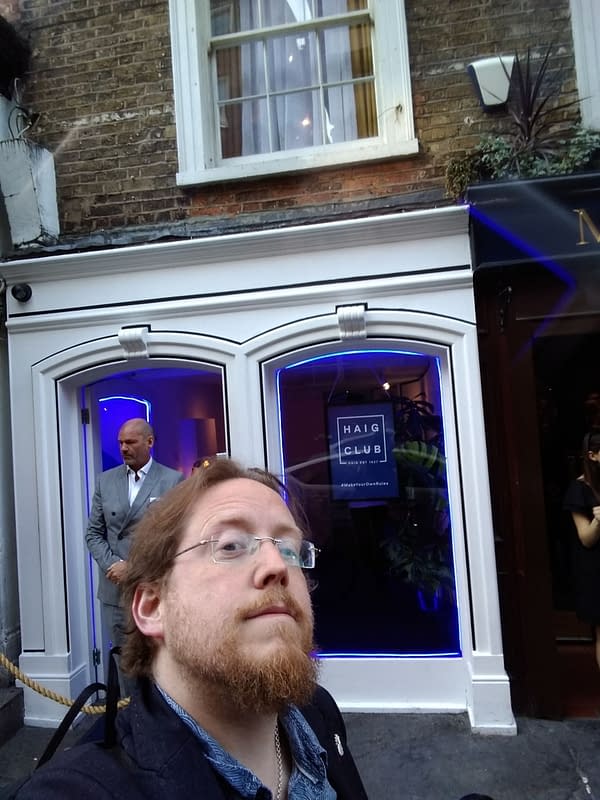 They have a little work to do.
Created in close consultation with Neil Gaiman and the production team, the Good Omens bookshop will be free to enter, but it would be wise to book. Tickets for the escape room go live tomorrow morning at 10 am. Bleeding Cool is already planning a visit…
The experience includes an escape room challenge starting in a recreation of hell in search of The Nice and Accurate Prophecies of Agnes Nutter, explore a rich array of props and costumes from the show and discover original artwork and on-set drawings from portrait artist Lorna May Wadsworth.
The event will be open to the public on the 1st and 2nd of June. The show goes live on Amazon Prime on the 31st of May.
Regarding Lorna May Wadsworth, Neil invited Lorna to sketch on set as artist in residence during the filming of Good Omens – during November 2017 at the Globe Theatre and the following January on 'Burn Day' – the day the bookshop A.Z. Fell was filmed burning down on a wet film set in Bovingdon. 'They had built a whole Soho Street! It was most discombobulating." recalls Lorna. "Nothing concentrates the mind like imminent incineration. I was frantically sketching the interior of the bookshop as firemen were unspooling hoses around me. My paper was flapping around like a damp sail and I sat in a puddle."
Wadsworth produced a collection of sketches of these key set pieces which have been included in the new limited edition Good Omens script companion published to accompany the series. Whilst on set, Wadsworth conceived the idea for her Good Icons. "David Tennant and Michael Sheen's demon Crowley and angel Aziraphale seemed the perfect gift to icon painting. I wanted to use the wax technique I developed for my portrait of Neil and throw some 24-carat gold into the mix." She managed to squeeze in sittings with the actors between takes and capture them as they transmuted into character.
Wadsworth is known for seminal images of Margaret Thatcher, David Blunkett and Rowan Williams. Like her vast Thatcher, in Big Neil she has captured Gaiman 'god-sized', in a 2-metre large head, echoing the epic series American Gold which is currently in Series 2 on Amazon, adapted from his 2001 novel of the same name. In casting Neil as the omnipotent narrator Lorna echoes the adoration in which he is held by his fans.
Lorna's portrait 'The Book of Neil Gaiman' is a life-size rendering of the author's head suspended in layers of sun-bleached wax, crafted upon a piece of prehistoric bog oak which lay forgotten within the cold dark earth for thousands of years. The double-sided portrait, of both the front and back of his head, is manifested within the form of something almost book shaped. It is a piece which seems both ancient relic and otherworldly mystery. Indeed time is contained and condensed within this dark, dense tome which will never open.
Wadsworth developed this technique specifically for this portrait of Neil and went on to use it for the icons. They echo the earliest portraits in history, the Fayum wax portraits of the dead of Ancient Egypt, which were painted to adorn the carapaces of mummies, examples of which can be found in the British Museum. The portraits of Neil, the Good Icons and the set sketches will also be on show in the Pop Up. Directly after,  the portraits of Neil will be exhibited at Old Master Gallery Philip Mould & Co on Pall Mall in St James's. The exhibit Neil Gaiman: Good Icon will place the much-loved author amongst Holbeins and Van Dycks and be open to the public from 4 – 18 June 2019.
Yeah, I'm going to go to that as well.
Enjoyed this article? Share it!