'Gotham' Review: "Pena Dura" – All Pain, No Bane [SPOILERS]
So Gordon (Ben McKenzie) tracked down the vile arms dealer that sold the rockets that destroyed Haven. Problem? Said arms dealer overpowered Gordon, and if it weren't for the timely intervention of Eduardo Durrance (Shane West) and his Special Forces team, FOX's Gotham might have needed a new top cop.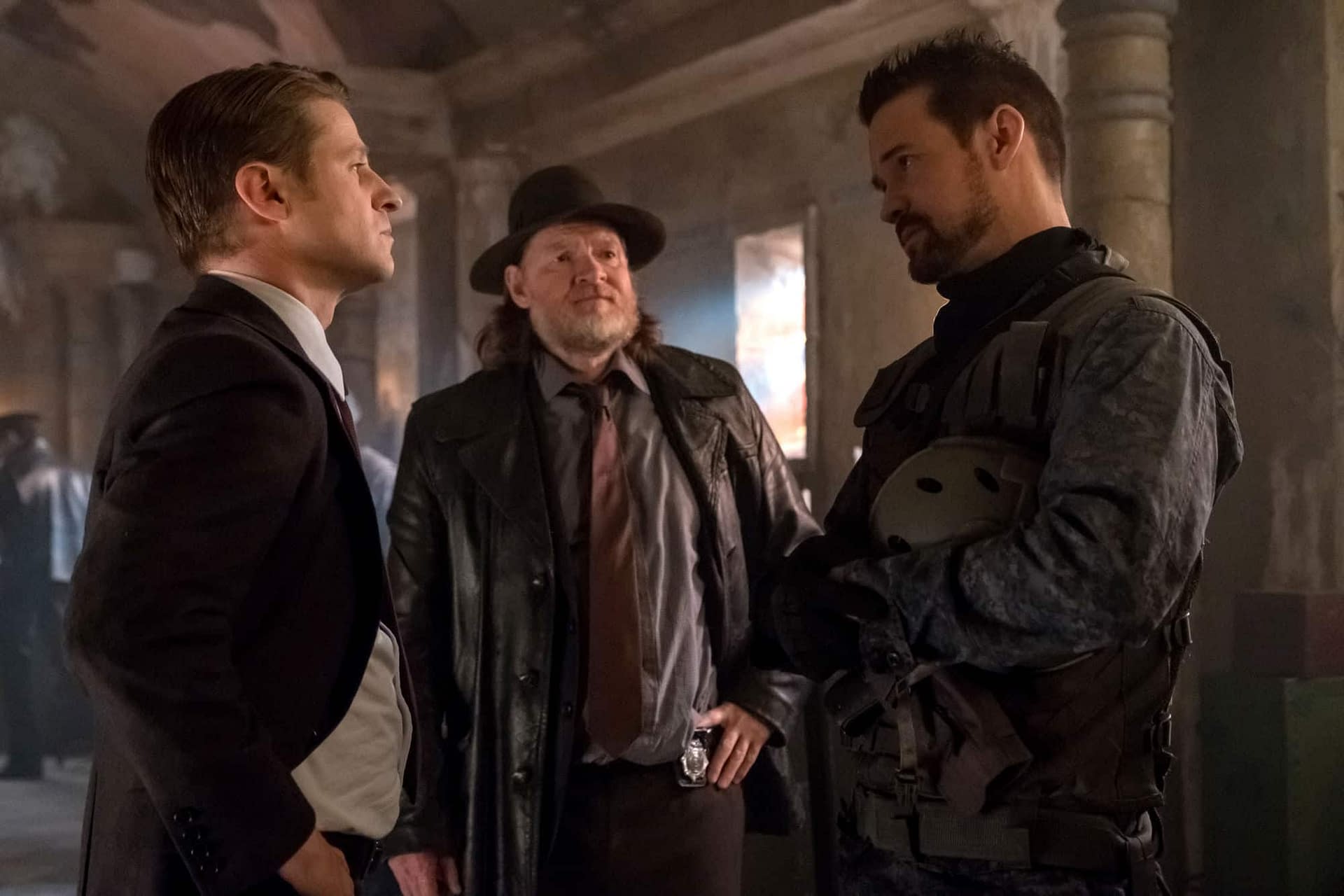 Durrance's arrival to the lawless streets of Gotham City has been foreshadowed for weeks (he's the alter-ego of Batman arch-villain Bane) and apparently he and Gordon served together in the military before Gordon came back to join the GCPD. Durrance has been tasked with assisting Gordon in re-establishing law and order to the city – and is more than willing to take out any and all crime lords in the process.
Gordon finds out that Edward Nygma (Cory Michael Smith) was the person responsible for destroying Haven, and brings Durrance along with him to take Nygma into custody. Ed swears he is innocent, then sets off a booby trap that only truly clever puzzle skills can resolve. The interplay between McKenzie, West, and Smith is a blast, with Ed twitchy but resolute – while Durrance and Gordon bicker with all the affection of long-time partners. West cocks a wry eyebrow with the best of them, and his scenes with McKenzie shine.
Ed escapes into the streets of Gotham, and eventually tracks down the key to all of his missing time episodes. Penguin (Robin Lord Taylor) had brought Ed to Hugo Strange (the always amazing B.D. Wong) after finding the Riddler bleeding out during the same night Jeremiah (Cameron Monaghan) isolated Gotham. Strange may have saved Ed's life, but did a little extra work pro-bono – which we'll cover in the spoilers below!
Oh, Selina (Camren Bicondova). Be nice to Bruce (David Mazouz). He just wants to be your friend – taunting him about his parents is pretty cruel. You never know what unresolved childhood trauma regarding dead parents is going to manifest, kid!
Enough of this safe stuff! Let's go to Spoilerville! Wong approaches his work in/on Gotham like no one else. His Hugo Strange is so off kilter… so perfectly deranged… that sometimes we forget just how good of a dramatic actor he truly is. Wong is walking in the footsteps of some of the great guest-stars of 60's Batman, and he's having the time of his life. His "oh, myyyyyyyy" on being discovered by Ed was solid gold. And how about that Remote Control Ed curve-ball?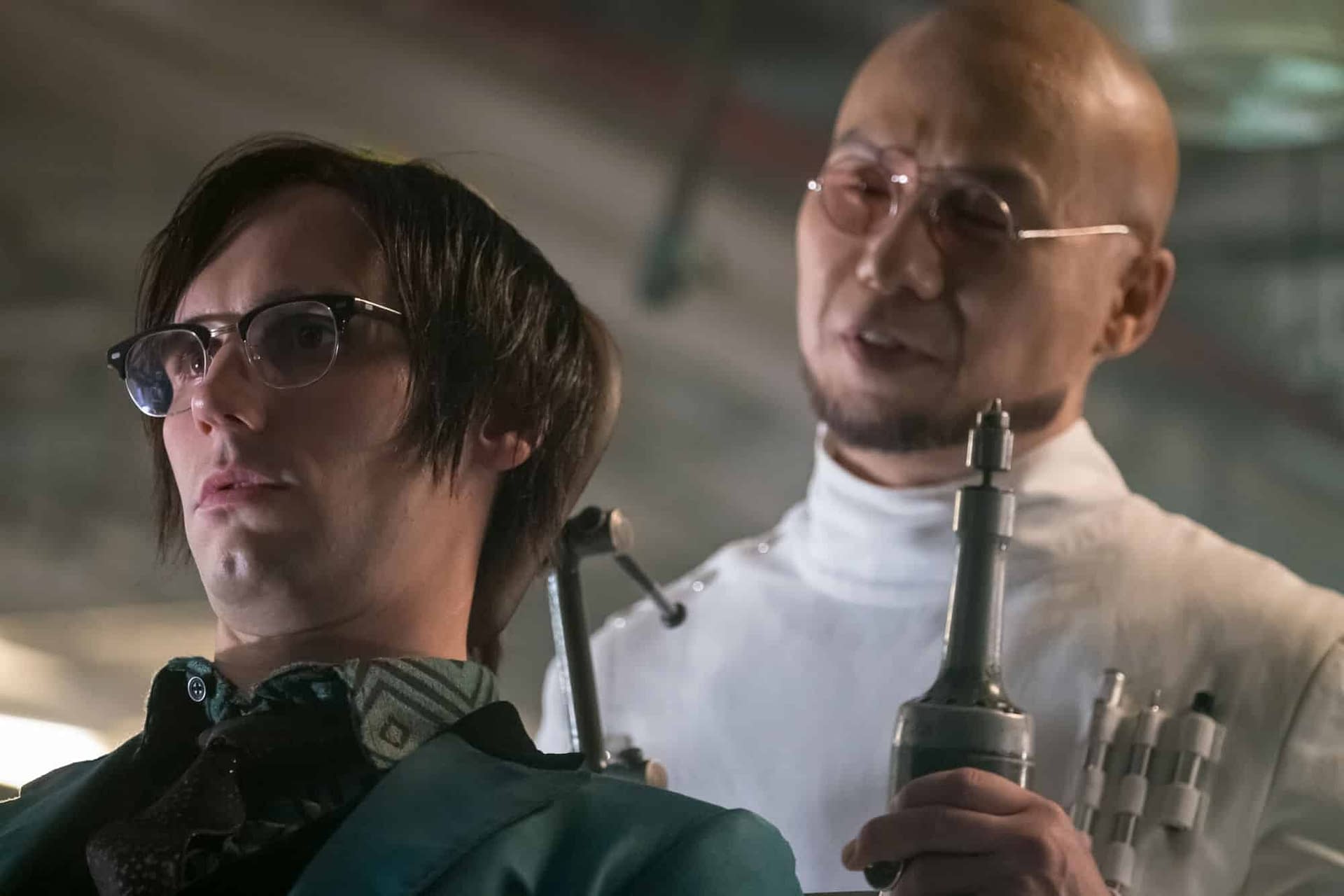 And then there's Durrance, who turned traitor on his old friend Jim. We knew we couldn't trust him – and he isn't even wearing the mask yet! Sadly, we're still two weeks away from any serious movement on the Bane front, so you can join us in practicing a little patience.
While we're at it… Jeremiah was not dead? Selina stabbed him nine freaking times last week, and he's hopping around fresh as a lunatic daisy?!? And whatever he's doing with those two poor saps at the end definitely spells certain pain for Bruce!
With the next new episode of Gotham two weeks away, we'll be running a couple of special articles to help get all of you through that dark, lonely time. Until then, here's a preview for "13 Stitches" – which supposedly brings Bane all the way into focus!
https://www.youtube.com/watch?v=ELaO2q9z8aQ
Gotham s05e06 "13 Stitches": Gordon assembles an unlikely team to protect Gotham from Eduardo Dorrance (guest star Shane West) and his Delta Force. Just as Lee Thompkins resurfaces, Barbara reveals shocking news that will change Gordon's life forever. Meanwhile, Selina and Penguin team up to outsmart fellow villain Magpie (guest star Sarah Schenkkan)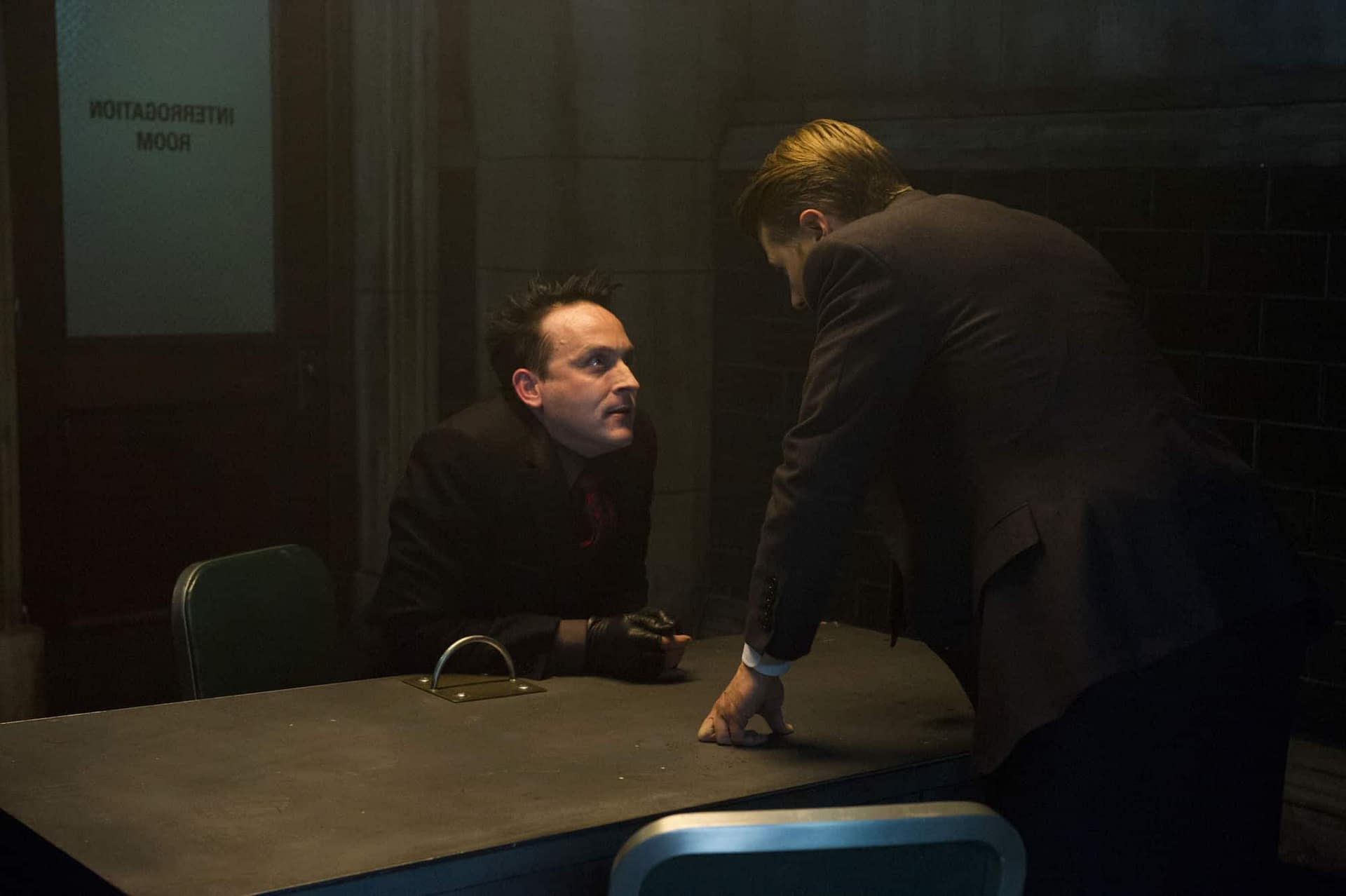 FOX's Gotham stars Ben McKenzie as Detective James Gordon, Donal Logue as Detective Harvey Bullock, Morena Baccarin as Dr. Leslie Thompkins, Sean Pertwee as Alfred Pennyworth, Robin Lord Taylor as Oswald Cobblepot/The Penguin, Erin Richards as Barbara Kean, David Mazouz as Bruce Wayne, Camren Bicondova as Selina Kyle/Catwoman, Cory Michael Smith as Edward Nygma/The Riddler, and Chris Chalk as Lucius Fox.