Krypton Season 1: Is this Really an Adam Strange Series in Disguise?
When I first heard about the upcoming Syfy series Krypton, I had my doubts. As much as I enjoy Gotham, it has strayed very far from the source material and feels more like an Elseworlds story. The idea of going back to Superman's grandfather for a story felt similar. And the more pieces they added, it just seemed strange to me. But now that it's coming more into focus, we got to see the look of Brainiac and now a new trailer (below), this is really starting to fall into place as possibly something special.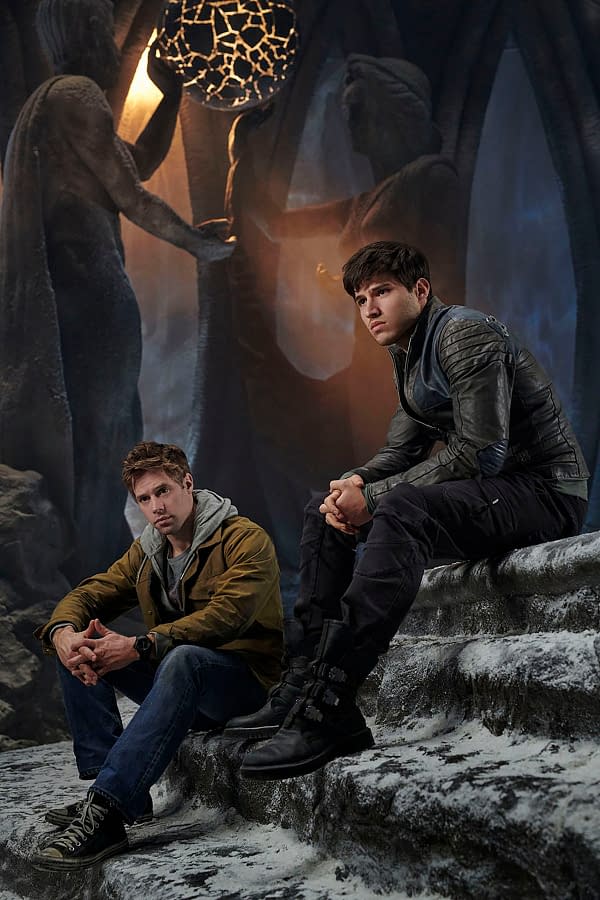 Don't think of this as a Superman prequel. Think of it as an Adam Strange series where he has to go back in time to stop Brainiac from keeping Kal-El from ever existing. That's what the new trailer below sets up. Adam Strange (Shaun Sipos) has traveled back in time to stop Brainiac (Blake Ritson) and enlists the aide of Kal-El's grandfather Seg-El (Cameron Cuffe). He uses the cape to not only show Seg-El what his grandson becomes, but it's the ticking clock showing them if Superman still exists. If the cape vanishes, Brainiac wins. But there is the other end of the spectrum, if Strange tells him too much or if they do something to stop the destruction of Krypton, then there is no reason to send Kal-El to Earth and Brainiac wins. It's a very fine line.
We get more footage in the new trailer along with our first good look at Brainiac's skull ship. We also get the first reference to the city of Kandor, the Kryptonian City that Brainiac steals, shrinks and puts into a bottle along with cities from around the galaxy.
How much Brainiac and Adam Strange will appear remains to be seen. They could just be what introduces us to the world or they could be part of the driving force of the season. I'm hoping for the latter… I like the idea that they are sneaking an Adam Strange television series with hints of Game of Thrones (all the houses) onto Syfy by calling it Krypton.
Krypton starts March 21st on Syfy.