Krypton Season 1: The Blood of the House of El
The Blood of the House of El sounds like the title of an awesome horror movie. But in this case, it's a new teaser trailer for Syfy's upcoming Superman prequel series Krypton. In the trailer we see Seg-El (Cameron Cuffe) walking into what looks like the Fortress of Solitude and using his blood to access a control panel. When the blood hits, the symbol we associate with Superman lights up in the same red and yellow a we see on Superman's chest. With him is Charys-El (Paula Malcomson) who I believe is Seg-El's mother.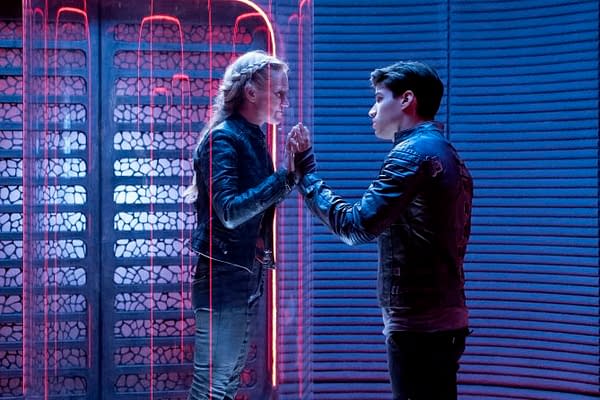 The new series it's a story of time travel that has Brainiac (Blake Ritson) heading back to destroy Krypton before Kal-El could ever be born and Adam Strange (Shaun Sipos) going back to find Seg-El (Cameron Cuffe), Kal's grandfather, to help him stop it… but not stop the the late destruction of the planet, otherwise Superman would never have come to Earth. That will be a very tough decision to make. Executive producers Geoff Johns and David Goyer spoke at the Television Critics Associations' winter press tour about the new series.
Krypton premieres March 21st on Syfy.