Krypton Season 1: Could a Quiet Moment Lead to One of Superman's Greatest Enemies?
We've come to the penultimate episode of Krypton season 1, an episode entitled 'Hope'. It seems strange that we are only on the ninth episode of the season as there has been a lot happening besides world building. The first few episodes started out a little slow as they set up the world and created the threats, and then they introduced General Zod (Colin Salmon) and the whole series got turned on its head and has been flying ever since. Syfy has released a new scene from this week's episode… but there are spoilers in it if you're not caught up, so be warned.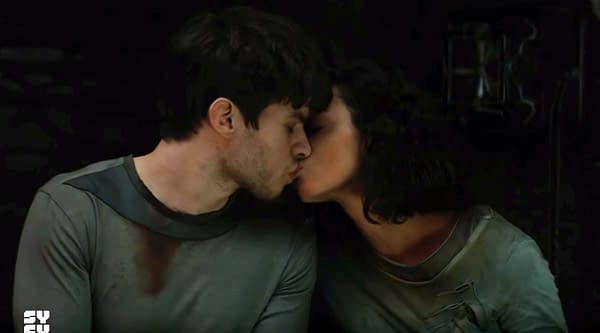 The scene is a simple one as Seg-El (Cameron Cuffe) is returning to the bar where Lyta-Zod (Georgina Campbell) is waiting. The search for the Voice of Rao (Blake Ritson) continues as Kandor is powder keg ready to explode with no leadership. We find out that Seg sent Kem (Rasmus Hardiker) to Kryptonopolis to get him to safety and that Seg is having a difficult time with having seen Adam Strange (Shaun Sipos) blown up. We know that he simply used a Zeta beam to go elsewhere, but Seg doesn't. He's had too many people die already and is questioning everything. Lyta tries to comfort him and it leads to them having a romantic moment. This could be significant — a previous episode had Dru-Zod explain that Lyta got pregnant during the battle for Kandor from an unnamed soldier he never met. Could this scene be the start of one of Superman's greatest enemies?
Krypton airs Wednesdays at 10 p.m. ET on Syfy with only two episodes left in season 1.