Let's Talk About So You Think You Can Dance Season 15 Episode 2
FOX series So You Think You Can Dance is back for it's 15th season. The competition show starts with a series of auditions across the country where dancers are chosen to be sent forward to a semi finals in Las Vegas before making the actual top 20 performers.
Continually one of the most enjoyable reality shows (FIGHT ME), contestants often will go on to be featured prominently in national tours (like Lady Gaga) and films like The Greatest Showman.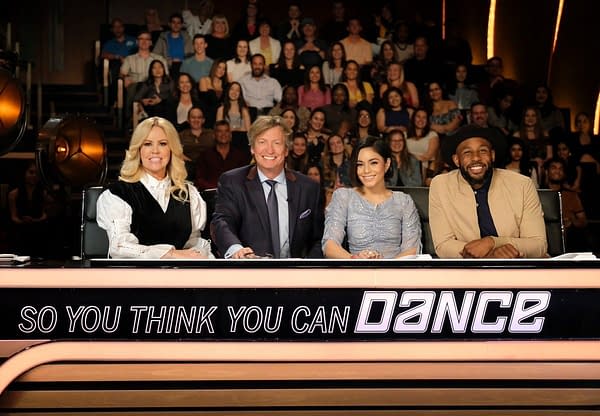 Judges for this part of season 15 are former So You Think You Can Dance contestant Twitch, actress/singer Vanessa Hudgens, ballroom champion and Hot Tamale Train conductor Mary Murphy, and series creator Nigel Lithgow. Longtime series host Cat Deeley is back as well.
This week, the audition phase continues in Los Angeles, and we'll be updating as the episode airs:
*The first auditionee of the evening is an 18 year old student, who specializes in contemporary
*She's strong, great emotion. Maybe needs some work on fluidity in her transitions though.
*Nigel calls her control amazing, Vanessa comments on her graceful moments, Twitch calls her incredibly strong
*She makes it through to the Academy in Vegas
*Jay Jay is a jazz dancer from Detroit, and his fluff piece with photos and vids is adorable.
*He'd previously made it all the way to the Acadamy last year, but didn't get any further. He's been touring with Travis Wall's company though.
*Great personality, would love to see what Sonya Tayeh would do with him
*Mary loved it, comments on his core.
*Vanessa says he got her hyped!
*He's unanimously given a ticket to the Academy. Hopefully it'll work out better for him this year.
*The next contestants are brothers- who do a lot of dance outreach in schools
*Man I can't wait to hear what Twitch says, these are totally his type of dudes
*Some nice interplay between the two, hopefully they can do other styles. Definitely through to the choreo round I'd say.
*Nigel says yes to Nathan going to the Academy, and pauses before telling Courtland he's a yes as well
*Hannehlei is up next, says she started dancing at age 2 and it helped her break out of her shell
*She's strong, focused. So much there to work with, would love to see what she can do with a partner
*Vanessa tells her she "makes her proud to be a Pilipino", and she also makes it through to the Academy
*The montage of the other female contestant hopefuls from LA Day 2 is sooooo strong, sad we don't get to see all of them
*CJ from Louisiana is up next, dancing his own style of hiphop
*He gets choked up- telling the story of the murder of his mother, just heartbreaking.
*Daaaaang the ability of CJ to emote, and his commitment to each move is just so so strong
*They do not sent him through to the Academy, but give him so much love and support.
*Dustin, an animator, made it all the way to Academy last year.
*His hands are so smooth, great timing
*He's also got a hat very similar to Twitch's, and I'm hoping they'll dance together
*The final contestant of the night is a pair, Nicole and her partner Benji! (former SYTYCD winner)
*They've been swing dancing together for years, and it turns out that Nicole and her sister had snuck into tapings back when she was little
*Well hot damn, she partners well with him
*some really nice tricks, but it feels like it's ALL tricks with not as much fluidity
*Ok fine, maybe it's just the song choice? Not the best for energy
*They of course sent her through.
*The teaser for next week looks super promising for some different types of performances.
***
So You Think You Can Dance airs on FOX on Mondays.