Hulu and AwesomenessTV's Horror Series 'Light as a Feather' Announces Cast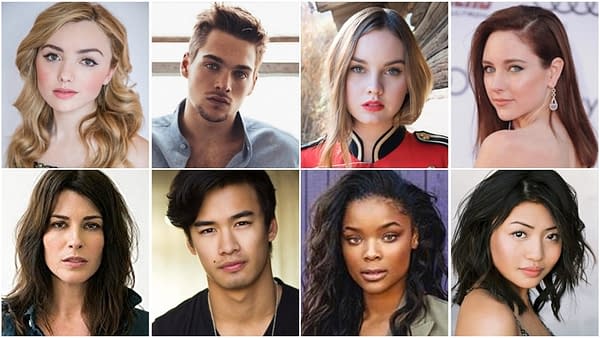 If there's one thing that Hulu and AwesomenessTV's upcoming horror series Light as a Feather already has going for it, it's that it doesn't waste time dolling out the names of those set to join the 10-episode, straight-to-series supernatural thriller.
Based on a story by Zoe Aarsen that generated more than 2.9 million Wattpad reads, the series stars Liana Liberato (To the Bone) as McKenna; Haley Ramm (Seven in Heaven) as Violet; Ajiona Alexus (13 Reasons Why) as Candace; Brianne Tju (Scream) as Alex; Peyton List (Bunk'd) as Olivia; Dylan Sprayberry (Teen Wolf) as Henry; Jordan Rodrigues (Lady Bird) as Trey; Brent Rivera (Alexander IRL) as Issac; and Dorian Brown Pham (Wilfred) as Deb. Created by executive producer/showrunner R. Lee Fleming Jr.; and from AwesomenessTV, Wattpad and Kelsey Grammer's Grammnet (Girlfriends), Light as a Feather involves an innocent game of "Light as a Feather, Stiff as a Board" that goes horrifically wrong when the five teen girls who played start dying off in the exact way that was predicted, forcing the survivors to figure out why they're being targeted – and whether the evil force hunting them down is one of their own.
"When I first joined Wattpad, I set out to create something unique, exploring characters and a world where female empowerment, friendship, and supernatural forces come together. Wattpad is a place where people come together and connect over stories, discussing every twist and cliffhanger, so it was the perfect platform for my story. Teen horror is my passion, so I can't wait to be able to share Light as a Feather with other horror aficionados on Hulu." – Zoe Aarsen
AwesomenessTV's Jordan Levin, Shelley Zimmerman, Joe Davola and Brett Bouttier; Wattpad's Aron Levitz and Eric Lehrman; and Grammnet's Grammer, Tom Russo, Brian Sher and Stella Bulochnikov executive produce the series alongside Fleming; with Bloodlist's Kailey Marsh is a co-executive producer.