Mindhunter Cinematographer Erik Messerschmidt on Season 3 Hold
Netflix's Mindhunter returned for its second season in August 2019, with writer and executive producer David Fincher's series finding Jonathan Groff's F.B.I. Agent Holden Ford and Holt McCallany's Agent Bill Tench taking on The Atlanta Child Murders, which resulted in the deaths of at least 28 African-American children, adolescents, and adults between 1979-1981. The country would find itself in a grip of fear for two years before FBI agent John E. Douglas (on which Groff's Ford is based) would eventually catch the killer – earning him an official reprimand over the manner in which he handled the case.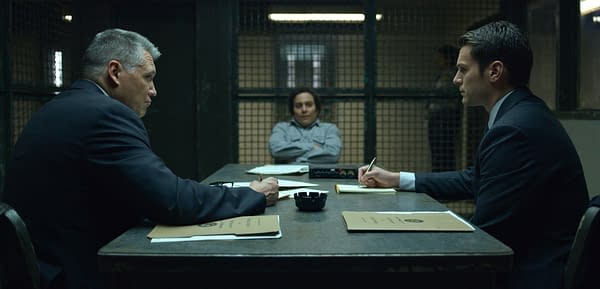 While the season finale more than left the door open for a third season, viewers learned in January 2020 that Netflix had let the options on the series' cast lapse, though the streamer wouldn't close the door entirely on a new season: "David [Fincher] is focused on directing his first Netflix film Mank and on producing the second season of Love, Death and Robots. He may revisit Mindhunter again in the future, but in the meantime felt it wasn't fair to the actors to hold them from seeking other work while he was exploring new work of his own."
So where do things stand now? Series cinematographer Erik Messerschmidt (also working with Fincher on Mank) was asked that very question during a recent Collider interview. With Fincher on record saying that he envisioned Mindhunter having a five-season story arc, Messerschmidt was asked if he had anything new he could speak about with regards to that vision becoming a reality. Unfortunately, even Messerschmidt's in a holding pattern about the show's future and knowing anything about the third season: "I don't. I don't. We just finished this movie [Mank] and I've heard things are on hold for a little bit. We'll see. Who knows? But it would be an honor to go back. I love working with David and adore the cast and the crew, and it's been an incredible period of my life for certain. I've been really blessed to have the opportunity to work on it and contribute to it. It's been particularly important and poignant in my career. But yeah, I don't know. I don't know what's going on."