Netflix: 'The Office' Not Going Anywhere Until After 2021 "At Least"
By the time you're done reading this sentence, there's a very good chance that 27 new streaming services were just announced.
Wait… make that 28 streaming services…
Okay, maybe that's a bit of an exaggeration – but there's no denying that we're living in a streaming world. And with all of these services comes the competition over content, with several streamers announcing that they are actively looking to bring their licensed shows "home" for a little exclusivity. A perfect example of that came earlier this year, when there were grumblings that NBCUniversal would be moving Friends from Netflix to their upcoming new streaming service at the end of this year.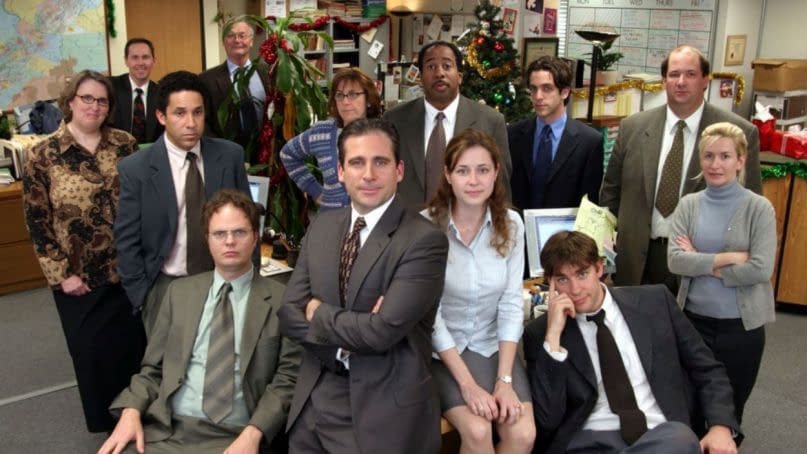 Well, it's NBCUniversal in the spotlight again – with The Wall Street Journal reporting that The Office will most likely find a permanent new home on the streamer when its deal with Netflix expires in 2021:
"NBCUniversal, which owns the show, licensed reruns of the comedy to the streaming-video giant years ago. Now, NBCUniversal is launching its own streaming service, and has begun internal discussions about removing The Office from Netflix when the contract expires in 2021, according to people familiar with the situation."
But not so fast! Netflix's "The Powers That Be" took to the streaming service's official Twitter account to not only reassure subscribers that Dunder-Mifflin would still be supplying them paper through 2021… and beyond?
Addressing NBCUniversal's planned 2020 launch of its own ad-supported streaming service at Comcast's fourth-quarter/year-end financial results report, CEO Steve Burke revealed that they will continue to sell programming to competing networks and streaming services – but also fired a financial shot across the bow with the warning that those programs would be better "monetized" moving forward:
"We have long sold to everyone, we've sold to SVOD, we've sold to cable channels and broadcast channels that we don't own and the feeling is if you're in the TV business you should work with the best people and the best shows, wherever it makes the most sense. We'll have the same philosophy ourselves, we do feel we significantly undermonetize on the internet on free platforms and SVOD platforms so as more content becomes available, I think a lot is going to be on our platform but we will continue to sell to other platforms depending on the show and the prices we can command for those products."
Burke feels it's a "fair assumption" that NBCUniversal will look to bring key titles like The Office and others back to the service. So while some of their programming will be available on other platforms, not every show will have a life beyond NBCUniversal's service:
"It's fair to assume that when we launch, we'll have a lot of content, that will only increase over time and we'll go show by show and figure out what makes sense when those rights come back to us."