Black Lightning is the DC superhero character created by Tony Isabella with Trevor Von Eeden in 1977, and has been one of a number of DC superheroes that has been turned into a TV show on the CW. Developed by Salim Akil, and starring Cress Williams, the series sees the retired Black Lightning return to his life as a superhero and follows the effects of his vigilante activity on his professional and family life. Three seasons have aired so far, with a fourth planned, it doesn't seem to have had the home video support that the other shows have.
While Supergirl, Flash, Arrow, Batwoman, DC's Legends Of Tomorrow and even the cancelled Constantine have all received DVD and Blu-Ray releases for all their seasons – with planned schedules for those that have recently aired, Black Lightning is suffering in comparison. It has a DVD and Blu-ray release for season one but only a Warner Bros On-Demand DVD release for the second season, through Warner Bros stores. Copies have now trickled out to Amazon, and mass-market stores, and there seems to be a Region 2 release now, but it's to a much lesser degree than other comparable shows – and still without a Blu-ray release. While the recently-aired third season, unlike other CW DC superhero shows that aired at the same time, has no planned release schedules for DVDs or for Blu-rays.
Given the current state of world affairs, and an increase in sales of black-focused entertainment from black creators, might Warner Bros have made a bit of a misstep on this one?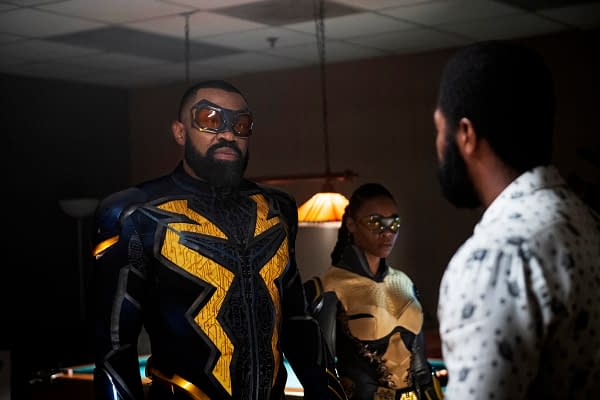 Black Lightning also appears in the current ongoing DC Comics title Batman And The Outsiders – but not in the lead role. Another one of those missteps maybe?
The CW renewed Black Lightning for a fourth season, which is still set to premiere in January 2021. This may now be delayed because of the current global situation, however, along with many other planned and scheduled television series.
Enjoyed this article? Share it!