"The Rookie" Season 2 Episode 3 – In "The Bet," Honesty Wins [SPOILER REVIEW]
ABC's police procedural dramedy The Rookie won hearts, minds, and viewers in its first season. The show had the perfect storm of comedy, drama, and attitude. John Nolan, Nathan Fillion's forty-year-old rookie brought life experience and a quirky sense of humor. But Nolan's irreverent perspective is balancedby the drama of his cases and the matter-of-fact perspective of his training officers. In The Rookie's second season, the show has struggled to return to its first season sweet spot. While there has been an increase in drama, there has not been a corresponding increase in comedy. "The Bet," the third episode of The Rookie's sophomore season, makes an effort to pull the show out of the dramatic doldrums. And it almost succeeds.
Warning: spoilers and snark to follow.
This week's episode of The Rookie is part of ABC's network-wide "Cast From The Past" event. Fillion's former Castle costars Seamus Deaver and Jon Huertas guest star in "The Bet." However, neither former costar has much of a role in the episode. Deaver plays a local political lackey looking to score prescription drugs. Huertas portrays an undercover Department of Homeland Security agent who spends 90% of the episode unconscious. However, Huertas at least saves Nolan's life in the end. Overall, "Cast From The Past" was less of a blast and more of a sparkle.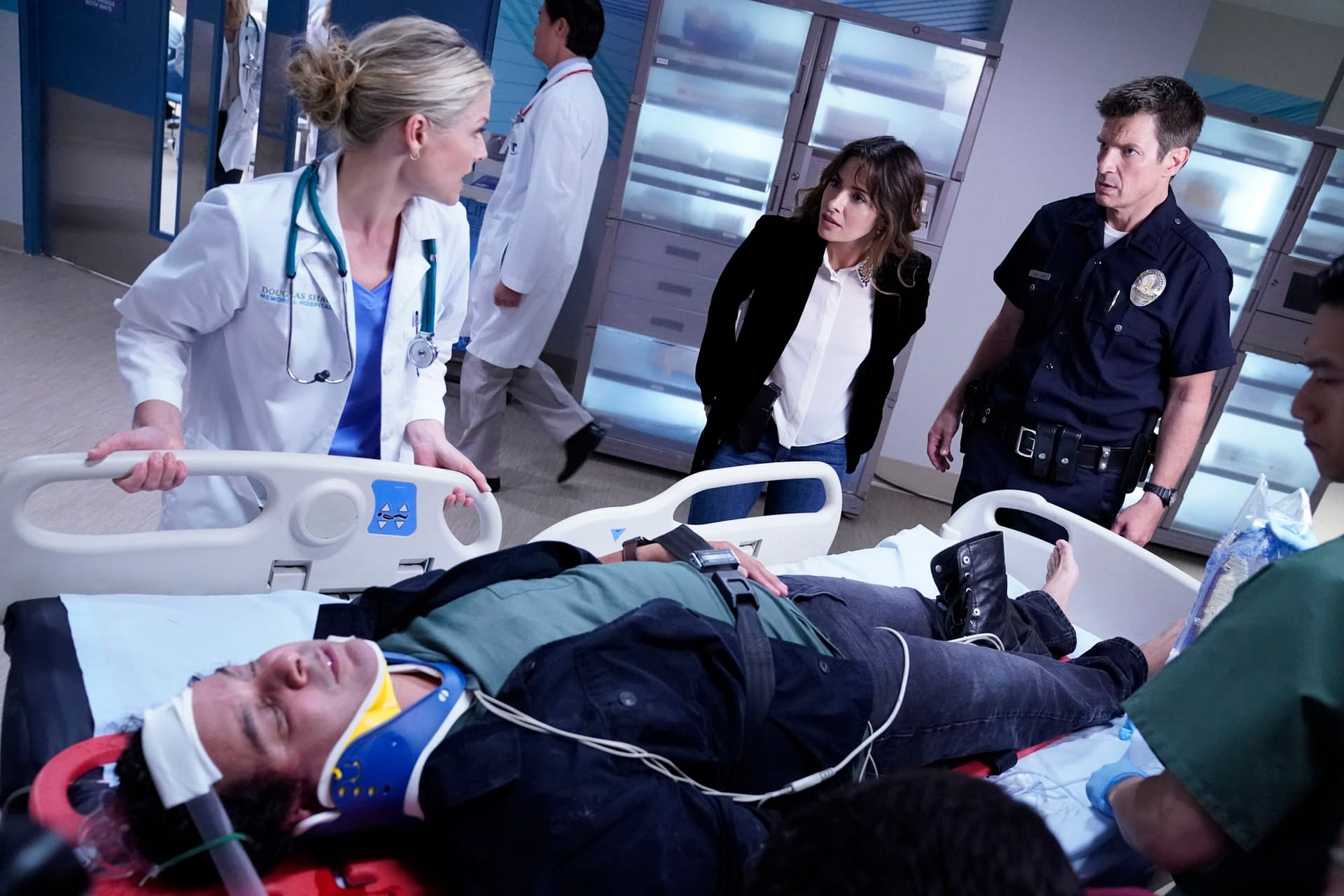 This week, Nolan is riding with Angela Lopez (Alyssa Diaz) as his training officer. Both Nolan and Lopez are having relationship issues, and willing to share them. The banter between Lopez and Nolan is excellent, and has the perfect balance of work and personal life. And, when the two run into trouble, they work together seamlessly. Lopez takes the situation seriously and acts professionally when needed, but doesn't miss an opportunity to tease Nolan. These two should have more scenes together.
Because a DHS agent is involved in this week's big case, so is Nolan's girlfriend Jessica Russo (Sarah Shahi). After throwing Nolan a landmine, suggesting he should build his house to suit her, Russo runs off to work her case. She claims her bomb was just to test the waters, but she is coming off as needy and unsure of herself. It would be better if they would just break up rather than continue to drag out this mediocre relationship and make her character look weak. Nolan and Chen (Melissa O'Neil) had a mature break-up, why can't he have the same with Russo?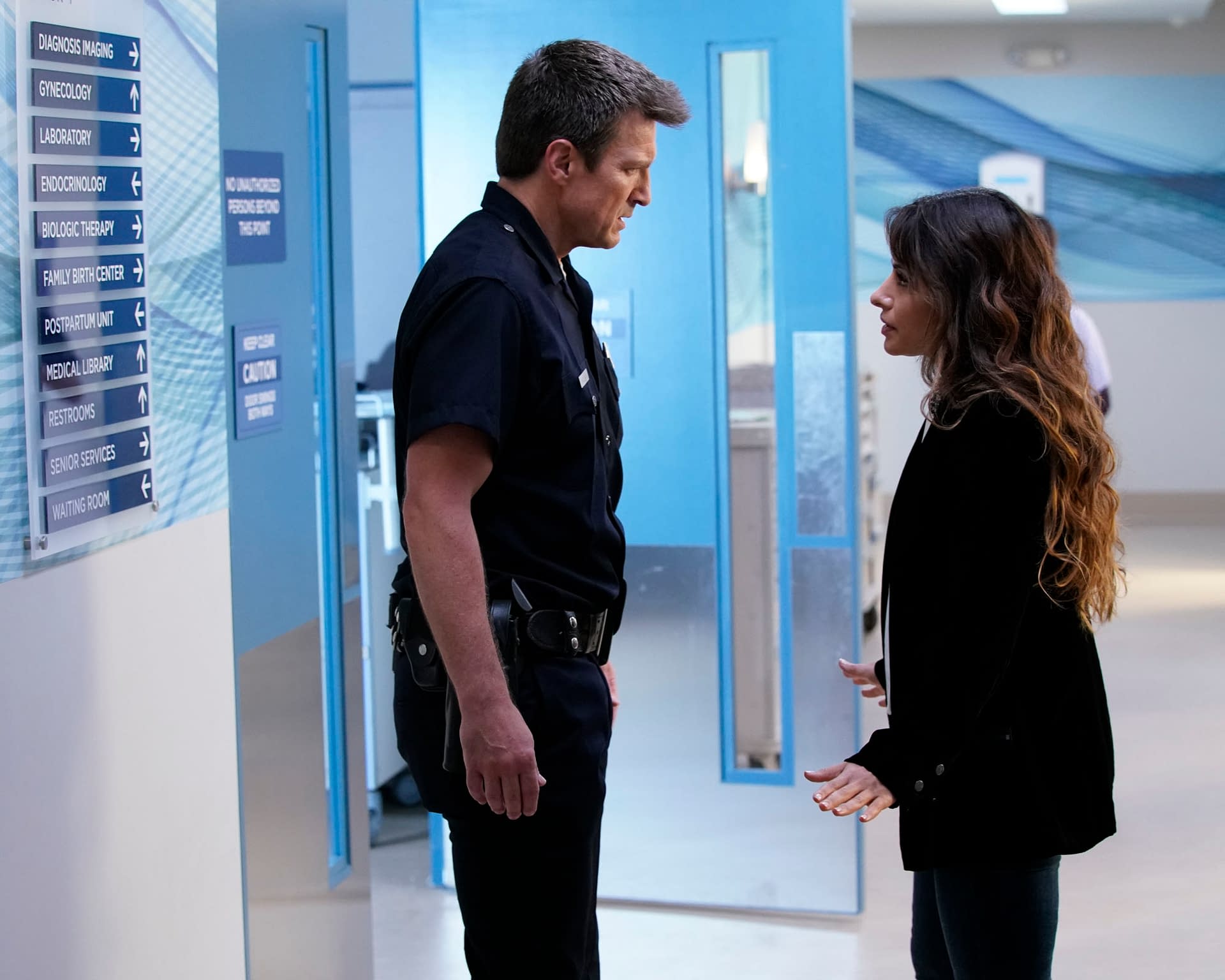 Since Nolan is riding with Lopez, West is riding with his old friend Officer Smitty (Brent Huff). What starts out as a routine round-up of parolees at a "trouble spot," morphs into a tragedy when a child picks up a discarded firearm. West cannot stop the child from shooting his mother, and the woman dies. Throughout the episode, West struggles with his inability to help. He couldn't save the mother or prosecute the felon who dropped the gun. However, when presented with the choice between lying to trap the felon and being honest, West chooses honesty. In the end, he tracks down the felon and charges him with multiple murders. MaybeWest's choice to stick to his morals, and initiative to catch the murderer, will give him the "kick in the pants" he needs.
While Nolan is dealing with an endangered federal agent, and West is dealing with tragedy, Chen is fixing Bradford (Eric Winter) up on dates. Chen bets Bradford that she can set him up on an enjoyable date. If she wins, Chen gets to wear short sleeves. Losing means that Chen will do 50 push-ups for every police call. Chen enlists Rachel (Jasmine Matthews), her social worker friend, to go on a date with Bradford. Chen is straight with her friend, explaining that the date is part of a bet. Then, at the date itself, Bradford and Rachel team up to help Bradford win. However, as Chen discovers at the close of the episode, Bradford has a really good time. Its nice to see Chen taking charge and Bradford "letting his hair down." Looks like short sleeves are in Chen's future!
Honesty is what wins "The Bet." Wesley (Shawn Ashmore) tells Angela that he is secretly rich. West decides to catch his bad guy through legal means. Nolan is honest with Russo about his feelings. And Chen, Rachel, and Bradford all manage to win something from their bet. All because they came clean and told to truth. While The Rookie's second season is still a bit more Shondaland than dramedy, "The Bet" is an improvement. The comedy and drama found in honesty might be what the show needs to get back on track.
The next episode of The Rookie, "Warriors and Guardians," airs Sunday October 20th at 10PM on ABC