Penny Dreadful: City of Angels Profiles Det. Vega and Michener
Showtime's Penny Dreadful: City of Angels lit a fuse on the powderkeg that is late-30's Los Angeles with series premiere "Santa Muerte," introducing us to Det. Tiago Vega (Daniel Zovatto) and Det. Lewis Michener (Nathan Lane) as they find themselves embroiled in a murder case tied to the cult of Santa Muerte that could tear the city apart. Vega finds himself an outsider on the force and among his family, including his brother Raul (Adam Rodriguez) and mother Maria (Adriana Barraza): a man torn between two worlds who might just be the answer to saving them both. Now, Lane and Zovatto are taking fans behind the scenes to discuss their respective roles, what it is that causes them to bond so quickly, and how both Vega and Michener reflect the times.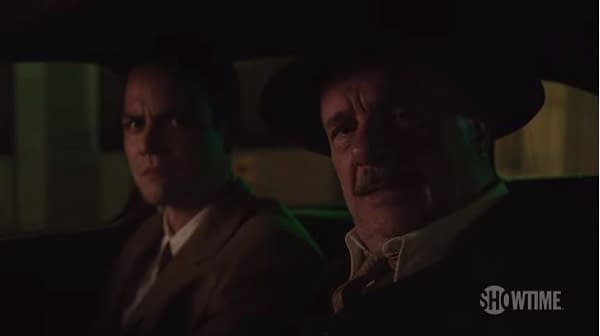 In the following preview for the next episode "Dead People Lie Down," Raul is in critical condition and hanging on by a thread, as his and Vega's brother Mateo (Johnathan Nieves) meets Fly Rico (Sebastian Chacon). Meanwhile, Tiago and Lewis's investigative trail takes them to the doorstep of radio evangelist Sister Molly Finnister (Kerry Bishé) and her mother, Miss Adelaide (Amy Madigan). Townsend looks to turn the city's growing divide to his political advantage, while Lewis steps up his efforts into investigating stateside Third Reich activities. In the clip below, Showtime gives viewers a tease of what's still to come as the war for all existence gets very ugly and very personal.
Showtime's Penny Dreadful: City of Angels stars Daniel Zovatto, Nathan Lane, Natalie Dormer, Lorenza Izzo, Jessica Garza, Johnathan Nieves, Adriana Barraza, Michael Gladis, Rory Kinnear, Kerry Bishé, Brent Spiner, Amy Madigan, John Logan, Adam Rodriguez, Thomas Kretschmann, Dominic Sherwood, Ethan Peck, Sebastian Chacon, and Lin Shaye. Original series creator John Logan and Michael Aguilar (Kidding) serve as executive producers, along with the Neal Street Productions' Sam Mendes and Pippa Harris, the original series' executive producers. James Bagley will serve as co-executive producer, with Logan's Desert Wolf Productions producing. Paco Cabezas (American Gods, Deadly Class) is on board to direct the series premiere and possibly additional episodes.