Saturday Night Live: Guess Aaron Rodgers Can't Take Hits Off the Field
While Aaron Rodgers might be okay taking a hit on the field, he doesn't seem quite so comfortable when folks hit back in real life. At least that's how it seemed when responding to Pete Davidson's take on the NFL quarterback. Returning to The Pat McAfee show where the Saturday Night Live sketch was brought up by the host, the best initial reaction Rodgers could muster was "Oh man." So for those who need to play catch-up, last week the world found out that Rodgers had been playing-fast-and-loose with the truth (or "lying," if you prefer) when it came to the truth about his vaccine status after he tested positive. That meant that most likely friends, fans, other players in the locker room & on the field had no idea what his true health status was. It also meant that Rodgers wasn't able to play against Patrick Mahomes and the Kansas City Chiefs this past Sunday (Packers lost), costing his team a win (which a reported "leader" probably really shouldn't be doing).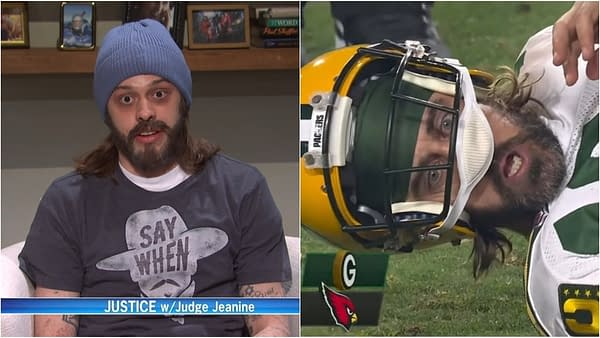 So just to make sure there was no confusion as to where he stood on the matter, Rodgers would then go visit McAfee to let all of us know just how unfair we were all being to him because the media actually called him out on his "immunized" nonsense. I mean, the dude who makes us believe more & more each day that he should've been Jeopardy! host considering the culture over there would fit him perfectly got medical advice from Joe Rogan?! What more could we ask of him? Other than to not be a pretentious liar who vibes "I'm better than you" just because he can throw a ball and knows how to use Google (though considering some of the wacky alternatives he's been checking out, it's pretty clear he doesn't know how to use it well).
Well, that was just too good for Saturday Night Live to pass up, with Davidson's Rodgers appearing on Fox News host Jeanine Pirro's (Cecily Strong) show. After Pirro praises Rodgers for standing up for his "rights" even in the face of public opposition and sterility, Davidson hits with a number of lines that get to the core of Rodgers' face-saving bullshit. "People can talk all they want, but at the end of the day, my record is still 7 and 1," Davidson's Rodgers argues. "Meaning, of the eight people I've infected, seven are fine." Here's a look at the sketch:
Now it looks like Rodgers might be getting some kind of message (from Rogan, aliens, or whoever, we have no idea). "I made some comments that people might have felt were misleading. To anybody who felt misled by those comments, I take full responsibility for those comments," Rodgers said on his return visit to McAfee's show. "I'm an athlete, not an activist," he went on to say, hoping to shift the narrative. "I'm going to go back to do what I do best, and that's playing ball."
Well, it looks like the NFL is starting to have its say on the matter. On Wednesday morning, the professional football league fined the Green Bay Packers $300,000 for knowingly allowing Rodgers and receiver Allen Lazard to play even though it was in direct violation of the league's COVID protocols. Rodgers and Lazard have been fined $14,650 each, as per the agreement between the NFL and the NFL Players Association (with more disciplinary action down the road with further violations)- not exactly what you would call a fine that creates too much of a "teachable moment." I mean, 14 grand is pretty much what Rodgers makes for 22 seconds of a State Farm commercial. And $300,000 for the Packers? Sorry, Packers fans. Your beer-n-brats just went up another five bucks. "We respect the League's findings and we recognize the importance of adherence to the COVID protocols to keep our team and organization safe and healthy," said Packers boss Mark Murphy "We will continue to educate the team regarding the importance of the protocols and remain committed to operating within the protocol."