Shrimp: Zelda Williams, Gunpowder & Sky Developing BDSM Short (and Bleeding Cool Tribeca Pick) to Series
Zelda Williams and Gunpowder & Sky are set to develop William's 22-minute short Shrimp into a half-hour series. Originally premiering at the 2018 Tribeca TV Festival – where it was one of Bleeding Cool's top pilot picks of the festival (see below) – the series focuses on the lives of dominatrixes in the BDSM (bondage, discipline, sadism, and masochism) industry. Williams writes, directs, and produces; and stars alongside Conor Leslie, Paulina Singer, Frances Fisher, Jake Abel, Jacob Zachar, and Danielle Campbell. Williams and Joshua Thurston are set to executive produce.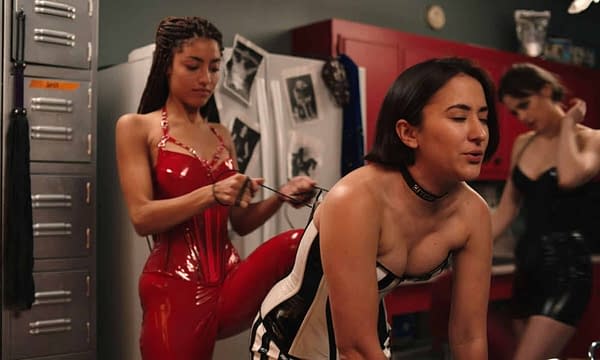 "When I embarked on creating 'Shrimp' a couple of years ago, I never could've imagined where this journey would take me, or the wonderful people I'd come to know along the way. I'm truly ecstatic to have the opportunity to shine a more positive, honest light on this community than has previously been afforded it by Hollywood, especially as their mastery of consent is something I think many people right now could learn from."

– Zelda Williams
Gunpowder & Sky is courting premium television networks and subscription on-demand services, pitching the project as having the same "often blunt female insight" as Amazon/BBC's Fleabag and Netflix/Lionsgate's Orange Is the New Black. You can check out Williams' Shrimp for yourselves here.
Shrimp is a comedy/drama about the equal parts strange and mundane daily lives of the women of professional dominance. Contrary to popular belief, professional dominatrices don't sleep with their clients, but that doesn't mean that their job is any easier to explain to the 'vanilla' world. While they're hired to make the wealthy and powerful feel anything but, out of latex and away from work they're stuck navigating the same shit as the rest of us as they struggle to figure out just what the hell a normal life even is, let alone how to live one. With Conor Leslie, Zelda Williams, Paulina Singer, Frances Fisher, Jake Abel, Jacob Zachar.
Bleeding Cool was fortunate enough to make it out to 2018 Tribeca TV Festival in September, where the festival's Fall Pilot Season afforded us the opportunity to screen and review Williams' 22-minute short – and found it to be our favorite pilot of the five-pilot line-up. Check out Bleeding Cool's review below:
"We were really drawn to 'Shrimp' because Zelda was able to take a generally taboo topic, turn it on its head and tap into the day-to-day happenings of the dominatrix community and tell their story in an authentic way."

– Van Toffler, CEO, Gunpowder & Sky