"Star Trek: Picard" – Seven and Hugh: Former Borg Behind-The-Scenes Bonding
Make-up chair resistance is futile! In preparation for his upcoming role on CBS All Access's Star Trek: Picard, actor Jonathan Del Arco had to do some modeling in the make-up trailer. However, rather than walking down a runway, Del Arco was covered in grey goop. Del Arco took to Twitter to share a time-lapse video of Picard crew members making a cast of his face on set. If you look carefully at the below video, you can see Seven-of-Nine herself, Jeri Ryan, providing moral support in the background.
In Picard, Del Arco will be reprising the role of Hugh, a former member of the Borg that first appeared on Star Trek: The Next Generation. The actor teased that, like Seven-of-Nine, Hugh will have a new look in the new series. However, he couldn't share any details about Hugh's new look. Seven, who appears in the Picard trailer, has been freed from most of her Borg enhancements. It would only make sense that Hugh would be sporting less hardware as well. Del Arco even went the extra mile to protect fans from unnecessary speculation, stating in a later tweet that most Star Trek cast members have to go through the process before their final show make-up is approved.
But, what fun are these types of behind-the-scenes videos without a little speculation? Notably, the casting material completely covered Del Arco's left eye. Fans will remember that Hugh had a Borg implant completely surrounding his left eye. The fact that the casting material covered the actor's left eye, but not his right, might indicate that Hugh will still be sporting some high-tech eyewear. Or maybe we are all wrong and Hugh is still sporting the same look he had before? In a StarTrek.com video Del Arco did spill that Hugh is living on a Borg cube when Picard finds him. Maybe he is still more Borg than anything else?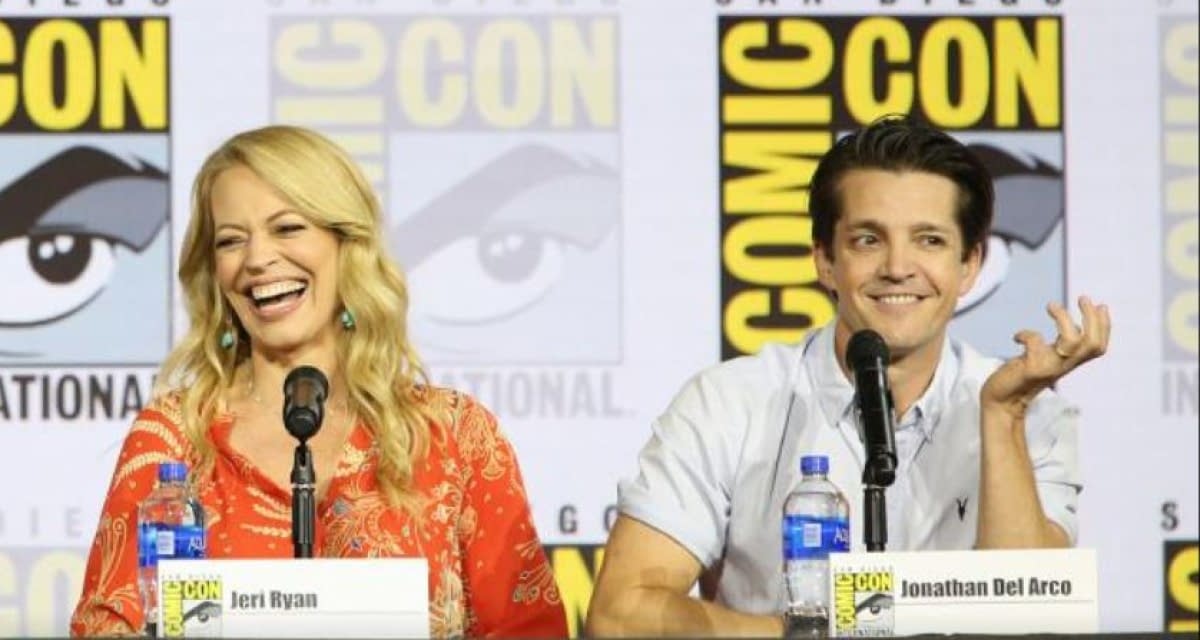 Unfortunately, fans will not be getting any answers about Hugh, Picard, or Seven-of-Nine anytime soon. CBS All Access has yet to set a Star Trek: Picard premier date, but has announced that the show will air sometime in 2020. In the meantime, we will have to take all of the breadcrumbs we can get from Twitter and StarTrek.com. Engage!
STAR TREK: PICARD features Sir Patrick Stewart reprising his iconic role as Jean-Luc Picard, which he played for seven seasons on "Star Trek: The Next Generation." The new series will follow this iconic character into the next chapter of his life.
Star Trek: Picard also stars Alison Pill, Michelle Hurd, Evan Evagora, Isa Briones, Santiago Cabrera, and Harry Treadaway; with Hanelle Culpepper directing the first two episodes of the season. The series is produced by CBS Television Studios in association with Secret Hideout and Roddenberry Entertainment. Alex Kurtzman, Michael Chabon, Akiva Goldsman, James Duff, Patrick Stewart, Heather Kadin, Rod Roddenberry, and Trevor Roth serve as executive producers and Aaron Baiers (Secret Hideout) serves as co-executive producer and Kirsten Beyer as supervising producer. Hanelle Culpepper directed the first two episodes of the series.