Stephen King Looking for "Under the Dome" Do-Over with Netflix
One of the things we love about author Stephen King is that he's not a man who rests on his laurels – and he easily could. On the big screen, there's It: Chapter Two and The Shining sequel Doctor Sleep on the way. On the small screen, we have Josh Boone's upcoming take on The Stand while Hulu's upcoming season of Castle Rock spins its take on Misery, Salem's Lot, and more King lore. Not too shabby, right?
But King wouldn't be as successful as he is if he wasn't looking ahead – and some past stumbles when it comes to some adaptations of his work. Case-in-point: the series take on his 2009 novel Under the Dome, about a small town that finds itself suddenly walled off from the rest of the world in a seemingly impenetrable barrier. CBS adapted King's work in 2013, with Dean Norris (Breaking Bad), Mike Vogel, Rachelle Lefevre, and Natalie Martinez – and though running for three seasons, the series slowly lost its way the more it steered away from King's novel. In a sense, the series suffered from not realizing a limited series when they see one – because once someone crosses the barrier, the "hook" is lost and you have to have something new and just as interesting to replace it (and please don't get us started on SpikeTV's The Mist…).
One person who thinks an Under the Dome series would be best served by sticking to the book is none other than King, and he's interested in breaking bread with Netflix to make it happen:
Here's a look at King's novel, originally published by Scribner in November 2009 -and what he would prefer to see make its way to the small screen: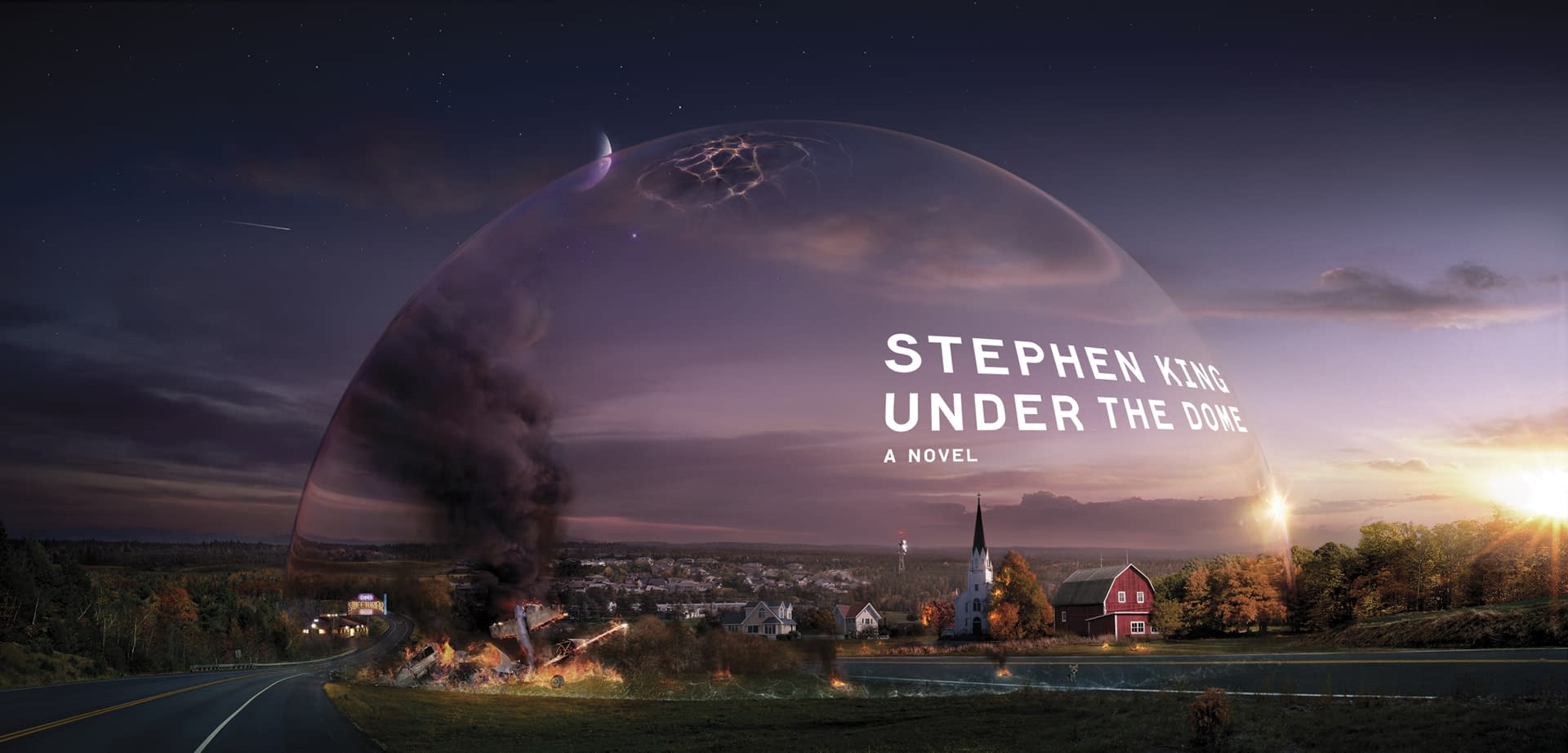 On an entirely normal, beautiful fall day in Chester's Mill, Maine, the town is inexplicably and suddenly sealed off from the rest of the world by an invisible force field. Planes crash into it and fall from the sky in flaming wreckage, a gardener's hand is severed as "the dome" comes down on it, people running errands in the neighboring town are divided from their families, and cars explode on impact. No one can fathom what this barrier is, where it came from, and when—or if—it will go away.

Dale Barbara, Iraq vet and now a short-order cook, finds himself teamed with a few intrepid citizens—town newspaper owner Julia Shumway, a physician's assistant at the hospital, a selectwoman, and three brave kids. Against them stands Big Jim Rennie, a politician who will stop at nothing—even murder—to hold the reins of power, and his son, who is keeping a horrible secret in a dark pantry. But their main adversary is the Dome itself. Because time isn't just short. It's running out.