Syfy Releases Spoilery Teaser for Krypton Season 2
After watching last night's season finale of Krypton and seeing just how many unanswered questions they left open, I seriously began to wonder if the executive producers new much further in advance that they were getting renewed than the announcement on Tuesday. Now we get a teaser video for season 2. It's a pretty cool 15-second teaser that seems like it might have taken more than a day or two to put together. Judge for yourself. Spoilers ahead if you haven't seen the finale.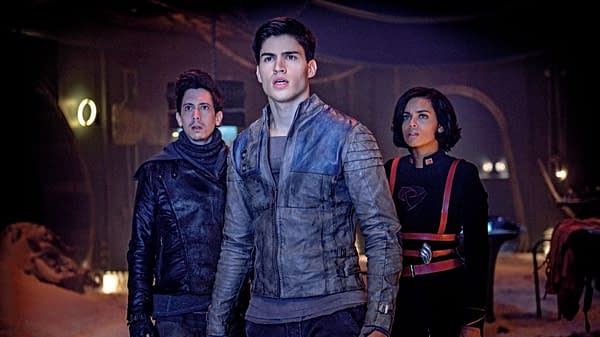 The teaser plays off the "symbol you know" campaign they did prior to the series beginning. But in the season finale we see that Seg (Cameron Cuffe) opens the Phantom Zone projector, sending Brainiac (Blake Ritson) into the hellish dimension only to have the 12th level intellect grab Seg and pull him in as well. The results is show instantaneously as Superman's fading cape is restored to full length, but the House of El symbol on the back changes into the House of Zod. And we see it also take effect in the bottled city that Adam Strange (Shaun Sipos) is trapped in as he looks upon a giant statue with a Zod cape. This can't be good for anyone.
Krypton season 1 wrapped up last night with season 2 set to premiere in 2019. Check out our season finale recap right here.