The Last of Us: Gabriel Luna on Adding More to Tommy for HBO Series
Gabriel Luna has been part of some of the biggest franchises playing the Robbie Reyes version of Ghost Rider on ABC's Agents of S.H.I.E.L.D. and as the deadly Rev-9 in Terminator: Dark Fate. His latest is as Tommy, Joel's (Pedro Pascal) younger brother, in the HBO series adaptation The Last of Us, based on the Naughty Dog Sony PlayStation videogame franchise of the same name. The role was originally voiced by Jeffrey Pierce in the 2013 game, who will play Perry, an original character for the live-action series. Luna spoke with Collider about what from the videogame he wanted to bring to Tommy over on the HBO series.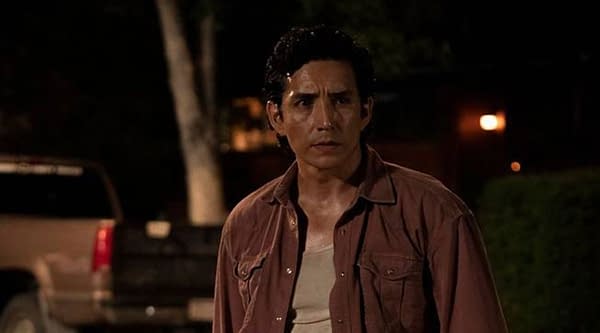 The Last of Us: Luna on Bringing Tommy to Life
"I think there were some details that I was able to add, like to the wardrobe, for instance. I got to have a lot of input as to the belt buckle that Tommy wears." Luna explained. "We had this beautiful belt buckle made by this 85-year-old First Nations craftsman, who made it out of silver and gold and turquoise. My idea was that it would be like an artifact, something that Tommy found and treasured because it was just so well-made."
The Last of Us focuses on two survivors, Joel and Ellie (Bella Ramsey), who go on a pilgrimage to find sanctuary for the young teen, the key in potentially stopping the Cordyceps plague that infected much of humanity, causing the apocalypse. "There were little details on the boots. I had our boot maker put an Indian Paintbrush on, just to remind me of Texas," Luna said of recreating Tommy. "In Texas, we plant Indian Paintbrushes, along with Bluebonnets, alongside the highway every year. And so, I wanted to keep little details of where I'm from and where, coincidentally enough and fortunately enough for me, Tommy is also from – the great city of Boston."
While the 2013 game barely scratched the surface of Joel and Tommy's relationship, we come to find out how the brothers deal with the apocalypse, and they couldn't be more polar opposites. Tommy tries to find his own piece of normalcy within and tries to have a family, while Joel buries himself in mercenary work as a coping mechanism for the loss of his daughter Sarah. Given the format of the TV show, we're likely going to have the brothers' relationship expand. The Last of Us premieres on January 15 on HBO.