The Midnight Gospel Music Video Dreams Wash Away Is Dreamy and Vivid
After binging the bombastically beautiful The Midnight Gospel on Netflix last night, I was craving more. Sure I could just listen to The Duncan Trussell Family Hour podcast, but I crave the animated world that was built around this podcast. Lucky for myself and the rest of The Midnight Gospel fanclub, Netflix dropped a music video to accompany the show. Released yesterday, this is the perfect follow up to the out of this world series. Featuring the song "Dreams Wash Away" by Joe Wong from the season finale, this dreamy song takes us through the animated head trip.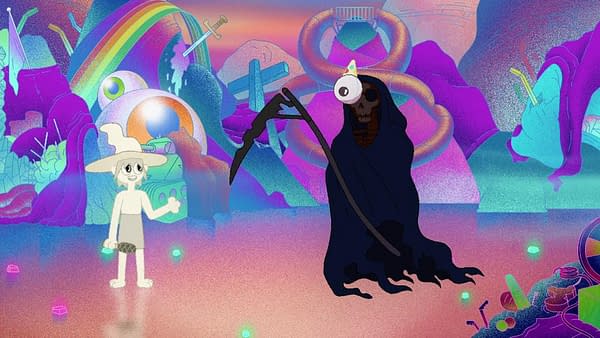 The song is perfect for The Midnight Gospel. Each of these worlds is like a dream for Clancy, who can escape at anytime. For the rest of the creatures his interviews (and even us), our dreams won't wash away until we're gone. Wong is no stranger to lending his music to either Netflix or trippy adult animation. Wong has composed on past projects such as Russian Doll, Master of None, To All the Boys I've Loved Before, and Superjail! His music is dreamy while evoking feelings of deep thought and sadness. It's easy to hear why The Midnight Gospel used "Dreams Wash Away" for their official music video.
The music video features clips from the show, but don't worry. Nothing will be spoiled. Yet given the type of show this is, there's nothing to spoil from the show. The only constant character is Clancy (and his dog). He interviews a new guest every episode, and nothing repeats itself. If you have yet to check out the series, check out our interview with series co-creator Duncan Trussell. If you want to know what the series is like before watching, head on over to my review where I guide you to the decision to watch this out of this world show.