Posted in: AMC, Preview, TV, Walking Dead, YouTube | Tagged: amc, Daryl Dixon, norman reedus, preview, The Walking Dead, TWD
---
The Walking Dead: Daryl Dixon's Still Trying in Spinoff Sneak Preview
Premiering this fall, Norman Reedus' Daryl Dixon is a stranger in a strange land in this extended first look at The Walking Dead spinoff.
---
Did we ever tell you just how big of fans we are of "franchise synergy"? Especially on a night like this, when the latest episode of AMC's Jeffrey Dean Morgan & Lauren Cohan-starring The Walking Dead: Dead City would be more than enough to make it a pretty great night. But we learned last week that there was a little something extra planned for Sunday night for those checking out S01E02 "Who's There?" And that "something extra" is a special look at what's ahead with the Norman Reedus-starring spinoff, The Walking Dead: Daryl Dixon – coming off of the confirmation from Morgan from a few days ago that Melissa McBride's Carol would be joining Daryl on the epic international adventure. In the extended sneak peek, we see Daryl speaking into a recorder as he stakes out the new land: "My name is Daryl Dixon. I come from a place called the Commonwealth. It's in America. I went out looking for something, and all I found was trouble. If I don't make it back, I want 'em to know I tried. Hell, I'm still trying." From there, Daryl does a ton of walking ("pouvoir des vivants" translates to "power of the living" btw) before ending up at a seemingly abandoned building – one that had a bit of familiarity with the end credits scene from The Walking Dead: World Beyond.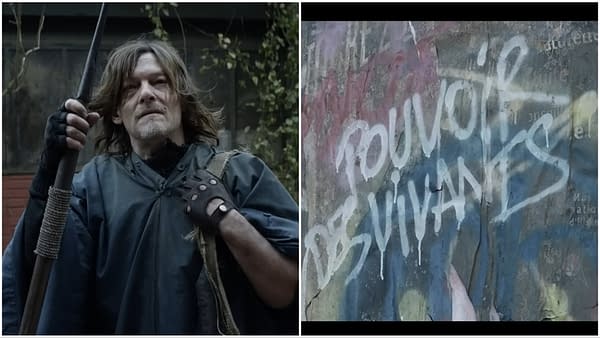 In AMC & AMC+'s The Walking Dead: Daryl Dixon, Daryl (Reedus) washes ashore in France and struggles to piece together how he got there and why. The series tracks his journey across a broken but resilient France as he hopes to find a way back home. As he makes the journey, though, the connections he forms along the way complicate his ultimate plan. Joining Reedus & McBride in the cast are Clémence Poésy as Isabelle, Adam Nagaitis as Quinn, Anne Charrier as Genet, Eriq Ebouaney as Fallou, Laika Blanc Francard as Sylvie, Romain Levi as Codron, and Louis Puech Scigliuzzi as Laurent. Now, here's a look at the newest teaser & first look at the fall-debuting spinoff series:
With TWD CCO Scott M. Gimple, Showrunner David Zabel, Reedus, Greg Nicotero, Angela Kang, Brian Bockrath, and Daniel Percival executive producing, here's a look back at the previously-released teaser for The Walking Dead: Daryl Dixon as well as a look behind the scenes at the production:
The Walking Dead: Daryl Dixon: JDM Psyched for McBride; Pokes Haters
Last week, fans got official confirmation on some major news that's been floating around on social media for a little while. "Well, well. We're sorry, Norman… fer talking oodles of shit to you when we thought Melissa wasn't doing show! Golly… this must of been in the works for ages! (Twas from start) Goddamn, it's great seeing these two together! Can't wait!" Morgan wrote in a tweet – which included an image of Reedus & Melissa McBride.
If you're wondering about what Morgan's referencing? It's all the speculation that ended up turning into hate that was thrown at Reedus and the production team – including accusations that McBride was "forced" off the project because of Reedus' push to film overseas. Here's a look at Morgan's tweet, joining the TWD universe in being excited about what those two being reunited could mean moving forward:
---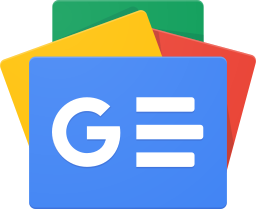 Stay up-to-date and support the site by following Bleeding Cool on Google News today!