There's no one more deserving of a "The Best Dad Ever in a Walker Apocalypse" (sorry, The Walking Dead: World Beyond, but you're going to have to do more to get us to buy into "empties") mug on Father's Day than Rick Grimes (Andrew Lincoln). Spending most of his nine seasons on the mothership series as a single parent (we're not having that Lori (Sarah Wayne Callies) conversation right now), he's had to keep his real and extended family alive while warding off the undead, megalomaniac, and a bats**t crazy baby-daddy. Though he lost Carl (Chandler Riggs) along the way, his "legacy" lives on through "she's-too-much-a-Grimes-to-be-a-Shane" Judith (Cailey Fleming), and the son he had with Michonne (Danai Gurira) but never "lived long enough" to meet, Rick "RJ" Grimes, Jr. (Antony Azor).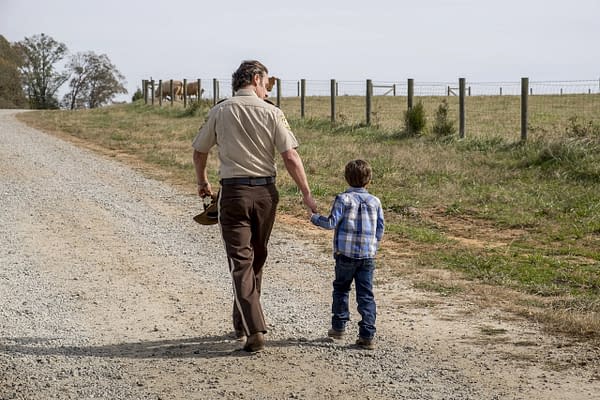 In case you forgot and were wondering why I'm using so many quotation marks, there's that whole "CRM helicopter" thing going on where we're going to see what happened to Rick in what we're assuming is still going to be a trilogy of films. Whether it happens there or back on The Walking Dead proper, there will be a ton of eyeballs ready, willing, and able to witness a reunion between Rick and Michonne. Adding to that, can you imagine that moment when Rick and Judith can first talk? Or the first time he sees his son? If you're AMC and Skybound, there are two words that should be springing to mind: ratings gold. But before we get too ahead of ourselves (and start to turn this pleasant conversation into something a little too cynical), the fine folks at The Walking Dead are offering fans a look back at some heart-crushing kicks to "the feels" to remind us why Rick Grimes is a TV dad standard-bearer:
Enjoyed this article? Share it!