Titans Final Trailer: Conner/Brother Blood, Robin, White Raven & More
With the HBO Max series returning on April 13th, here's a look at the key art & official trailer for the final episodes of Titans.
---
Jay Lycurgo's Tim Drake as Robin! Teagan Croft's Rachel as White Raven! Joshua Orpin's Conner Kent embracing more of his Luthor side! And that's not even close to half of what's in play as HBO Max officially announced the return of Titans for its final run of episodes on April 13th. And to make it all official, we have new key art as well as the official trailer to pass along. And not to spoil anything? Let's just say that it's about to get really bloody before it's all over…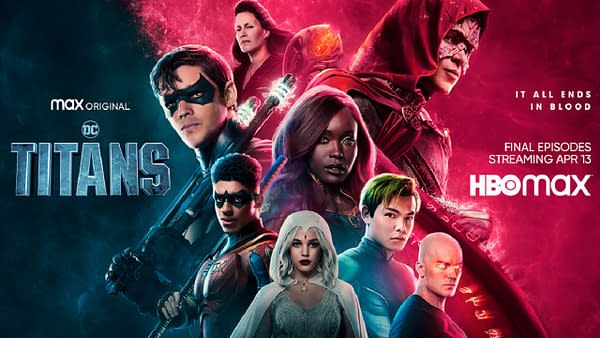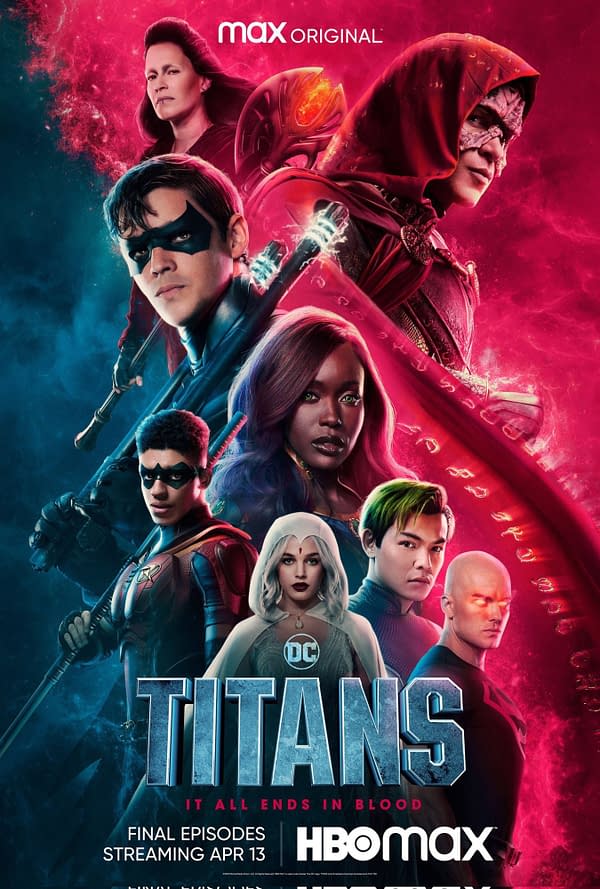 With the final episodes set to hit screens on April 13th, here's a look at the official trailer for the final run of HBO Max's Titans:
In the midseason premiere, the Titans – with the exception of Gar – are returned to the place they had vanished, the Temple of Trigon, only to find Sebastian and Mother Mayhem are no longer there. The Titans rush to find them before Sebastian summons Trigon, their pursuit leading them to a mysterious town whose populace is hiding a deep secret. Along the way, the Titans come across a prophecy that may require Kory to make a huge sacrifice to save the world, but Dick's feelings for Kory surface and he refuses to let her die. In the final episodes, the Titans enter into an epic battle to save both Kory and the world. Gar goes on a quest of self-discovery, attempting to find his true purpose and to save his friends. Rachel embraces darker powers while Conner, struggling with his Lex Luthor side, goes his own way to defeat Sebastian. Tim and Bernard's growing feelings for each other become increasingly difficult to resist, and when Bernard's life is threatened, Tim finally becomes the hero he has always strived to be.
So About That Rumored Stargirl/Titans Crossover…
Back in September 2022, DC's Stargirl star Brec Bassinger posted to Instagram, "Omg, so crazy running into my friends in Toronto. Crazy coicindence. cRaZy. #dcstargirl Xo," and included an image of herself in the full suit along with Stargirl creator/EP Geoff Johns, Titans star Ryan Potter (Gar/Beast Boy) and director Eric Dean Seaton. That seemed to confirm unofficial set photos circulating on social media that showed a crossover on the way between The CW's now-canceled series and HBO Max's streaming series. When asked by Collider back in November about the post and the rumors, Titans showrunner Greg Walker added a bit more fuel to the fire. "I left Toronto, and Geoff came up to work on episode 407, and then crazy stuff started happening. Geoff works in mysterious ways. I haven't seen the episode yet," Walker shared. "So I'm waiting to see exactly what's going on. But we'd be lucky to have Stargirl if we got her on our show. I'm a huge fan of the series and what Geoff has done, and Brec's amazing, so that's all I know. There is the kind of secret rogue units of Titans working without my knowledge."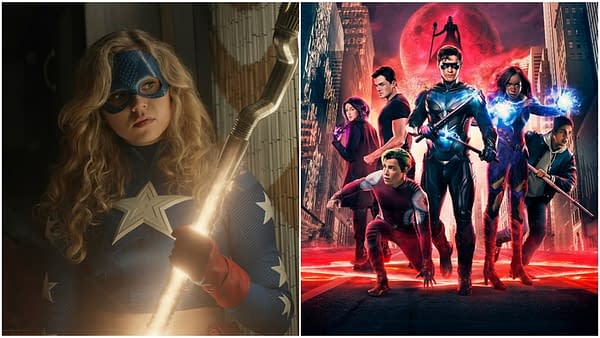 And then, it seemed like The Flash Podcast nearly got Johns to crack. Discussing the series finale with Bassinger and Johns, the show's creator & showrunner was asked about the growing buzz surrounding a possible crossover. "I will get in so much trouble at this point [laughs]. I can't say anything but, 'never the end.'" When the host attempted to rephrase the question to see if characters from DC's Stargirl could "live on" through shows like Titans or HBO Max's Doom Patrol, Johns apparently wasn't willing to take the bait, responding, "You didn't ask it differently enough, I'm sorry, I can't answer that! [laughs]." Of course, there's that matter of "Crisis on Infinite Earths" to consider, in which the ending showed Courtney/Stargirl set up on Earth-2 while the Titans are living on Earth-8 & the Doom Patrol family (another rumored crossover) on Earth-21. Start speculating now on how this could jump-start a very interesting streaming universe. Now here's a look back at Bassinger's post from September, where she dropped that ten-ton tease:
---
---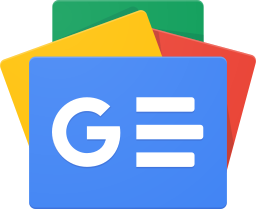 Stay up-to-date and support the site by following Bleeding Cool on Google News today!