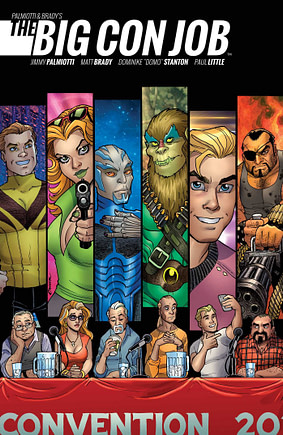 The other day we ran a Swipe File article looking at the incredibly similar pitches for upcoming movie Supercon from Variety…
Pic, which is currently lensing in New Orleans, follows a group of washed up television stars and comic book artists who make their living attending conventions. Down on their luck, the ragtag team hashes a plot to rob the convention and bring justice to a crooked promoter and an overbearing former TV icon.
and the published graphic novel The Con Job.
After working the same convention circuit for decades, a ragtag group of flabby action heroes, aging sex symbols, and sci-fi bit players become close friends as they watch their lines get shorter and their autographs get cheaper. That is, until they hire a cocky new booking agent who offers them their only chance at a comfortable retirement — robbing one of the largest cons in the country!
And how the creators of both are tied into the work of Kevin Smith and the film Chasing Amy which let us make a joke about tracing…
Well, the director and co-writer of Supercon got in touch. To throw his press release drafter under the bus. He wrote,
Hey – it's Zak Knutson. I'm one of the writers (Dana Snyder, aka Master Shake from ATHF, and Andy Sipes are the other 2 writers) and I'm the director. I wanna clear things up for everyone so that there is no confusion. There was a really poorly written press release that was put out about our movie. Supercon is a completely original idea, and its wheels were put into motion 4 years ago. I am a fan of Jimmy P, He's a brilliant artist in every way. I've contacted Jimmy about our movie just to let him know that it is in no way a rip of The Big Con Job. None of us would ever dream of doing that to him or any other creator. The projects appear to be similar in the same way that we have numerous cop shows and numerous hospital dramas. I think we're making a great movie. It's a love letter to fans and fans of conventions/pop culture. I hope all of you are entertained by Supercon when it's released. – Z
I'm sure that will satisfy the lawyers. Wait, does anything satisfy lawyers?