This article contains spoilers for Marvel's Luke Cage season 1, episode 5, 'Just to Get a Rep'.
.
.
.
.
.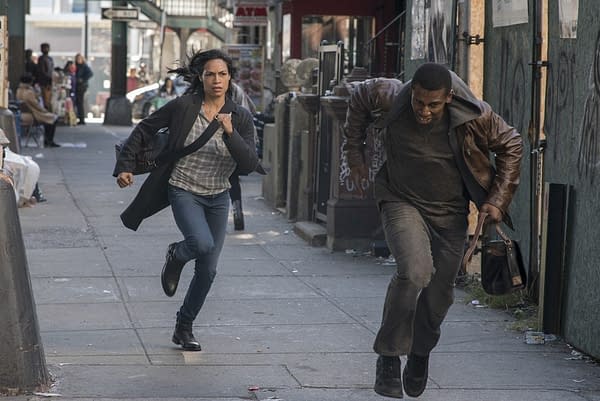 This episode starts with Cornell "Cottonmouth" Stoke (Mahershala Ali) watching an act do soundcheck while we see Luke Cage (Mike Colter) digging through the rubble of his collapsed building. He's no longer trying to hide his abilities, and Misty Knight (Simone Missick) sees him moving huge pieces of cement. Luke finds the swear jar and leaves, but Misty finds the picture of Reva (Parisa Fitz-Henley). We cut to see Claire Temple (Rosario Dawson) showing up in the area and having her purse stolen. She chases the guy down and kicks his butt, getting her purse back.
Cottonmouth has a meeting in his office to find out how things are after Fort Knox got hit. Turns out he lost $7 million, and Diamondback is concerned and sent Hernan "Shades" Alvarez (Theo Rossi) back to help. Cottonmouth has his club, co-ownership of the brownstone, some other real estate and about $250K in cash. One of his guys suggest just leaving Luke alone and he'll leave them alone. Cottonmouth shoots him then sends his guys out to squeeze everyone on the street for cash and tell them to blame Luke Cage at the barber shop. Luke heads back to the shop and finds Dapper Dan to suit him up for Pop's funeral. Aisha (Ninja Devoe) shows up and tells Luke that Zip (Jaiden Kaine) took her dad's championship ring and he has to get it back.
Luke hits the streets and gets people their stuff back, but Aisha is not patient and shoots one of the guys that was with Zip. Meanwhile Claire goes to see her mother at the restaurant she owns and we get the idea she's come back for more than just the day. Rafael Scarfe (Frank Whaley) and Misty roll up and ask Luke about the picture of Reva. Shades tries to convince Cottonmouth to leave it alone, stop going after Luke. He suggests selling the club and to make $3 million. But Cottonmouth won't do it. And Luke shows up. Four goons tries to take him down, but Luke makes short work of them, but Shades realizes that Luke is Carl Lucas.
Claire tells her mom about the Hand attack on the hospital, losing her job, helping Daredevil and Luke Cage, and how she wants to help people with abilities. Her mother talks about how things have changed, about the Incident, and how Claire is just following fate. Shades shows Cottonmouth a bullet called the Judas — it's made from alien metal from the Incident and designed by Hammer Technologies but is very expensive. He can ask Diamondback to take care of Luke, but Diamondback will take Harlem. So the other option is to get his stuff straightened out and then Diamondback will loan him the money.
Misty gets the head up from her captain and lieutenant that internal affairs thinks Scarfe is on the take. Misty doesn't believe it. She heads to Pop's memorial. The lieutenant then meets with Scarfe to give him the heads up about IA, as the lieutenant is on the take too and is setting up to get Cottonmouth his guns back. Luke finds Zip and takes Aisha's ring back.
Everyone ends up over at the memorial where Cottonmouth gives a speech about how he is going to take care of the people of Harlem, then Luke follows with talking about the people of Harlem and how Pop the best in those people and how they have to stand up together against bullies — even if they call themselves a friend. The war between the two is fully on and Misty sees this. She tells Luke that he's just going to get people hurt and he needs to leave town, but he tells her that he isn't going anywhere. And there's a chance that Scarfe may have taken off with Cottonmouth's guns.
The Verdict
This episode elevates everyone into place — Luke as the Hero of Harlem and Cottonmouth as the bad guy. All the stake are known and the players are in place. Bringing Claire in solidifies this series to Daredevil and Jessica Jones and continues Claire's unique story arc. But I also have a few knocks on this episode in that Luke had no problem at all of tracking down the thugs, and while we see the big pile of cash on Cottonmouth's desk, the individual things he went after like the guitar and the ring hadn't been turned in. Just seemed convenient. And the speech Luke gave at the church was good, but not nearly as good as the reaction to it. For how people were supposed to react, I think it could've been better. The other thing I wonder is: if Luke is such a problem for Cottonmouth and Shades recognizes him as Carl Lucas… why not just tell Scarfe that Luke is an escapee from prison and have the cops go after him? Seems like a way to get it taken care of without dirtying their hands too much.
Enjoyed this article? Share it!