Tales of the Music Makers, a graphic novel showcasing the stories of Southern musicians including The Carolina Chocolate Drops, Taj Mahal, and Como Mamas, will feature two unpublished stories by legendary cartoonist Harvey Pekar. The graphic novel, which explores the origins and mission of the non-profit Music Maker Relief Foundation which helps "true pioneers and forgotten heroes of Southern music gain recognition and meet their day-to-day needs," will mainly feature stories written and drawn by Gary Dumm as well as black and white photography spanning 25 years and a downloadable soundtrack
Z2 Comics will publish the graphic novel, which features stories about the following artists:
Music Maker Foundation's guiding light, blues great Guitar Gabriel, AKA "Razorblade."
Cora Mae Bryant, daughter of Georgia guitar legend Curley Weaver and friend of the great Blind Willie McTell.
Piedmont-style fingerpicking guitar legend Etta Baker.
Louisiana soul singer and Dan Auerbach collaborator Robert Finley.
GRAMMY-winner, Blues Hall of Famer, and Americana Music Association Lifetime Achievement Award winner Taj Mahal, who explains why he sits on the Music Maker advisory board.
Mississippi gospel trio and Daptone Records group Como Mamas.
Rhythm & blues and jazz pianist and vocalist and World War II veteran and former member of the Ink Spots Eddie Tigner, who still plays regularly in Atlanta.
Adolphus Bell, known as the One-Man Blues Band.
Willa Mae Buckner, a performer known as the snake lady who performed in an all-black tent show, stripping, singing bawdy songs, swallowing swords, and handling snakes.
Music Maker's founder, Tim Duffy, explains how Pekar came to be involved in the project, penning the two stories back in 2003. Pekar's last published comic was Harvey Pekar Meets the Thing, published after Pekar's death in 2010.
I got a call from Harvey in 1998 because he was writing a story in the Cleveland Plain Dealer about a tour we were on with Music Maker artists called the Winston Blues Revival. The interview went great and when the tour hit Cleveland I got to meet Harvey, we hung out and went to the Cleveland Art Museum and became good friends. Soon after, I asked him if he would write a comic for Music Maker since I had long been a fan. Harvey was a huge music head and loved Music Maker's mission and would often clue me in on obscure musicians that he knew. His basement was full of tens of thousands of records and CDs – he loved music. Harvey was a huge fan of the underdog and the working class so creating the comics for Music Maker made a perfect sense to him. In a single page Harvey could capture the essence and complexity of these musician's lives and he understood them because he loved the working class and was working class himself. To me, Harvey was the absolute greatest of underground comic storytellers of his generation – for his last comics to be about Music Maker artists Preston Fulp and Willa Mae Buckner still blows my mind to this day.
Z2 Comics Co-Publisher Josh Frankel had this to say:
Harvey Pekar's Cleveland was the first book we ever published. It's both an honor and pleasure to be coming full circle with Tales of The Music Makers. The majority of the book is by the ever talented Gary Dumm, but it's a thrill to have these new stories by Harvey. especially as they are part of an ambitious project dedicated to educating people about the legacy of Southern musicians and the mission of the Music Maker Foundation.
Below, see the track listing for the downloadable soundtrack:
Alabama Slim and Little Freddie King – The Mighty Flood
Adolphus Bell – Child Support Blues
Algia Mae Hinton – When You Kill the Chicken, Save Me The Head
Ben Payton – Singing About My Baby
George Higgs – Blues Is Here To Stay
Captain Luke – Old Black Buck
The Como Mamas – Thank Him Enough
Cool John Ferguson – Low Country Blues
Cootie Stark – Jigroo
Cora Mae Bryant – What Shall I Do
Dave McGrew – Just Another Rainbow
Dr. Burt – Girl, You The One For Me
Drink Small and Cootie Stark – Come Out of the Wilderness
Essie Mae Brooks – I Got So Much To Talk About
Guitar Gabriel – Mississippi Farm
Tales of the Music Makers will be available on February 12, 2019.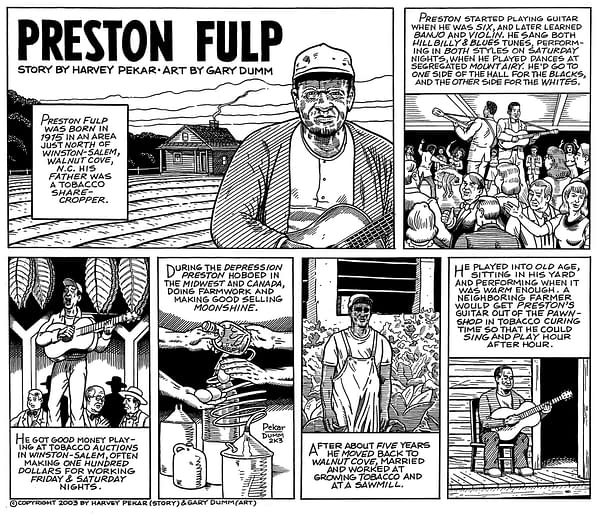 Enjoyed this article? Share it!