A Very N.I.C.E. Convention
Tom Huxley attended N.I.C.E. for Bleeding Cool this weekend;
The inaugural Northants International Comic Expo began yesterday (and ends at 5pm today). Though its special guest Alan Moore was undoubtedly the main draw for most of those attending, there's plenty else besides – just like any con really – perhaps a bit small in scale compared to other cons I've been to, but by the same token emphasising quality above quantity, and bringing with it a feeling of cosiness I haven't felt at one of these in many years. Certainly I've never been to a con where the dealers' room was stuck into a marquee, in the middle of a park, on a beautiful day with a funfair next door!
The opening panel shone a spotlight on Alan Davis, who gave a real masterclass in comic book storytelling, showing a number of his own pages and explaining the thinking behind them. He showed how he would take a script and turn it into a pencilled page, often having to reinterpret things to make them fit, or how he would use the medium to its best advantage to tell a story.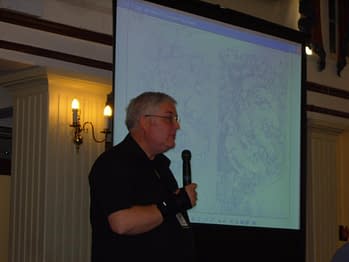 Davis also bemoaned what comics had become of late, "lazy, sloppy, created for Hollywood" (although he later denied having said "lazy" or "sloppy"), that most of them are "overwritten" with the focus having become too much on the words and having got too far away from the artwork. He would get frustrated with some of the scripts he's given, when he thinks it doesn't really work and therefore hasn't been properly looked over by an editor.
Ironically despite his complaints about the current "talking heads" style he singled out praise for Brian Michael Bendis, who he said "is one of the better people I've worked with". It was commented that the Avengers Prime story was actually rather different from the sort of comics Bendis usually makes, and Davis speculated that it might have geared towards his interests, but actually the pair had never been in direct contact with one another. Bendis' scripts were "pretty loose, he didn't ask me to do anything, but it was clear from the script what he wanted done".
Questioned on advances in technology, such as digital colouring, Davis proudly declared "I am a dinosaur!" While the colours might look great on the screen, you never know how it's going to turn out at the printers, especially on the cheap paper often used to make comics, so he usually prefers traditional methods. Similarly he has no interest in digital comics, especially motion comics, which he labelled "just a cartoon". He says he wishes that comics were produced the way they used to be, with old-fashioned, clear, simple storytelling – albeit he doesn't know that the market's there for that kind of material any more, "but it's what I want to do".
On to the Comics to Film panel, which featured a very broad discussion on the future of superhero movies. Charlie Adlard remarked, "as long as we produce an Avengers and a Dark Knight after every other Green Lantern we'll be all right."
Adi Granov worked on The Avengers for seven months and his feeling was that he "really could not see how it could be done," even up to the point where he sat down in the cinema with his girlfriend and "really thought it was going to be bad, and it blew me away." Apparently they didn't change anything in the script, "they just took stuff out."
Greg Staples said there was a lot of bafflement on both the Dredd 3D and The Raid production teams regarding their similarities; he thinks it was just a case of bad luck and unfortunate timing rather than one stealing from the other.
There was agreement on the panel that the Man of Steel looks "depressing", with its dark "Zack Snyderesque" tones and an "overrendered costume" that takes it too far away from what appeals to people about Superman in the first place. That the DC films aren't working so well as Marvel's because the force behind them is the enormous parent company Warner Bros rather than the comics division itself, lacking the guiding voice of someone like Kevin Feige.
On the subject of making comic book movies that mimic the visual style of comics, Charlie Adlard pointed to Sin City as something that wouldn't have worked without absolutely mimicking the comics, that it would otherwise have been a "clichéd" noir plot, and it "works because of the visuals", although he points out that every time he sees the scene where Bruce Willis gets shot he just thinks "it looks like he's been pooed on by a load of seagulls".
At another panel, Melinda Gebbie (artist of Lost Girls) spoke about how she'd been encouraged to look at Fifty Shades of Grey; she asked her husband about it, who said it was a Twilight fan fiction with the names changed. So she thumbed through it, read through some of the dirty bits, and came to the conclusion that "this woman has never had sex in real life".
In terms of comics she found distasteful, she said (warning that she was about to make herself very unpopular with the room) that "I have had Scalped rammed down my throat". She says she thinks the author doesn't understand Native American culture, that the book is "using an ethnic group to push a violent story. If he knew their culture better, he wouldn't use it to write such a violent book."
Gebbie further conceded "I think most of comics is being done for people with a lot of psychological problems."
Moore to come later…