A Weekend In Vegas With Grant Morrison Got Me To Kickstart A Comics Anthology Asher Powell writes,
When I sat on the rickety, tiny plane that dipped through the mountains from Fresno to Las Vegas, I didn't think the weekend would end with me manning a Kickstarter for a comics anthology in two years. I couldn't even begin to comprehend what the MorrisonCon convention was going to be like. There hadn't been much information posted; just a list of A-List comics talent, a breakdown of the panels, and the promise of partying. Which meant all I could focus on (when I wasn't having a heart attack from the gusts of wind tossing us around) was the weekend would be a welcome distraction from my life.
Early that summer I had graduated and like many, found myself jobless. I had moved back to my parents farm for what was supposed to be a temporary stay. It ended with me unpacking and enrolling in classes to become an English teacher as I found myself devoid of any other options. I was miserable and terrible at covering it up as I dreaded the worst; ending up as a teacher in the small town I had worked so hard to escape. Which was why I was eager to focus on the trip at hand to MorrisonCon, as nebulous of an event as it was. What my convention roommate and I found though was that it was far greater than just a weekend to talk comics. It became so much more to us, and to everyone else. The small, intimate convention barely took up two conference rooms in the Hard Rock Casino. Allowing all of the attendees to be close to the events that unfolded.
It was up close and personal as well as relaxed for everyone who attended. As Grant Morrison, J.H. Williams III, Jonathan Hickman, Frank Quielty, Chris Burnham and a host of others sat down at the stage to talk about art, writing, religion, magic, and other dimensions, we soaked it in. The panels were lively, passionate, insightful discussions that bled out onto the floor afterwards. In the lounge and at the nightly parties after the sessions, the special guests mingled and drank with everyone. The setting felt so familiar and warm that you couldn't help but feel invigorated by the positive emotions the crowd exuded. A community was formed during that weekend because of that, one that I desperately needed as I had just left mine, and that community was one that left Vegas better than they had arrived.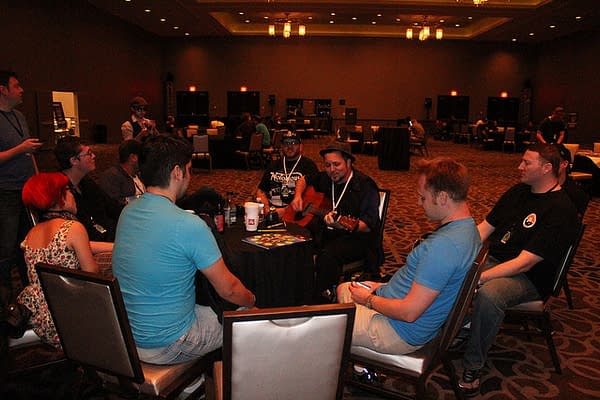 You can read accounts of the weekend from other people, breakdowns of sessions and parties. But the thing is as we're smack dab in the middle of the two year anniversary, everyone left changed in their own way. Two attendees who met at the convention got married this weekend (mazel tov, guys!) and some of the other attendees attended that wedding! Others talked to the artists at the convention and were encouraged to practiced their art more and they've improved. I was told by one attendee based in China that because of the convention he's translated "All-Star Superman" and it's now one sale in China. For me? I didn't translate a book or get married, but I made friends and I've kept in touch ever since. The convention stayed with me, and as a creative person what I heard there helped me to not give up when there wasn't much of a way out. And then there's the anthology.
A group of us felt so moved by the convention; by the ability to sit down and talk with amazing creatives, with amazing people who felt as passionately as we did, that we had to share it. Some of us have experience with making comics, others don't, but it didn't stop us and now we can have a book. Countdown Until Now was borne out of that crazy, uplifting weekend. It's our love letter to MorrisonCon, to comics, and the universe that gave us it. And now I'm helping run it.
Co-directing the Kickstarter has been a rewarding, educational, and exhausting experience. We're barely halfway through our campaign, and we've already funded ourselves. Even without the book in my hands, it's rewarding to just be able to talk about it. Because the art is done, and all we're waiting for is our funding to send it out into the world.
There was a lot of learning along the way though. And while I don't have the perfect formula and I have made my fair share of mistakes, I do have pointers.
People Have Advice, Take It
By now there have been many, many successful kickstarters and many of those successful creators have written about how they achieved said success. You have no excuse to not go and read their processes to assist in building the framework out for your own. If you're apart of a comics community, chances are you know someone who's kickstarted, or an acquaintance does. Pick that Kickstarter's brain. Buy them a cup of coffee if you have to. There is gold in their experience!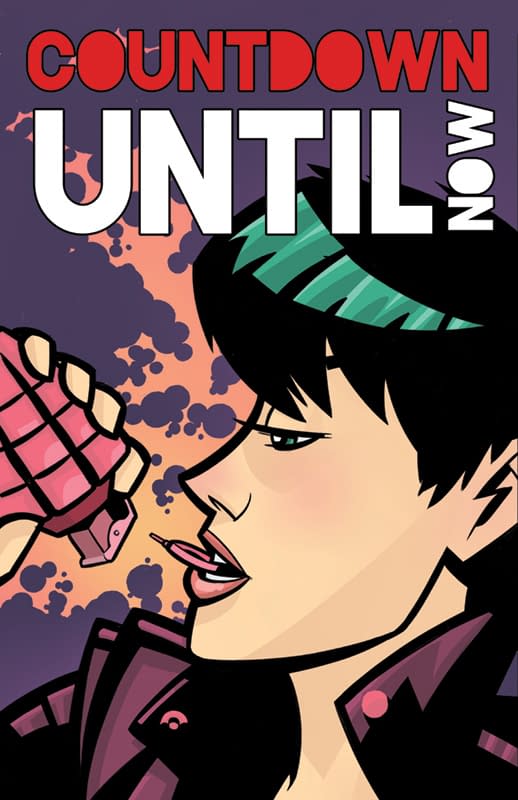 Never be afraid to ask questions or have someone look over your work for your campaign. Chances are you're not thinking of something that could help you and your project once you launch. People will also give you tips after you start, and while that may not help with your current campaign, tuck it away for the next one.
Anthologies Need Team Work
We're two years post-MorrisonCon and we're just now kickstarting. Why, might you ask? Because putting just a book together is crazy by yourself, throwing a lot of stories into the mix is like working-with-cats crazy. They're adorable! But there's so many of them.
Our project director Henry Barajas did what he could on his own, but in the end we needed to combine our powers to more easily handle the workload. If there's more than one set of eyes on the project, it'll help you craft a better plan for the Kickstarter. Having a dialog with someone, having someone to problem-solve with, goes a long way. There's also solace in the fact that someone else is going crazy with you.
Networking and Marketing: Your Life Blood
This campaign has spoiled me horribly. You want to know why? Because we have over twenty people in our book. Out of that twenty, there's a sizeable chunk that have over the past two years have gone to conventions, begun working in the industry, and/or generally built up their own networks. So say at least five of us out of the twenty have ten great contacts, then that's fifty amazing contacts retweeting and supporting us, getting us out to more people than we could ever imagine.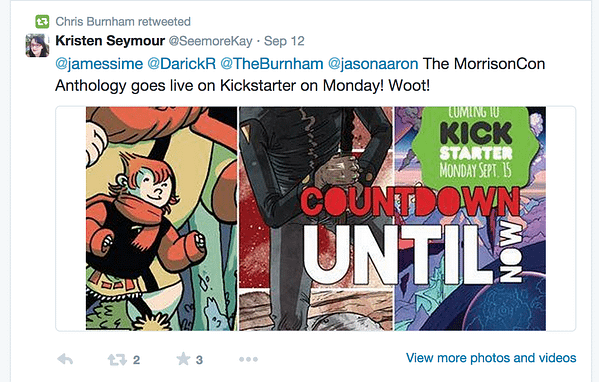 That's why we were able to get funded so quickly (within seven days of launching), and that if I do another kickstarter I'll be anxiously clambering to get funded. Your Kickstarter depends on your audience. Because we're so large, have a built-in audience (people who attended and want the book), and have a large social media network, the social media marketing has been fairly easy.
That's not to say that I've rested on my laurels the entire time. A week before the Kickstarter launched, I was dropping announcements on my twitter it was going to launch. I was making profile pictures, banners, promotional images, and encouraging our collective to take those assets I had made and use them. I even talked up our early bird special where the first 50 backers could get our book at a discount. There was marketing going on for our anthology before we even began.
Once we did launch, it was constant for the first week. Virtually I reminded everyone of our deals, and updated when special tiers ran out. In the physical world during our first week I went and tabled at Rose City Comic Con. I pitched and handed out promotional swag to anyone who would listen and met up with some of our creatives to give them post cards so they could take them to their comic shops back home. As soon as I got back I was mailing a hundred postcards to my co-director who is headed to New York Comic Con. We have APE this weekend in San Francisco, so I just finished bundling postcards for our creatives who will be tabling there. In between all of this I've been driving to comic book shops to talk to retailers and see if I can get a stack of postcards on their free literature tables. I've been to thirteen so far, and our cards are in ten. And that's just me, that's not my co-director who's put out our press release and worked on his own promoting, not to mention our creatives.
You may be asking why I still hustle even when we're funded. Why I would love to ask you to please go to our Kickstarter page and support us. Because we have great content and great creatives, and as a ringleader part of my responsibility is keeping our marketing going so that more people discover us. I want us to reach others, people who don't know what Countdown Until Now is until they click our link our enter our web address. The marketing doesn't end until the campaign ends.
The hustle is crucial to just about any Kickstarter campaign. As I said previously your Kickstarter is reliant on your network. So before it even launches you have to work on that network. Break out of your shell, go to some conventions and parties, meet people. Once you're there the on-the-ground sell is just as important. You need to reach those you can't through the internet. You have to go meet people, hand out postcards, listen to someone tell you they won't take your postcards because they don't do that at their store, and watch from your booth as people walk by without even looking at your banner. That's crowdfunding.
There is no "build it and they will come" on Kickstarter. If you're an introvert, guess what? You're not allowed to be an introvert! There's hundreds of projects and just because yours is great, doesn't mean that it will be noticed and skyrocket in attention simply due to the quality of it. Most likely it won't; you're going to have to make some noise and shake some hands. We built it because we were moved by what we collectively felt at MorrisonCon, and in the end our MorrisonCon network is what has powered our campaign.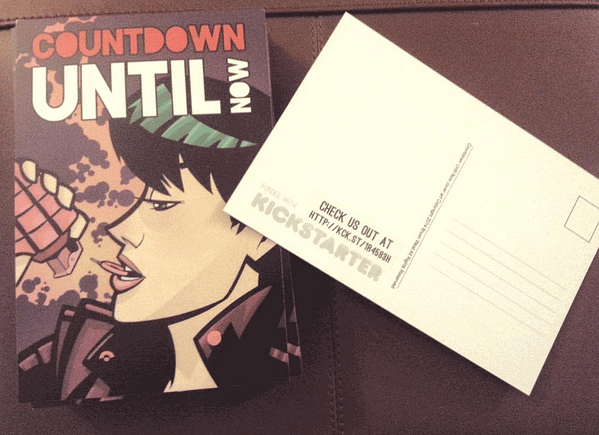 Asher Powell is a writer and digital media specialist by day, comics writer and overall geek by night. Her work can be found on such sites as on Autostraddle, Stellar Four, and io9. The Countdown Until Now comics anthology that contains her comic "Nana & Peaches" along with ten other stories is now on Kickstarter. Pictures of the convention were provided by Pat Loika.