Immortal Hulk #26 established the series, if there was any doubt, as Marvel's activist comic book, a blatantly anti-capitalist agenda as laid down by the series protagonists, Bruce Banner and the Hulk. Immortal Hulk #27 tells its story from three perspectives, from that of the Hulk, that of Dario Agger, minotaur CEO of Roxxon, the fictitious company behind oil, arms, doing deals with elves and anything else that's nasty. Each segment is juxtaposed against the other, with scene transitions of language, imagery and structure that are neat, clipped and predictable, until the Hulk lands and smashes all the structure up. It's all rather meta. And the Roxxon scenes are steeped in modern capitalism, eager not to learn from the lessons of the past but heading directly towards the next catastrophe.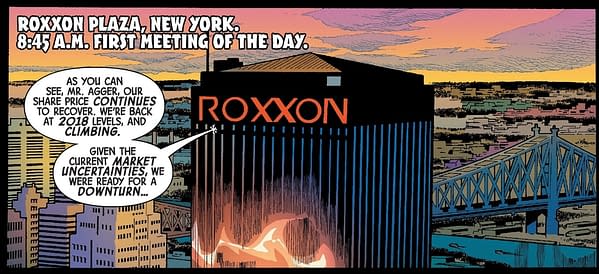 It has been observed that free-market capitalism encourages companies to think in the short term and that while economic collapse can be a result of mass thinking in that direction, recession can be very good in the long-term for well-placed firms who come out of any subsequent recovery in a far better market position than they entered the crash, with greater marketshare, a greater entrenchment in the system and the chance to do it all over again. Recession may not be played for, but ut might as well be. And in Immortal Hulk #27, that is the aim of Roxxon. Who are not aiming just for economic collapse but environmental collapse as well.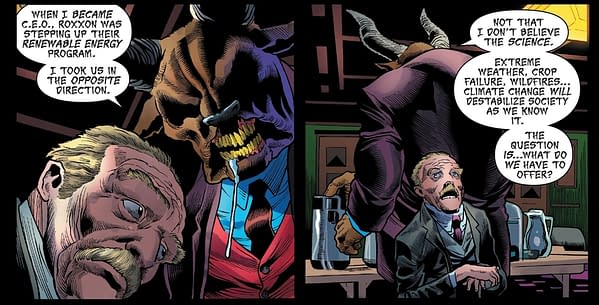 And finding their own business opportunities in the resultant chaos.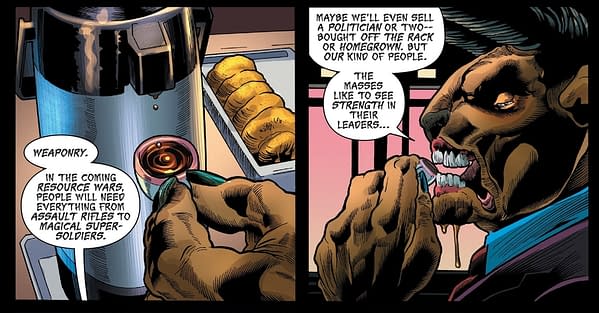 And as for concern that even executives at Roxxon have to live somewhere, well Dario Agger has his own solution to that as well.

That's the answer, running away to another magical dimension. And if you can't find your own magical dimension, well, that's your own lookout. Of course it's not just about oil and arms, what you might consider old-world capitalism, but about data and social media.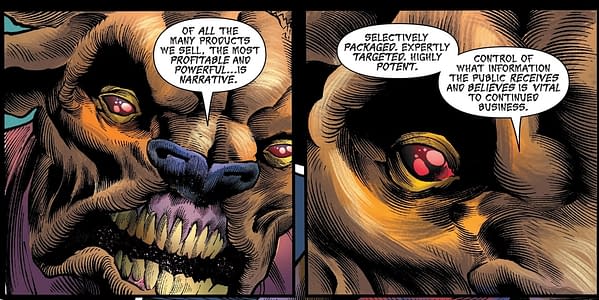 And Roxxon has got all that covered as well. Which is handy with all that environmental data flying around the place. Roxxon has all entrances and exits to that particular maze of information covered. No breadcrumbs leading the way. At least that's what they thought…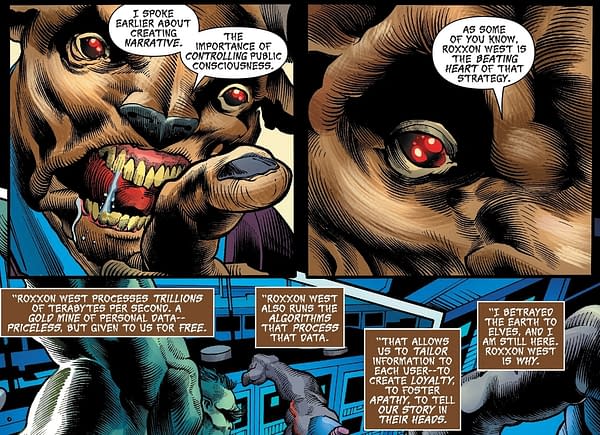 Hulk incoming…
IMMORTAL HULK #27
(W) Al Ewing (A) Joe Bennett (CA) Alex Ross
• Some monsters are born from gamma… other monsters worship a different kind of green.
• In his war on the human world, the Immortal Hulk is taking the fight to its lords and masters – the Roxxon Corporation.
• But when you mess with THE MINOTAUR… you get the horns.
Parental Advisory In Shops: Nov 20, 2019 SRP: $3.99
For these and more comics semi-spoilers, why not visit a new Reddit group, r/ComicBookSpoilers…
Enjoyed this article? Share it!