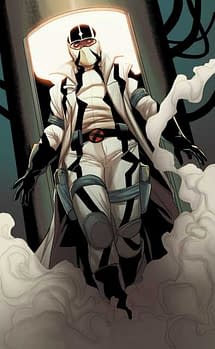 I do give credit to Pádraig Ó Méalóid for spotting this quote from Andrew Hope.
First interview request for my top secret, miraculous Marvel project, from Comicbookresources, even. Not sure how much I want to actually say … but I suppose I can reveal here and now that my series features a character with a cult following, made famous by an extremely famous and successful British writer a number of years ago. How vague is that?
And, yes, it does look like he's hinting at Marvelman. But Andrew is being a very naughty boy.
I think he's actually talking about Fantomex, a character based on Fantômas and introduced into the Marvel Universe by Grant Morrison in New X-Men. That number of years he talks about being eleven. We are old.
And Fantomex was recently officially trademarked by Marvel, which would indicate an ongoing series with that title.
Sorry, again, Pádraig. But Andrew Hope is writing FANTOMEX.
I think.
Enjoyed this article? Share it!