Angela: Queen Of Hel Confirmed As Ending With #7 – But In The Most Entertaining Way Possible We did suspect as much. But now it's official. Angela: Queen Of Hel #7 will be that title's final issue. And how do we know? Not by solicitations, Marvel doesn't like to talk about this kind of thing too much.
Not by an editorial note at the end of the issue, hidden in a corner.
No, by the character Sera talking about it. And about Marvel SVP Tom Brevoort. So yes, confirmed, this is the second to last issue. And two pages towards the end of this twenty page issue, setting out exactly how long they have got to be crazy in.
And how crazy do they get? Well, yes, we have the Faustian Queen, a play in the park, a recovered possibly-Shakespeare play..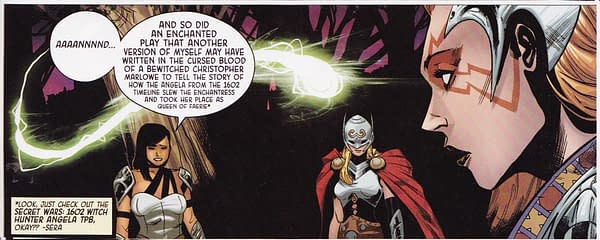 …was actually written by another version of Sera in the Secret Wars crossover 1602, based on the events of that series. Which has somehow emerged in the present reality as fiction.
There's been a lot of that kind of thing today. And the whole things dismissed as the ravings of the comic's writer Marguerite Bennett who hasn't got to kill anyone, playing into a critical stereotype of her and playing it up. Talking of which… Anything you can say about Angela – and after "Unsolicited Opinions On Israel" there has been plenty – Marguerite Bennett is getting in first…
Howling Commandos also ends with today's Avengers Standoff crossover issue… though with a more traditional goodbye from the creative and editorial team… Oh look, there's Tom Brevoort again.
Angela: Queen Of Hel #6 and Howling Commandos #6 are published from Marvel today.