Meet Anthony Marques, the New Owner of The Kubert School
Anthony Marques has just bought The Kubert School, the famous comic book art college created by Joe Kubert. A 2011 graduate of The Joe Kubert School of Cartoon and Graphic Arts, Inc in Dover, New Jersey, he is now its owner and president.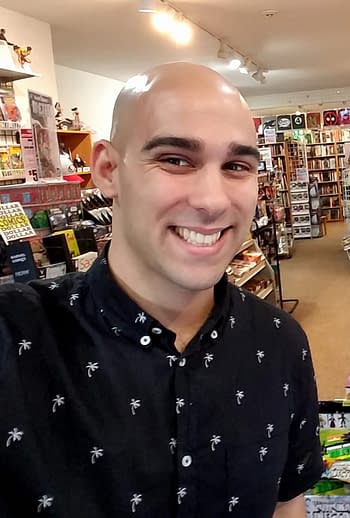 A freelance comics artist, including work for Dynamite Entertainment, IDW, and Dark Horse on titles such as Doc Savage, Red Sonja, Back to the Future, Vampirella, Green Hornet and Ghostbusters, he has worked as an instructor at The Kubert School and as an editor for Dynamite Entertainment and DC Comics on multiple titles. He also owns and operates the long-running Dewey's Comic City store in Madison, New Jersey.
That's right, he's a comics artist, editor, comic store owner and now school operator. He told Bleeding Cool about his journey to this point.

It truly is an honor to have the opportunity to lead The Kubert School, which has touched so many people and changed lives for the better. I cannot wait to continue Joe's legacy to inspire future artists and ensure they receive the best art-related education possible, so they are prepared to pursue their dreams of working in the industry.

My love for the school all started from when I was a student and only continued to grow as the years went on. I worked my way up from the security guard position as a student, to working at the in house production group (Telegraphics), to convention coordinator, to instructor, and now as Owner and President of the company.

I've always believed in the foundation and fundamentals taught at the school and have brought them with me throughout my career. Whether that has been as and editor or an artist the lessons taught at the school have been invaluable.
In regard to how this all came to be, I had heard some rumors. After some inquiries, I put forth a formal offer and it was accepted. Since that time the Kubert family, the wonderful staff at The Kubert School, and my family, have all worked tirelessly to get this to become reality. We're all so excited for the next step in the storied history of the school and look forward to carrying on Joe's legacy.

Over the course of the summer the school was able to bring in fantastic new additions to the teaching staff such as Amy Chu, Erica Schultz, Taylor Esposito, Lisa Wu, and John Hazard. All of the new hires were made to ensure that the students get the best possible art-related education that they can receive here and to have them ready to pursue their dreams of working in the industry. Whether that be as an artist drawing comics, as a digital production specialist, a letterer, colorist, editor, … you name it, they will be ready.

Andy Kubert will remain involved with the school as a special instructor for the students and on our advisory board. Andy has been a wonderful friend and mentor to me for years and I'm so happy that he will continue to teach at the school. His skillset and knowledge of the industry is second to none and the students will benefit greatly from having him at The Kubert School.

There's so much I can honestly write about this as it's been a journey and a half to get to this point. Some nights were extremely stressful, where it didn't seem like this would actually happen, but here we are. I can't ever properly express in words how happy and honored I am. How thankful I am to everyone involved in seeing this through. To my wife, Jackie, and my children Avery and Liam, for believing in me and giving me strength throughout.