Dark Horse Comics is to publish a comic book prequel to the latest Assassin's Creed game, Assassin's Creed Valhalla. Written by Cavan Scott (Star Wars Adventures, Vikings), illustrated by Martin Tunica, and coloured by Michael Atiyeh (The Orville, Dragon Age: Blue Wraith), Assassin's Creed Valhalla: Song of Glory takes readers back to a Mid-Ninth Century Norway.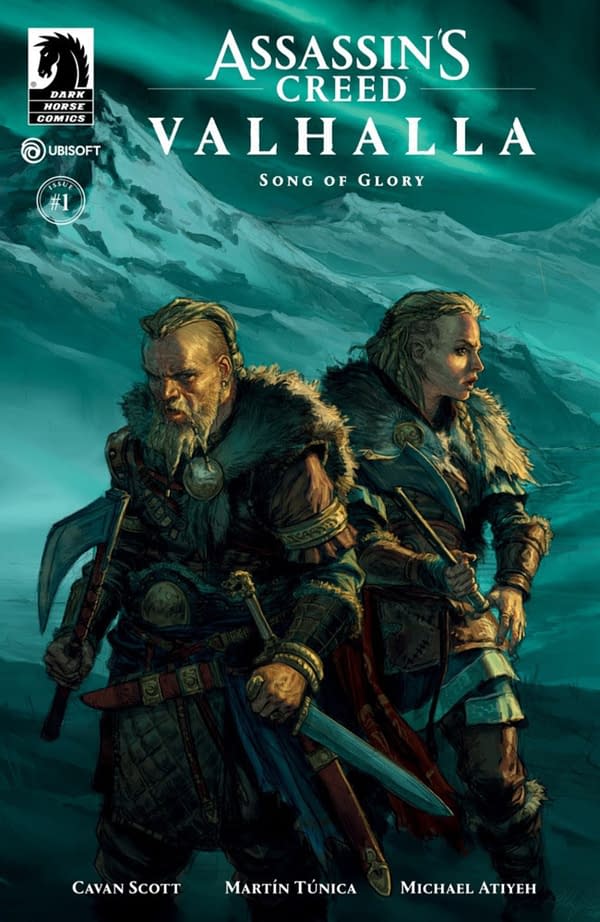 Eivor, a Viking warrior, observes a village raided by a neighboring kingdom. Bloodshed and mayhem erupt as she seizes the attack in her own favor—but will her victory be a blessing to her clan or a terrible curse? Elsewhere, another Viking searches for a different kind of prize, one of crucible steel . . .
Assassin's Creed Valhalla: Song of Glory #1 (of three) will be in comic shops on October 21, 2020. The Art of Assassin's Creed Valhalla and The Art of Assassin's Creed Valhalla Deluxe Edition, which will be hitting shelves later this year timed with the release of the game.
Assassin's Creed Valhalla is an upcoming action role-playing video game from Ubisoft. In 873 AD, war and overcrowding in Norway prompts Eivor to lead their clan of Vikings to settle new lands in Anglo-Saxon England, as part of the Viking expansion across Europe. The clan, and other Vikings that form the Great Heathen Army, comes into conflict with the kingdoms of Wessex, Northumbria, East Anglia, and Mercia over the next several years. Eivor's clan will face forces led by the leaders of these kingdoms, including Alfred the Great, the king of Wessex. It is during this time that Eivor meets the Hidden Ones and joins their fight against the Order of the Ancients.
As with previous games in the series, Valhalla features a narrative set in the modern day. This story will follow Layla Hassan, a character featured in Origins and Odyssey. Valhalla will also contain story elements related to the Isu, who, as part of the lore of the Assassin's Creed series, are an advanced civilisation that pre-date humanity.
The game is set to be released on November 17, 2020 for Microsoft Windows, PlayStation 4, Xbox One and Stadia. It will also be Ubisoft's launch title for the next generation of gaming consoles, the PlayStation 5 and Xbox Series X.
Enjoyed this article? Share it!