Ben Grimm isn't a newcomer to Marvel Shenanigans, having been here since the very beginning of the Marvel Universe. So he knows better than anything that when it comes to wedding issues, you can never put any swerve past the House of Ideas. And since Ben's own wedding is coming up soon in Fantastic Four, with the celebratory cash-in Wedding Special coming out next week, Ben is being extra careful when it comes to making sure his wife-to-be, Alicia Masters, isn't going to get abducted by a super-villain or leave him at the alter or, worse of all, spoil their wedding in the New York Times.
That's why Ben pulls the Invisible Woman aside for a chat before Alicia's bachelorette party in next week's special issue.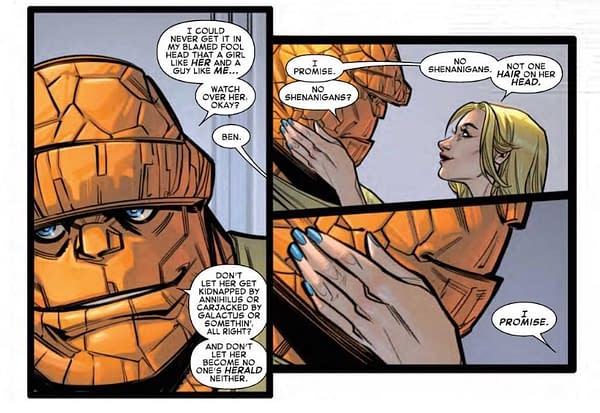 Sorry Ben, but odds are this marriage is doomed. If it doesn't get bait-and-switched in the wedding issue, one of you will end up dead or making a deal with the devil to annul the marriage sometime in the future so that your character doesn't feel too old (because an orange rock-man who talks like a 1940s tough guy can't appear to be dated).
Fantastic Four Wedding Special #1 hits stores next Wednesday.
Fantastic Four Wedding Special #1
(W) Gail Simone, Dan Slott, Fred Hembeck (A) Laura Braga, Mark Buckingham, Fred Hembeck (CA) Carlos Pacheco
Come and celebrate the impending nuptials of the Thing and Alicia Masters with a Ladies Night Out as only the First Family of Comics can do it! Guest-starring She-Hulk, Medusa, Crystal and more, it's the bachelorette party Alicia never expected-and one whose ribaldry will be interrupted by the arrival of a Surprise Super Villain! (And no, we don't mean Johnny Storm!) Meanwhile, the Thing has an unexpected meeting with his future father-in-law, the Puppet Master! Plus, Hembeck! The Fantastic Four family tree! And more! R.S.V.P. at your local comics retailer this December, and don't forget to kiss the bride!
Rated T
In Shops: Dec 12, 2018
SRP: $4.99
Enjoyed this article? Share it!